Kaleb De Keyrel's SuperSport AMA Pro Debut Weekend at Barber Motorsports park!
The weekend started out with an 17 hour trip to Barber Motorsports Park in Birmingham, Alabama. We had one quick pit stop in Nashville to pick up Mr. Ray Rizzo. ( Ray is the AMA Pro Flat track and ASRA/CCS track chaplain. Ray would be spending the weekend with us. ) Once we arrived we got to drive right in and set up for the long weekend to come.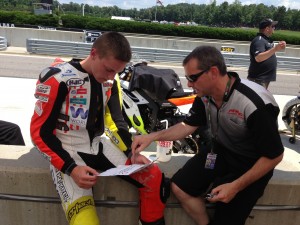 Friday morning, we had the first practice and I ended up 13th. I was not happy with the way the bike handled, so Mike and Erik from Penske started to brief me right away. We discussed what the bike was doing. Then Mike looked at what other riders bikes were doing and came up with a change. Later friday afternoon would be qualifying. I went out for qualifying and the changes we made were better, but I still really did like the way it handled. We ended up being 10th in qualifying 1 and I was extremely happy to be top 10! We debriefed about bike set up and I wrote down all my notes. Then I headed off to swim at my cousins hotel. I had a great time cooling off after the extremely hot day of racing.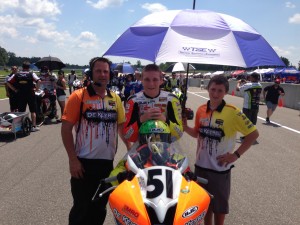 Saturday, we got up and it was qualifying 2 at 8:00am in the morning. We had made some changes the night before. It did not improve the bike. I ran the same times as Friday, but everyone else was improving. I ended up 20th in qualifying 2. I new I was going to have to ride great to move up from here.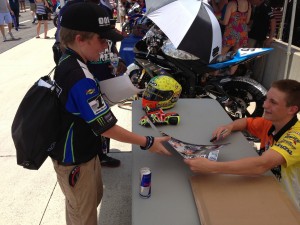 The Fan walk was the next activity of the day and I had a great time handing out posters, stickers, and signing autographs for all the fans. We gave out 350 stickers on Saturday alone. This was a great experience and a lot of fun! Now it was time to focus for the first race of the weekend.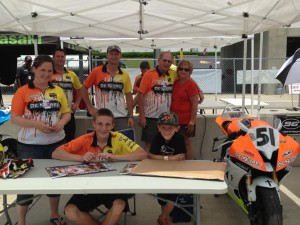 Race 1, I was pretty nervous going into it. I got the worst start I have ever done. For the first lap, I just tried to ride smart and stay up. I was not being aggressive and everyone else was. I ended 23 coming around on the first lap. I knew I had to start pushing. I put my head down and worked my way up to 18th. I had a gap back to 19th and 17th was too far ahead to catch with 2 laps to go. I sort of got stuck in the middle of no mans land. There was no one behind and no one in front that I could catch. So I rode it out for an 18th place finish in Race 1 of my pro debut. I knew I was not an 18th place finisher. I was mentally ready for race 2 knowing what I learn in Race 1. We would continue to try to improve the bike. I was having to work to hard to try to go fast. I was confident that Mike and Erik would get the bike right for Race 2. We debriefed about the bike setup and my dad, Mike and Erik made some changes to prepared for Sunday. I was lucky enough to get to go back to my cousins hotel pool again and cool off.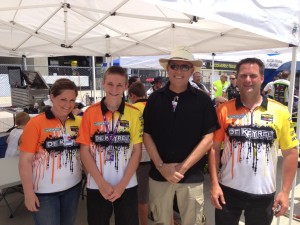 Sunday, we got up and had practice early in the morning. I was feeling good, but I did not like the changes to the motorcycle. My dad and Mike talked and they came up with a new setup for Race 2. The new set up was different that anyone else on the track. My dad also decided we were going to run the soft tire on the rear and almost every other competitor was running the medium rear tire. Mike was not sure about what they had decided. I went out in race two and got an ok start. My motor pulled so strong it was hard to keep it from wheeling. I new I would have to made some smart aggressive moves right away. I was 18th coming across the finish line the first lap. I kept making passes and worked my way up to 11th. I really needed a top ten finish, so I put my head down and I chased down the rider in front of me. I now had passed him for 10th. I pulled away from him and then again was stuck in no mans land. This time it would be a top ten finish! I loved the bike and how it was working. My fastest lap time so far this weekend, was the same as my slowest lap time this race. I had improved in all my splits. I was running almost the same times as the leaders. My cousins wanted me to wave at them on the cool down lap, so when I got to the straight away I did a stand up wheelie down the whole thing. It made their day. I have had my learning weekend and am ready for Mid Ohio!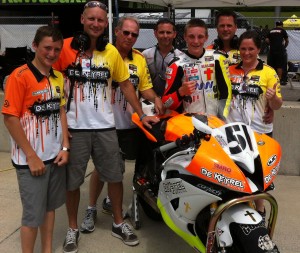 I have to Thank Mike and Erik at Penske, Mark, Scotty and Meghan at TSE, Jon Schiereck for the motor work, Jeff Japs for tuning it. John Anderson at Worldwide. My mom and dad. Grandpa and Grandma, and Uncle Alan. They worked extremely hard to make my pro debut happen!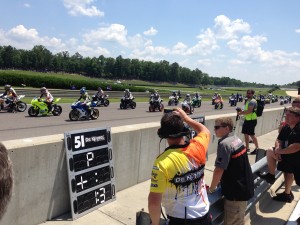 Thank you to the following sponsors for making my move to AMA Pro Racing Possible:
GOD, CWS.net, WorldWide, Motorex, Sportbike Track Time, Cortech, HJC Helmets, Tagger Designs, Dunlop Tires, Yamaha Champion Schools, Zero Gravity, TSE, SDE, Bleakly-Hayes.com, Ontrack4him.org, Vortex, Shark Skinz, Impact Armour, Sidi, Simply Street Bikes, Grandma and Grandpa De Keyrel
Article: http://www.amaproracing.com/rr/news/index.cfm?cid=56940
Video of race 1: http://www.amaprolive.com/rr/dvr/#eventheader
Video of race 2: http://www.amaprolive.com/rr/dvr/#eventheader
Video of wheelie: on FB at Kaleb De Keyrel