De Keyrel Racing would like to welcome Czaia Law as a new sponsor for 2013.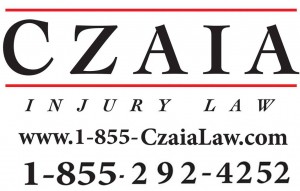 Czaia Law was founded in Florida and is now opening a new branch in Minneapolis MN. Czaia Law is dedicated to helping and fighting for those who have suffered serious injuries due to an automobile or motorcycle accident, medical malpractice, or through the negligence of others. 1-855-Czaia-Law
If you or a loved one has been injured in a motorcycle accident, call Czaia Law today at 1-855-CzaiaLaw (292-4252) for a FREE consultation. Do not agree to sign any papers or talk about your concerns, injuries or damages with anyone except an attorney. Also, do not let your doctor, hospital or emergency room staff record any statement until after you speak with an attorney.
Riding motorcycles for over 30 years, CJ Czaia knows that being involved in a motorcycle accident can have a dramatic impact on your life. No one ever thinks they will be injured in a motorcycle accident while cruising down the highway, but the minute they go down, their whole life changes. After a motorcycle accident, it could be months or even years before you fully recover from your injuries. In the case of a serious motorcycle crash, you need an attorney who understands motorcycles, not just automobiles. CJ RACES, RIDES and KNOWS the Law!
The biggest causes of motorcycle accidents include the following:
Left-Turn Motorcycle Accidents: The driver of a car or truck may underestimate the oncoming speed of a motorcycle when making a left turn at an intersection.
Failure to Yield: The driver of a car or truck fails to yield to a motorcycle at driveways and intersections.
Distractions: The driver of a car or truck was distracted while driving and talking/texting on cell phones or utilizing a GPS system.
THE DRIVER FAILS TO SEE THE MOTORCYCLIST!
Czaia Law is here to help make things easier for you. Let him handle the stress and pressure of dealing with a personal injury claim, so you can focus on recovering from your injuries. He is committed to providing each client with the best legal representation available. Aggressively asserting and maintaining your rights and interests from start to finish.
Call today at 1-855-CzaiaLaw for a FREE consultation. CJ RACES, RIDES and KNOWS MOTORCYCLE LAW!
To learn more please visit http://www.1-855-CzaiaLaw.com