Kaleb De Keyrel WINS at Road America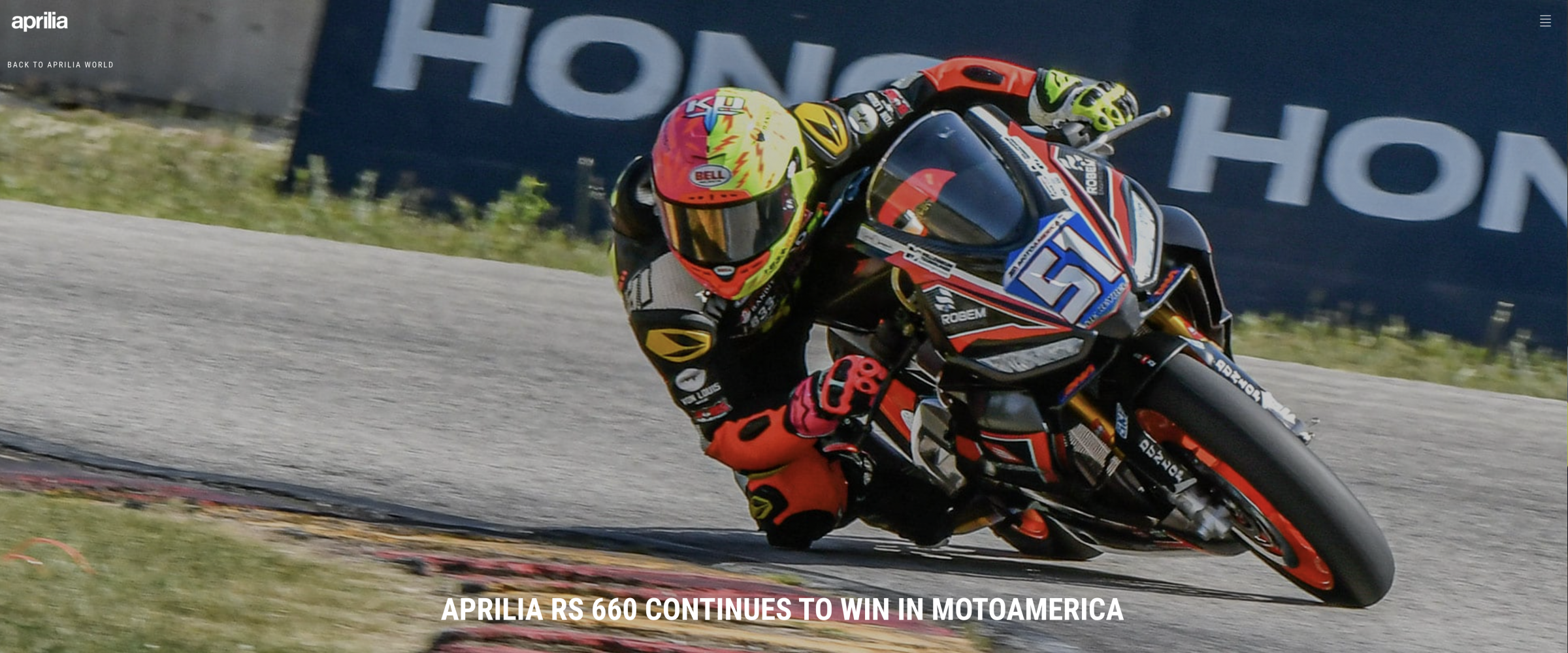 AT ROAD AMERICA POLE POSITION AND SOLO VICTORY FOR KALEB DE KEYREL,
NOW LEADER OF THE TWINS CUP CHAMPIONSHIP
The Aprilia RS 660 continues to win and amaze in the hard-fought Twins category of the US MotoAmerica championship:
already the protagonist at the beginning of May of a sensational debut in the inaugural race in Atlanta, with three Italian bikes
in the first three positions, this weekend the brand new mid-range sports bike from Noale scored another success on the demanding
Road America circuit at Elkhart Lake in Wisconsin.
A confirmation of the dynamic and engine qualities of the RS 660, homologated just before the start of the championship and now
already among the favorites for the final victory of the prestigious US series for twin-cylinder bikes.
Kaleb De Keyrel, riding his RS 660 prepared by the Robem Engineering team, was the author of a weekend of dominance,
he first obtained the pole position with a margin of over 8 tenths of a second place, then in the race he kept an unapproachable
pace for his opponents, crossing the finish line with almost 8″ of gap on Jackson Blackmon (Yamaha).
Thanks to this success, his second of the season, De Keyrel has also taken the lead in the overall standings with 76 points,
10 more than his closest rival, Chris Parrish (Suzuki).
"I felt comfortable right from the start with my Aprilia. It felt great being able to go out and put down quick laps right away, t
hat helped me feel comfortable to push the bike more at the start of Qualifying 2 on Saturday, and we were able to go quite
a bit faster than everyone else. Drafting is a huge factor here at Road America with its long straightaways. I knew I was going
to have to put my head down from the start and try to break the draft. I was able to do that pretty quickly and was able to focus
on just being smooth and smart with the lead I had. The Aprilia RS 660 handled like a dream: it was easily the most comfortable
I've felt on the bike."
Aprilia RS 660, launched last October, is revolutionizing the concept of sportiness, it is so light and effective between the curves that,
although designed to be used daily on the road, it is capable of transforming itself with a few changes into an extremely fast and fun bike
between the curbs. The dynamic qualities, the rigour of the frame, the reduced weight and the exciting performance of the new
100 HP twin-cylinder engine enhance the driving pleasure of a motorcycle that, after being one of the most eagerly awaited novelties,
has proved to be fun and enjoyable, able to give emotions in every situation of use.