Kaleb De Keyrel Wins 6 races at Daytona on his Anderson Racing R6!
Daytona started off great with a couple rounds of practice. We did most of the fine tuning with the suspension when I rode the bike last October so really practice was just getting used to the track again. I was on a brand new Yamaha R6 that was just built and had never been ridden so we just made sure everything was good to go. I loved the set up on the bike pretty much right off the bat so we made some small tweeks and got ready for the first qualifying round for the 200! I was absolutely pumped to be running this race with such a great team behind me!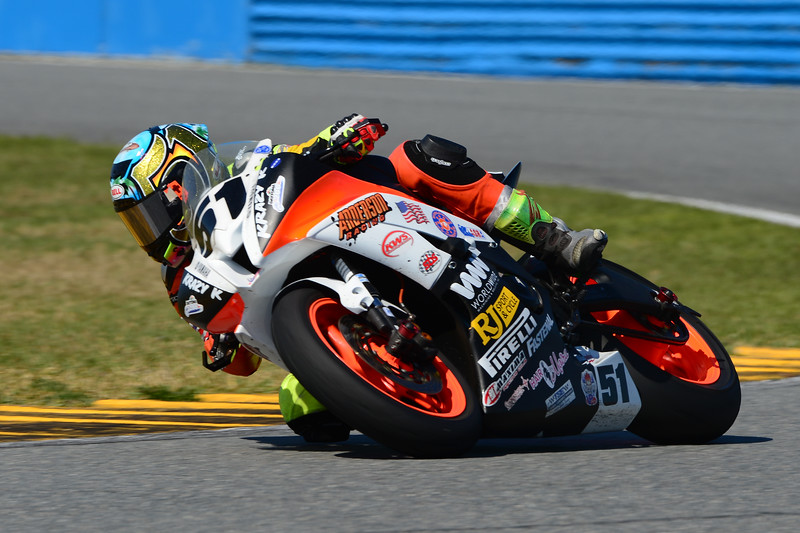 Friday, We had 3 qualifying sessions for the 76th annual Daytona 200. I was feeling really good on the bike after the first qualifying session but we were just off the pace a little bit. I needed to find that .5 second that was so hard to find when you are pushing your all out hardest to go faster. After the first two rounds of Daytona 200 qualifying we had to go right into qualifying for the ASRA races. I went out and qualified 5th on my 600cc against the 1000cc machines. Next up was qualifying for the 600cc ASRA class. I knew I needed to just throw down one fast lap. So I calmed down and just focused on my marks before qualifying started. This qualifying session wasn't as important as the next 200 qualifying would be but I knew this was a perfect opportunity to get a little more track time in before the next 200 session.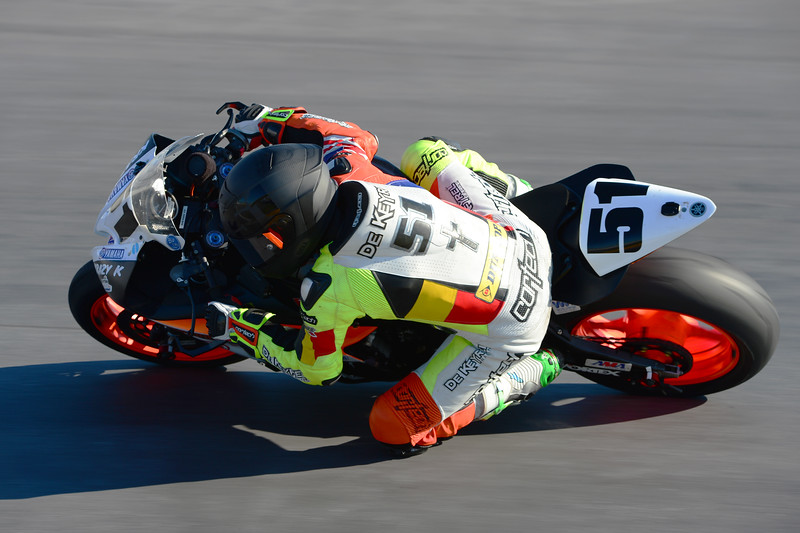 I had a couple spots where I knew I could make up a little more time in the back section of the circuit. Because I can tell when I'm gaining or losing time from my lap timer. Every lap I came around my lap times were dropping 53, 52, 51. I knew that was my new personal fastest lap and time was running out I was hoping that was enough. I qualified POLE for the ASRA 600 race and then turned around in the next session of the 200 qualifying matched that time again but I was searching for a little more. I qualified 10th with a 1:51.660 for the 200 but I wasn't to worried about it I'm a racer and I always race better than I qualify. Also I know a lot can happen in 57 laps and we needed to be ready for anything!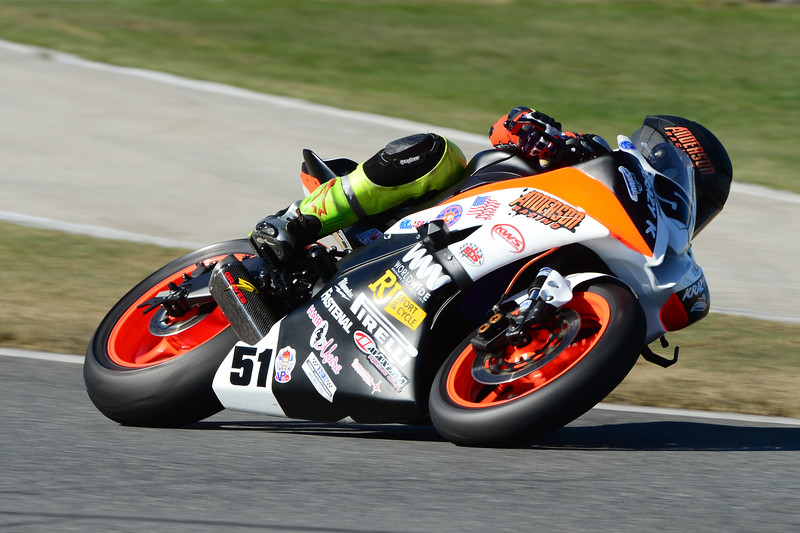 Saturday, I got a great nights rest and was ready to attack the day I had been waiting a long time for! It was race day! I was pumped up and ready to get after my first 200 mile race at Daytona! Started off with a little warm up then an awesome fan walk with the fans. Got to sign a ton of posters and meet all sorts of people from different countries who were there to watch the race it was awesome! This got me even more excited to be a part of a race with such rich history. I put my leathers on super quick and started to get in my zone before the race. I like to listen to music and go through the track in my head. But before you know it, it's go time! I'm on the grid nothing but you and bike vibrating below. The board flips 1 to 2 and BOOM! The flag drops and the race is on!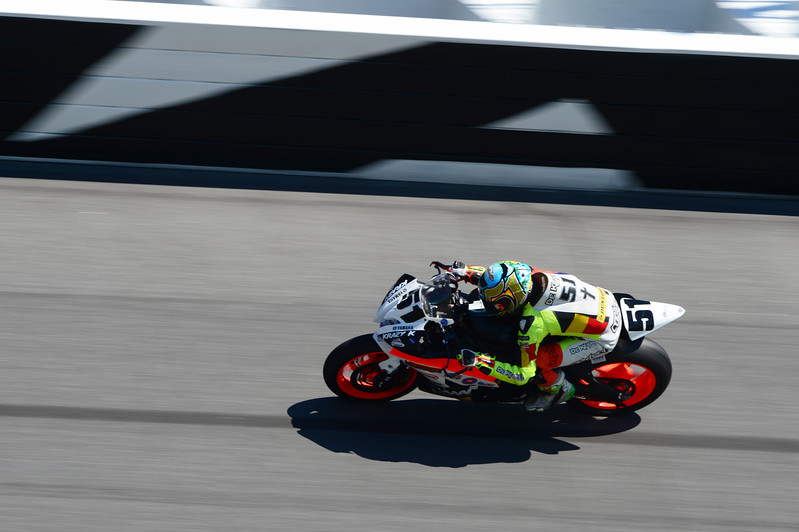 I got a pretty good start and was right up in the mix but we didn't even make it a lap and the race was red flagged. This would happen 2 more times before we actually got racing. Unfortunately with all the restarting my clutch was starting to slip and it was continually getting worse. I had no Idea what I was going to do the clutch was slipping so bad that every time I shifted it would just rev all the way out. I was telling myself just try to stay out one more lap and as soon as I said that there was another red flag. I knew I had to get back to the pits as quickly as possible so my crew could get on it right away.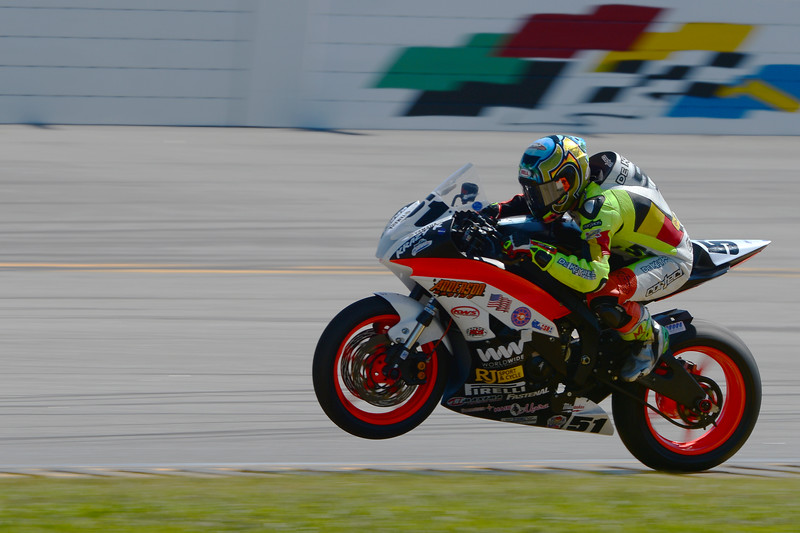 So I rushed back to the pits as fast as I could and told them we were going to have to put a new clutch in! They frantically started to take the bike apart and they did a great job getting it back together but we we're just a tad bit late. At this point when the flag dropped and all the racers went flying by. My bike was still in pit lane getting the belly pan put back on and some other loose ends. I told myself well this what you've been training for man. You better go out there and make it happen. I just put my head down and pushed went as fast as I could go for the next 57 laps and ended up passing 52 people to take 6th in my first Daytona race! I was pumped there was so much adversity with the clutch issue and I had to come into the pits again and do a stop and go penalty for some violation in the pits in one of our pits stops. Overall I think we did a great job with everything that went on and I can't thank my crew enough for getting back on track after that first red flag. If they wouldn't have been able to get that clutch back together my race would have been over!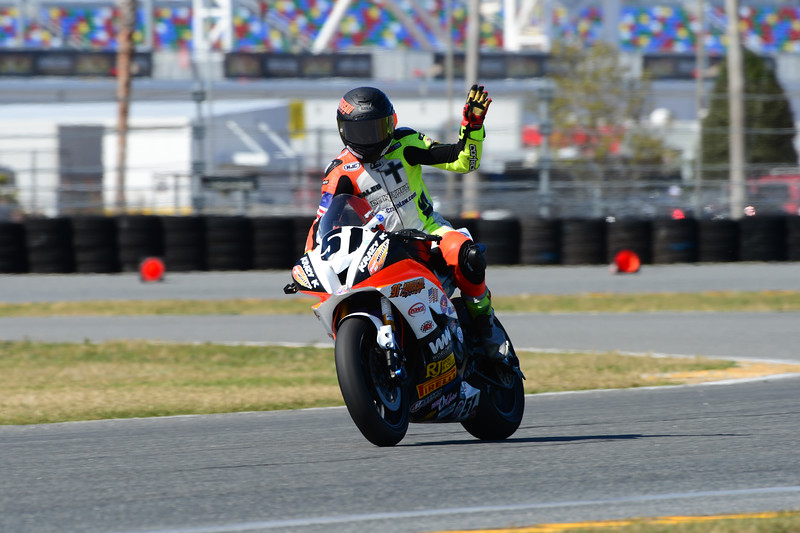 Sunday, Was my day to relax and have fun after all the stress of the 200 was over I just wanted to go out and have a ton of fun! I started out the day by winning the ASRA sportbike 10 lap race which was a ton of fun! After the first set of races in the morning there was a lunch break. Before the lunch break my buddy Raymond Rizzo put on a great church service!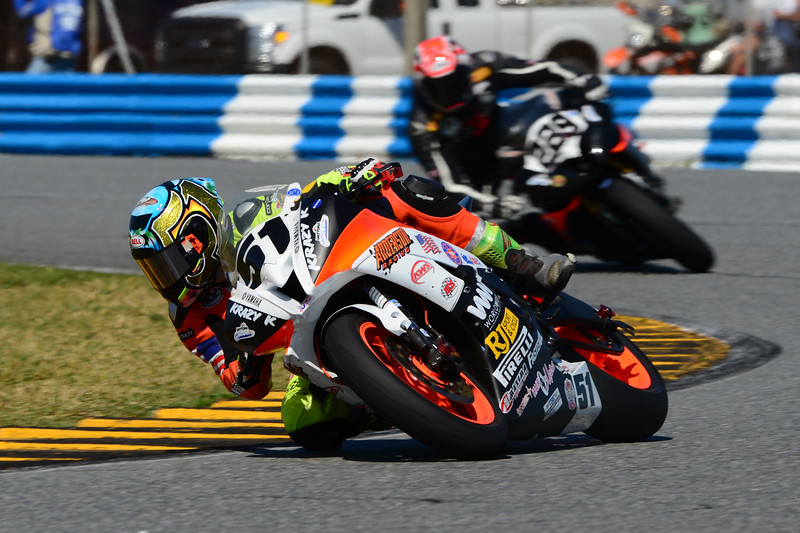 After that is back to the action! I really wanted to get on the 660cc Superbike with 160 HP with 60 Ft Lbs. of Torque. John Anderson and KWS motorsports have spent so much time working on this project I couldn't wait to get my hands on the beast and see what it could do around the high banks of Daytona! Once we got the suspension set up on the bike I absolutely loved it! It had so much power it was hard to keep the front end on the ground. I ended up winning all of the next 3 races on this amazing bike to finish out an awesome weekend at Daytona! Also did some testing with pirelli and found an awesome set up which lead to my fastest lap in the last race of the day putting me into the low 50's. I have to give a huge thank you to John Anderson for an awesome weekend and I can't wait to get back on track with the team soon!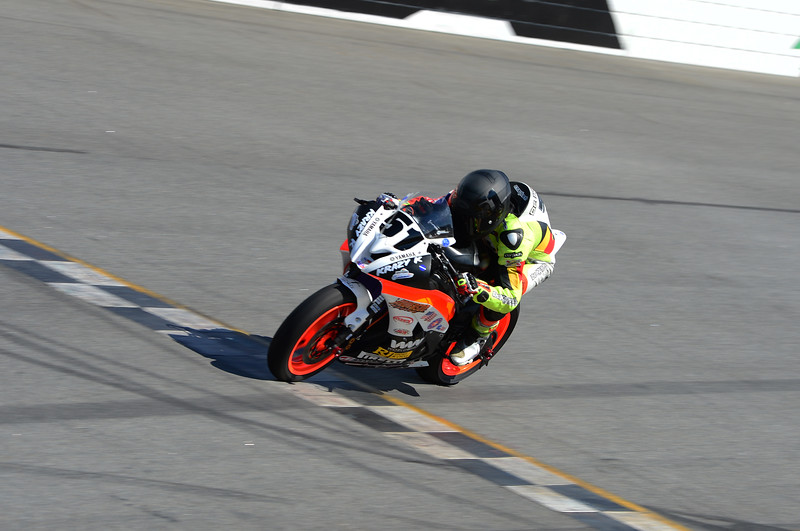 Huge thanks to all of our sponsors:
WorldWide Machining & Welding, Yamaha USA, RJ Sport & Cycle, Pirelli, Cortech, KWS, CP Carrillo, SBS, TSE, Tagger Designs, Maxima Products, EZ Up, Moto Hose, Worldwide Bearings, Sharkskinz, Bell, Core Moto, US Chrome, Vortex, Milwaukee Tools, Fastenal, Graves Motorsports, Hair By Moira