De Keyrel Racing attacks Miller!
We started off the trip with a 19 hour drive to Miller Motorsports Park. When we got there, we went straight to the hotel. We headed out with Nick McFadden to explore the area. There is a long windy road that leads up to the top of this big mountain it was awesome!
Thursday We got everything set up and then we put in a brand new motor for my R6. I was feeling good about the weekend. I hadn't been to Miller in a long time.  I sort of remembered how the track went, so I knew it was going to be a blast!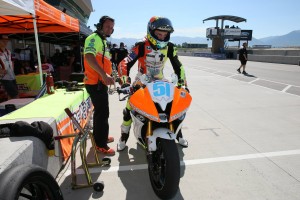 Friday I started out in the morning with practice. I was feeling good, but just needed more time on the track. I was 14th fastest in practice and I was not very happy with that. I went into Qualifying 1 with a little more intensity and came out in 11th. The bike still wasn't perfect and I knew I had a little more to improve on as well.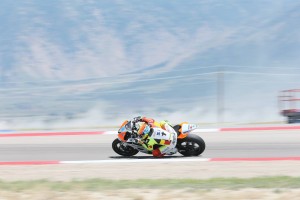 Saturday Race 1 started and I got a good jump. I was right up in there. There was a larger group forming from like 5 to 11th and I was pushing to try to stay with them, but in the mean time I just made way too many mental errors. I blew turn 1 and got right back onto the track and tried to refocus. I finished 11th after all that and was pretty disappointed with the way I rode.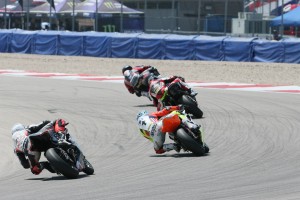 Sunday I was on a mission and determined to run with the group that I couldn't the day before. Race 2 was all I could think about all day. As I was sitting on the starting line, my heart was pounding super fast, then boom! The light flashed off and I was gone. I got right up in the mix and got right behind Corey Alexander. Corey started to loose the group and there was nothing I could, but keep pushing him. I fought my way passed, then set a charge for Benny. I pushed and pushed and finally caught up to him, but I drug Hayden and Corey with me. There was now a 4 person battle for 8th place. With 2 laps to go, I passed Hayden then passed Benny.  Corey was right in front of me. I waited until the last lap to make my move. When I got to the corner that I knew I was faster,  he shut the door, so I had to try in the corner going up to the straight. I did my best, pushed hard and ended up ninth. I am working hard and will be ready to fight at Laguna.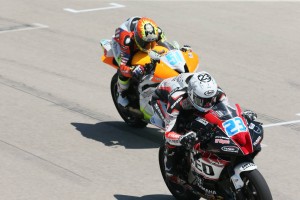 Kaleb De Keyrel #51     Friday Practice went pretty well. I was running with some of the fast guys in the class! I was just trying to get use to Miller's layout and get the bike setup.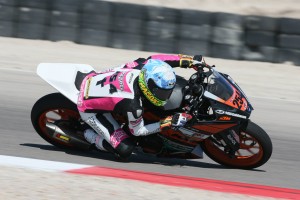 Qualifying 1 I started off by myself and then I came into the pits and went back out with Hayden Schultz.  He helped me get a good lap in. After that session, I ended up finishing 13th.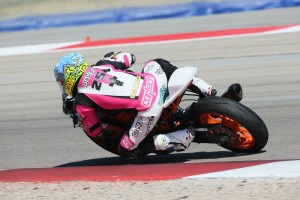 Qualifying 2 I started off running by myself and wasting time. Then I came in to try and get with a group. I went back out with a group and got ran wide and couldn't catch back up. After that, the session was pretty much over.  I ended up 20th at the end of that session.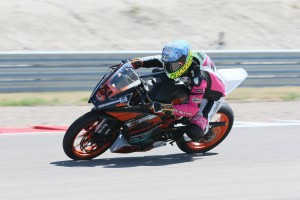 Race 1 I got a bad jump and was gonna try to work my way up, as far as I could. I passed a couple of people and then they got me back and my bike started to feel like it didn't have the power it normally had. I started fading back and then Jake fell.  Nolan Lamkin caught up to me and I stuck with them for a couple of turns. Then Jake tucked the front and Nolan was right behind Jake.  Nolan ended up hitting Jake and also crashing. After that, I took the bike over to KTM, so we could figure out what the problem was.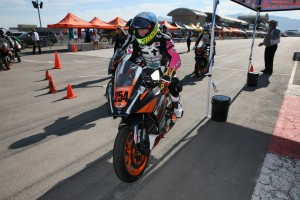 Morning Warm up I went out and was running by myself. Nick Doolan and Jody Barry caught up to me. We ran a couple of laps together.  I ran two seconds faster then I had all weekend, and was running 9th in morning warm up!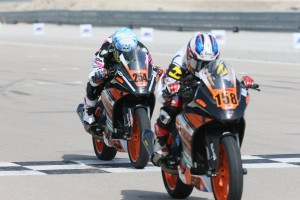 Race 2 I got a decent start and was about 20th. I tried running as fast as I could. Devin Husband and I started battling.  It was super fun going back and forth. As we where battling, we were catching another group n front of us. Once we caught up to them, we started battling with them. At this point, it was Ruben Casarez leading the group, then Jackson Blackmon. After Jackson, it was Grayson Gerloff, Devin Husband, and me. Devin and I got by Grayson and Jackson, then started working on getting Ruben. Once we got by them, we started trying to pull away, but Ruben and Jackson stayed right on our tails. On the last lap, I got in the lead of the group and was gonna try and pull away, but my plan didn't work. Going into turn 3, Devin passed me. Then into turn 4, Ruben got by me. After going into the attitudes, Jackson got by me.  I was planning on passing Jackson and Ruben on the inside into the last turn, but when I went inside of Ruben. I got on the gas and he cut me and killed my drive out of the turn.  I ended up finishing 16th it was a super fun race. Can't wait for Laguna! Mason De Keyrel #54