De Keyrel Racing Launches New Website
For Immediate Release:
De Keyrel Racing would like to announce the launch of our new website. The new website, created by an award winning digital agency, is easier to use and allows fans stay up to date with the many activities we have going on. You can find the new website at www.DEKEYRELRACING.com.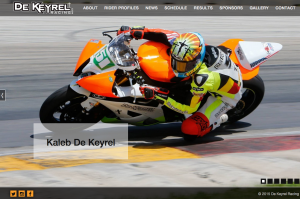 About De Keyrel Racing
De Keyrel Racing has been racing since 1984. We have raced everything from motocross, snocross, drag racing(sleds), karting, bmx, downhill GS/SL and road racing. Needless to say, the need for speed and competition is in our blood. My father, Don De Keyrel, started it all with my brother Alan and I. We would go to the motocross races every weekend as a family. Now it is my family racing with my two sons (Kaleb and Mason). Soon to be adding Levi to if he chooses. We started out in motocross when Kaleb was 5, racing locally and nationally. In 2007, we started working with a ministry at the motocross and road races. In 2009, we went to road racing full time with the CMRA. Our goal was to be a positive safe family environment in the pits. During the 2009 season it was nothing to see 15 kids under the De Keyrel Racing endurance team tent. We will continue to race as a family and show other racers that people don't find GOD after they are famous. That they have always had GOD in their life and he is the one who made them famous to spread his word. GOD BLESS
About CWS:
CWS has been a leader in the world of web design, custom programming and interactive marketing since 1996. CWS also leads the way in the world of web when it comes to social media engagement and inbound marketing. CWS' clients include globally recognized organizations and their growing team of web experts serve clients internationally.