Kaleb De Keyrel to sign autographs at the Minneapolis IMS.
Kaleb De Keyrel to sign autographs at the Minneapolis International Motorcycle Show.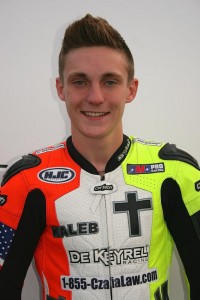 This Saturday February 7th. Make sure to stop by the Bob's Cycle Supply booth. Kaleb De Keyrel will be signing autographs from 1:00 to 2:00pm. Pick up your own MotoAmerica schedule for 2015 season!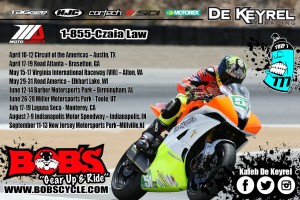 Kaleb De Keyrel had an awesome season in his first full year of AMA Pro Road Racing consistently finishing in the top five. With podiums at Barber and finishing the season up with a 5th in the championship only missing 4th by one point. Kaleb received the AMA Spirit of Tommy Aquino Award and was runner up in the Road Racing World Young Guns competition. Kaleb is building momentum and is ready for 2015. He has been training hard and has already accomplished a ton for only being 17. In 2014 Kaleb took the championship in the Central Roadracing Association (CRA ). Early on Kaleb showed great promise and had tremendous success as a motocross racer. This was the ideal training foundation for his move into road racing in 2009. Kaleb started on the Honda NSR50R. He then started his progression up to Honda RS 125, Moriwaki MD250H and the YAMAHA R6. Kaleb has twice been invited to the Red Bull Rookie Cup tryouts in Spain, as both a 13 and a 14 year old. He continues to train hard and is currently one of the youngest professional road racers today. Look for big things out of Kaleb De Keyrel in 2015!
Bob's Cycle Supply has been the one stop shop for motorcycle riders and off-road enthusiasts for over 40 years. Bob's Cycle Supply carries a huge inventory of aftermarket parts, apparel and accessories for your ATV, Snowmobile, Street or Off-Road Motorcycle. Bob's Cycle Supply offers the best in Customer Service, Order Fulfillment, and Shipping Times. We believe in what we sell, that's why Bob's stocks what it sells, and we ship our products as efficiently and cost effectively as possible, to provide you the best possible buying experience.With over 40 years of experience, Bob's is an employee owned company, that prides itself on giving premium customer service and the best possible price to our customers. When you think of riding think no further than Bob's Cycle Supply! Live Fast, Ride Hard!www.boscycle.com 1-888-306-2627