Brainerd MN for the last round of CRA races for 2014
Friday practice started off good on the team Worldwide Machining and Welding Yamaha R6. I was doing the same pace as my brother Kaleb. It was sprinkling out at the start of practice and started to rain after lunch. The front straight at Brainerd International Raceway gets a little sketchy when its wet, because there is one little line on the straight that has grip. We decided to only run one session after lunch. I was ready and wanted to save my rain tires for the races. The weather looked like rain for Saturday.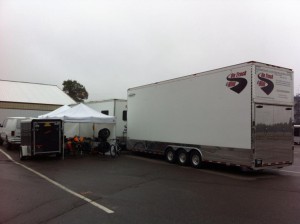 Saturday, first race up was the MWSS race. I got a pretty bad start, so I put my head down and passed three riders on the outside of turn 1. I passed two more riders on the outside of 2. I was running in ninth going into turn 3. I kept pushing and worked my way up to 4th. It was a great race and I was happy with 4th. HWSS was up next and I was looking forward to racing against the 750's on my WWMW R6. I got a great start and was running in fourth place. Going into turn 3, I could feel the rear end moving around. I continued to notice it, so I pulled off the track after turn 9 to get it looked at. Better to be safe, then sorry! When I got back to the pit, they figured out the suspension knuckle had a bunch of slop in it. They did not have the parts, so I would just have to ride through it.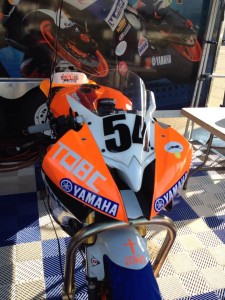 The next race of the day was MWSB. I got a mid-pack start, so I started pushing immediately. I was passing lots of people in turn 2 and by turn 9 I was in 3rd. I continued to push, but I could not get the job done to finish second. It was still a great feeling to put my Worldwide Machining and Welding R6 on the box.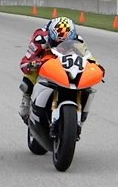 My fourth race of the day was HWSB. I got a good start and was up front. I started to feel my bike pulling me backwards on the long straight and could hear a jumping noise. Again, I had to pull into the pits. The team found that the chain had wore out and was eating away at the sprocket. There were very few teeth left. The team did a great job getting a new chain and new Vortex sprockets on before my next race (MWGP). I had been struggling all day on my starts and this race was the no exception. I got a bad start and started passing people. I pushed hard for a fourth place finish. Right after this race it started pooring rain. The WWMW team prepped my bike for the rain. This would be the last race of the day for me. I wanted to end the day with a win. Everyone was hesitant in the full wet conditions, so I got a great start. By turn 3, I was in the lead and starting to pull away. I pushed a little to hard into turn 8 and my backend stepped out. I got high sided off the bike and hit the ground. It was not the way I wanted to end my day or the season. I pushed as hard as I could every race and ran with a pretty fast group, so I am happy with where I am at right now in my learning. I have to thank John Anderson for letting me race his Yamaha R6. Otherwise, I might not have been able to race at all this year. Thank you John and team Worldwide Machining and Welding.
After the races Saturday night, my Grandma Marsha got a room at a waterpark hotel to celebrate my 15th birthday. My birthday was the Monday before, but we were at NJ Motorsports Park with the AMA and Yamaha Champions Riding School. It was a blast and a great end to a season.
Looking forward to 2015.
Mason De Keyrel #54
Thank You to all our sponsors for making the 2014 season possible: GOD, 1-855-CzaiaLaw.com, Grandma/Grandpa De Keyrel, CWS.net, Cortech, Sportbike Track Time, Yamaha, HJC Helmets, Tagger Designs, Dunlop, Worldwide, Motorex, Vortex, DARIUS, CoreMoto, Moto-D, Zero Gravity, Impact Armor, Galfer, Sidi, Pit Bull, Sharkskinz, TSE, TR