De Keyrel Racing Featured in White Bear Press
Mark Aguirre from the White Bear Press stopped by Bob's Cycle Supply in Little Canada to do an interview with Kaleb. Mark did an outstanding job to capture their conversation.
Here is a link to the full article: http://www.presspubs.com/white_bear/sports/local/article_e1a06fa6-1cf1-11e4-86a4-001a4bcf887a.html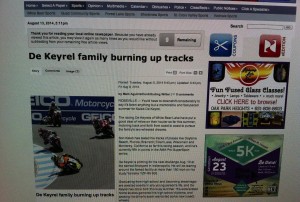 Thank You to Mark and the White Bear Press for featuring De Keyrel Racing and taking the time to do the interview with Kaleb. Edit note: I was not racing at Indy,but we were there on crew for Foy Brothers Racing Rider Jon Foy. I do not have his motorcycle endorsement.
Kaleb De Keyrel #51
Thank You to all De Keyrel Racing Sponsor for making the 2014 season possible: GOD, 1-855-CzaiaLaw.com, Grandma/Grandpa De Keyrel, CWS.net, Cortech, Sportbike Track Time, Yamaha, HJC Helmets, Tagger Designs, Dunlop, Worldwide, Motorex, Vortex, DARIUS, CoreMoto, Moto-D, Zero Gravity, Impact Armor, Galfer, Sidi, Pit Bull, Sharkskinz, TSE, TR, National Precious Metals, Charlie Grannon of SGA racing