De Keyrel Racing goes to the Indianapolis MotoGP Race.
The Indy trip started out with a not so long 9 hour drive from White Bear Lake, MN to Indianapolis, IN. We were going to Indy to help out a good friend Jon Foy. Jon is another AMA Pro racer in SuperSport and also races the Harley Davidson XR 1200 class. At Indy Jon would be racing the XR 1200. We drove all night and arrived at 6:30am. We meet up with Jon and headed to Charley Browns for some breakfast. The AMA credentials office was the next stop at 8 when they opened. After getting out credentials we went inside and waited for the AMA officials to let us know it was our time to move in. Mason and I decided we could not waste any time just sitting around. So we head over to the MotoGP paddock to talk to people and check out the MotoGP setups.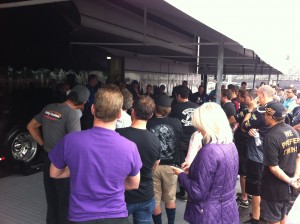 After we got everything set up. The track was open for inspection. I got ready and headed out before Jon. I was able to spin a couple laps with Cal Crutchlow. It was great to be able to see the new layout and surface for the new Indy track. It was a lot wider and just a lot more open and flowing then when I raced it in 2010. I was able to spin a lap with Jon Foy after I had a couple laps in. It was good to be able to go over the track together. They shut the track down and it was time to head to the hotel. Joey Lopez a friend of ours from Indy had lined a hotel up for us for the weekend. We programed the GPS and off we went. We went out to dinner with Chaplin Raymond Rizzo and Nick McFadden. We had some delicious pizza then it was time to get a good nights rest for the big day tomorrow. Nick McFadden ended up staying with us in our hotel that night for he had not made plans yet were he would sleep.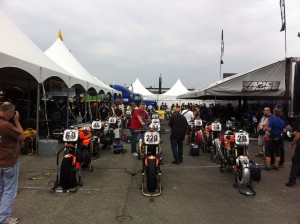 Practice for the Harley-Davidson XR 1200 on Friday was at 11:55. So that was the first thing we had in the morning. Then qualifying 1 wasn't till later in the day. We got to watch most of the MotoGP Practice. It was really cool to see the teams up close and just get to watch the amazing event Dorna puts on.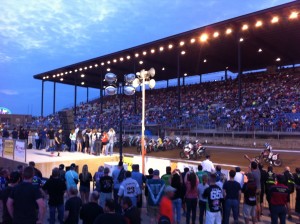 Jon Foy had never been to Indy or a MotoGP race before so he had a steep learning curve ahead of him. It was a good day but he just needed a little more time to learn the track. After we watched MotoGP we went out to the Indy mile dirt track races! A lot of the motor GP guys were at the Indy mile and we got to meet Barry from storage wars too!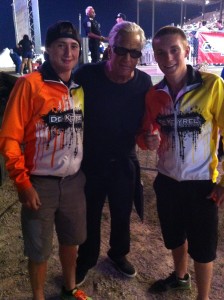 Saturday the XR 1200s were on track at 8 o'clock so we had to get there bright and early to get everything set up and ready to go. John was 21st in the morning warm-up and we didn't have anything else to do till 4 o'clock. So we got to watch the GP guys qualifying. Then it was the XR 1200 Race 1!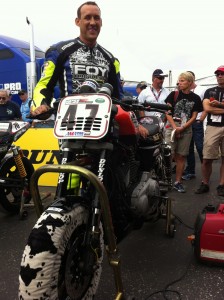 Started to sprinkle before the first race and it wasn't the best conditions but they still went had a unbelievable race. The XR 1200 class is extremely competitive and as always there like a pack of 5 to 7 up front. Jon finished 24th in the race and would have another chance tomorrow to try to improve tomorrow. It was a great effort for his first time being at the track and experiencing a MotoGP race for the first time also.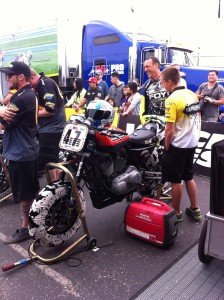 Sunday the only thing we had to do was Jon's race that was out at about 3 o'clock. We got to watch the Moto3, Moto2 and MotoGP races. All of which were very intense and exciting. There was lots of passes made in the lead packs. After we watched the GP race it was time for the XR 1200 to do their final race.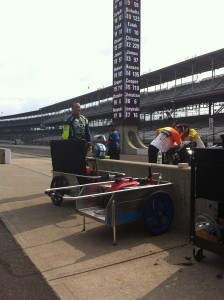 Jon and I went over the track map one last time and Jon got ready to go. He got an awesome start and was running about 19th when there was a red flag. There were quite a few riders that had gone down at different times before the red flag. The red flag gave them all time to get their bikes fixed and ready for the restart. Jon was pumped and ready for the 5 lap sprint to the finish.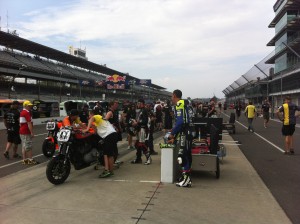 Jon got another good start. He was dropping his lap time every lap he was on the track. It was amazing just how much time he had gained just in turn one with confidence. Jon rode awesome to his best AMA Pro Road Racing finish of his career a 17th. Jon continually improved all weekend and we all had a ton of fun!
But the fun wasn't over yet. Before we made the long 9 hour drive home. We headed to Joey and Michelles house to shower up. Than it was off to Fogo De Chao a Brazilian steakhouse for an 8pm reservation. It has now become a tradition and it is very cool that all the GP guys are there.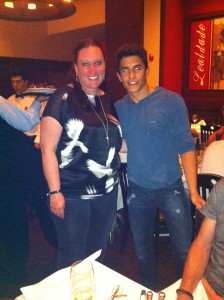 So Jorge Lorenzo and Tommy Hayden were at the table right behind us. Marc Marquez's dad brother and crew were in front of us. Marc, Scott Redding, Aleix and Pol Espargaró were all there also! We got to meet a lot of nice people. Joey introduced us to a wonderful couple from the UK that live 40 minutes from Silverstone. Murray and Jenni a great couple that are from Australia. Phillips Island looks like an amazing track. A gentle man that is the project manager for PB for the eastern hemisphere. A couple from Toronto Canada. Thank You Joey. It was a awesome time and a perfect way to end an amazing weekend!
Kaleb De Keyrel #51
Thank You to all De Keyrel Racing Sponsor for making the 2014 season possible: GOD, 1-855-CzaiaLaw.com, Grandma/Grandpa De Keyrel, CWS.net, Cortech, Sportbike Track Time, Yamaha, HJC Helmets, Tagger Designs, Dunlop, Worldwide, Motorex, Vortex, DARIUS, CoreMoto, Moto-D, Zero Gravity, Impact Armor, Galfer, Sidi, Pit Bull, Sharkskinz, TSE, TR, National Precious Metals, Charlie Grannon of SGA racing