Kaleb De Keyrel rides 4 different bikes
Kaleb had planned on racing three different bikes for the CRA August weekend. His MD 250H, Scott Christopher's SV 650 and John Anderson's R6. The weekend started off with practice on Friday. Kaleb ran a few laps on the MD 250H to make sure it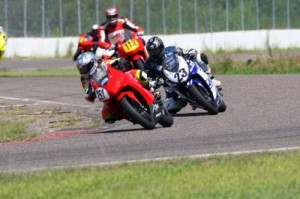 would be ready for the weekend, than turned his focus to the SV 650 and the R6. Kaleb would ride the R6 in fast practice and the SV in medium practice. The day was going well until Kaleb started to hear a noise in the SV. They checked it out, but could not hear anything in the pits. Kaleb went out for another session on it and made it to turn two before shutting the motor off, because he was still hearing a noise. After getting the SV back to the pits, the crew discovered there was something comming apart in the valve train and the SV was done for the weekend. After this happened Chris from little red ninjet came over and asked if Kaleb would be interested in racing one of his Ninja 250's in Saturday's SS race. The De Keyrels talked it over and decided Kaleb would do it. Kaleb had to start last in the race, yet managed to work his way up to fourth place. It was a great ride.
O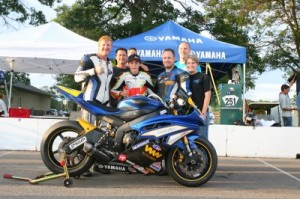 n Saturday afternoon it was time for the endurance racing. Kaleb was scheduled to race the SV 650 on a GP2 team and the R6 on a GP3 team. With the SV having motor issues Kaleb decided to just race the R6 with Team World Wide Machining and Engineering. Team owner John Anderson had equipped the bike with a quick-change front and rear end, so the team decided they were going to use this time to practice for the five hour race in September. Team World Wide was the only team to use the same bike for the entire three hours and the only team to do a tire change. Kaleb was able to ride the first 50 minutes and the last 45 minutes of the race. The team had great success, finishing in fourth place. A lot of fun was had by all.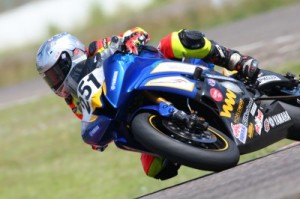 Kaleb would be in three races in a row. He would race the Moriwaki first, then 600,and then the Moriwaki – all back to back to back. This would happen two times on Sunday. The De Keyrel Racing Team handled it very well, not missing a single start.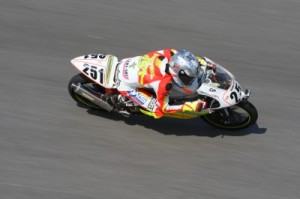 The weekend was a huge success for De Keyrel Racing and Team World Wide. Kaleb set a new personal best Lap time on the 600cc R6 of 1:42.6 during his first stint in the endurance race. Kaleb rode four different bikes and adapted quickly to all of them. Louie Diaz came up and ran the GoPro on Sunday to get some race footage. Les and his wife from Dunlop were on hand to watch the racing action. Kaleb had great results all weekend.
Results:
UL GP 1st
SP MN 1st
UL SB 2nd
LW GP 3rd
N 250 4th
GP3 4th
HW SB 10th
LW SB 10th