De Keyrel Racing gains momentum at Mid Ohio!
Mid Ohio started out with the long journey from Laguna Seca, California to the racetrack at Mid Ohio. But before we went to the race track. Roger Hayden invited us out to his house in Owensboro, Kentucky. We did three days of training on road bikes and 100s dirt tracking. I had a great week there and was ready to get to Mid Ohio.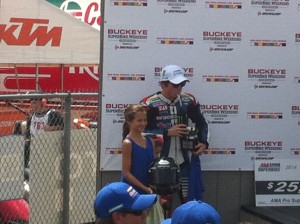 We arrived Thursday night and got everything set up up Friday. Saturday, I got up and it was pouring rain. Which was interesting, because AMA does not usually race at Mid Ohio in the rain. It basically rained off and on scattered showers all day and it was really hard for the AMA to make a decision on what they wanted to do for the day. We ended up getting one session of practice. I ended up 11th in practice, but wasn't feeling very confident in the track or the bike. I was taking it easy and not really pushing too hard. I didn't want to crash and wrecked the bike for the race. It was raining and to be honest the track felt like it had a really low Grip level. It was a good practice though and I got to see the track before the race.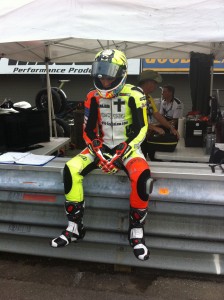 Sunday, we had a quick warm-up in the morning and the track was really greasy from the rain the day before. The track was coming in as the day went on, so I was pretty confident going into the race that the track would be to almost 100%. Race 1, I came around the first lap and I was running in fifth. I noticed my number on the board and it said +10. At first I didn't know what I did wrong, I wasn't sure if I made a risky move on the first lap or if I had jumped the start or what was going on. I just decided to continue to move forward and forget about what just happened, and try to put in the back of my mind and keep pushing and charging for the battle for third.
About halfway through the race, I finally made the pass for third. I decided that I should probably try to push really hard and try to get myself to the 10 second distance. I ended up making a mistake in the midst of pushing hard and dropped back to fifth. Towards the end of the race, I was feeling a loss of traction in the left-hand side of the tire. I was trying to figure it out, it almost was like something was leaking fluid on to my tire, but it was only happening when I was in the left corners. In the end, I finished 6th with the 10 second penalty. I felt good about my pace and just wanted to get a fresh start for Race 2.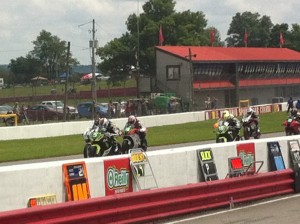 Race 2, I started off a little to cautious, because of my jump start in Race 1, so I ended up in 5th coming off the line. I was right in the mix on the first lap, but the front runners ended up getting away, including the 4th place rider in front of me. I had some work to do if I wanted to catch them. I knew I had the speed to catch 4th, because lap after lap I could see I was inching closer. I knew I had to carry a good fast pace, but be consistent and make no mistakes, if I wanted to catch him. That is exactly what I did. I put my head down and eventually caught up to him on the last lap. I wanted to wait so he couldn't counter back, but I didn't want to wait too long, so I out broke him going into turn 5 and never looked back. I ended up forth in the race. I was pretty disappointed I let the leaders get away at the beginning. It was another good weekend though and I had a lot of fun on our three week road trip! I can't wait till New Jersey! I will be training really hard to get myself prepared to battle!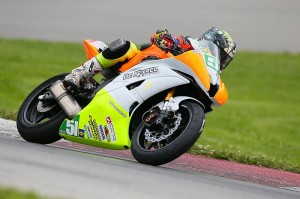 Photo Credit to Brian J Nelson
Kaleb De Keyrel #51
Thank You to all our sponsors for making the 2014 racing season possible: GOD, 1-855-CzaiaLaw.com, Grandma/Grandpa De Keyrel, CWS.net, Cortech, Sportbike Track Time, Yamaha, HJC Helmets, Tagger Designs, Dunlop, Worldwide, Motorex, Vortex, DARIUS, CoreMoto, Moto-D, Zero Gravity, Impact Armor, Galfer, Sidi, Pit Bull, Sharkskinz, TSE, TR