De Keyrel Racing is heading to the Indianapolis MotoGP races.
AMA Pro racing will be having one class represented at the Indianapolis MotoGP races again in 2014. The Harley Davidson XR1200 will again have two races on the schedule.

De Keyrel Racing is honored to have been asked to pit for Foy Brothers Racing. Rider #47 Jon Foy.
It will be a great experience for De Keyrel Racing to get to interact with Jon Foy of Foy Brothers Racing as he learns a new track. It is a huge honor for all AMA Pro Road Racing XR1200 participants to compete in this MotoGP event. With the new track layout for the 2014 event. The racing action is going to be exciting. Get your tickets now and support Road Racing in the USA.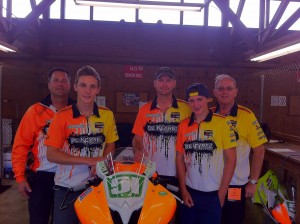 De Keyrel Racing is excited to get this opportunity to help out a fellow racer in the XR 1200 class. Stop by and say hi and make sure to cheer on all the American racers at the 2014 MotoGP of Indianapolis.
Thank You to Jon Foy of Foy Brothers Racing for this opportunity. GO Jon Foy #47
Thank You to all De Keyrel Racing Sponsor for making the 2014 season possible: GOD, 1-855-CzaiaLaw.com, Grandma/Grandpa De Keyrel, CWS.net, Cortech, Sportbike Track Time, Yamaha, HJC Helmets, Tagger Designs, Dunlop, Worldwide, Motorex, Vortex, DARIUS, CoreMoto, Moto-D, Zero Gravity, Impact Armor, Galfer, Sidi, Pit Bull, Sharkskinz, TSE, TR, National Precious Metals