Kaleb & Mason De Keyrel attend Stars School with Jason Predmore
The day started off with a class room session for everyone. After that they broke up into a street group and a race group. Both Kaleb and Mason where in the race group. I had been raining so Doug (Kaleb and Masons Dad) was busy getting the rain tires on the bikes.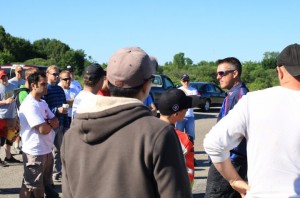 The first two sessions of the day where in the rain. Then the sun came out for the rest of the school. With the rain the track walk was moved to after lunch. The day consisted of 20 minutes of track, 20 minutes of class room all day from 9:00 am to 5:00 pm.  The class room sessions went over what the students were to work on for that session. Than the next class room the students and Jason went over pictures of the students taken in that session to see how they were doing.  After lunch they went from pictures to video that they would review.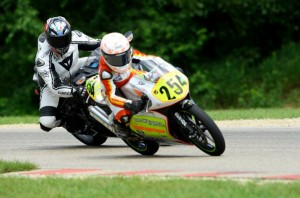 On track there were more instructors than students. There were instructors like James Repsoli and Corey Alexander that were out setting a fast pace. Then there were the instructors following students and pulling them in with tips. After the third session Todd (one of the instructors) pulled Mason in and asked to move him to the street group. He wanted Mason to be able to work on passing. Not just on getting passed. The pace in the race group was fast for a track day. Even the street group was going good.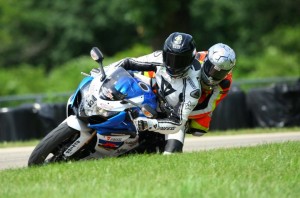 One of the best parts of the Stars School is the two up rides. If you have ever been a passenger on the back of a street bike before you can only imagine what it is like on the track. Jason himself does the two up rides. It teaches the students brake points, lean angles, throttle position and corner speed. Ok some of the students. Some are just praying for it to be over. It is not a relaxed pace. Jason wants them to be able to learn. It is a fast controlled pace for two laps. Most students take a lot of knowledge from the two up rides.
The school at Blackhawk Farms was a two day school. Some students took both days and others one day or the other. There was also a third day for the veterans. All in all a great school for the money.
VIDEO: http://www.youtube.com/watch?v=2ktVXWyLpVE
THANK YOU TO JASON PREDMORE, MARK, TODD, CHRIS, GREG, JAMES, COREY, AND ALL THE REST OF THE INSTRUCTORS  for a great time and a great school.