Racing the 1-855-CzaiaLaw.com Honda CBR600RR at New Jersey Motorsports park with AMA Pro racing
Thursday morning, I got up feeling confident how the test went the weekend before and I was really excited to back riding the honda again. My dad and I went to get the bike out of Sean Preito's trailer to bring it over to Eric Grey. The first thing Eric noticed is the bike didn't have any power. When they had loaded it up from last weekend the power switch was on. It had ben on the entire week.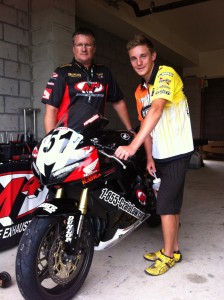 So Eric asked Robin, "What should I do?" Then Robin went over and grabbed a battery out of Benny's bike to make sure that was the problem and it was. After Eric fixed the battery issue. He installed a fresh motor, changed suspension, put on a new chain and stickered the bike for tech.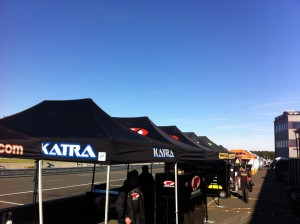 Friday morning, Eric got up and got the bike through tech right away. He had my grandpa and dad go to Sean's trailer and grab the Katra canopy, table and table cover to set us up a pit. Practice was up next at 1:00pm. I was 8th fastest in practice and I was felling good about how the day was going so far. I filled out my track map and went over it with Eric. He made a gearing change and tried to make the bike steer better for qualifying 1.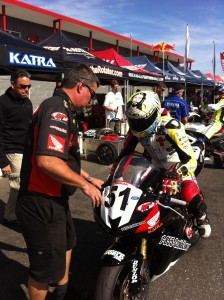 I really had to muscle and fight the bike in qualifying 1. I couldn't get the bike to go from left to right without abrupt shaking. I qualified 12th and I really knew I could do better than that and I hoped I would have Saturday to improve. Eric and I continued to communicate to try to make the bike handle better for me. He changed the gearing back and got the bike ready for Q2. I got on my bike and peddled some laps around the track with Chris Fillmore. It felt good to get out and ride. I studied the track as I did laps. Feeling the bumps and seeing were I might be able to make time.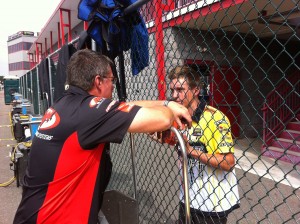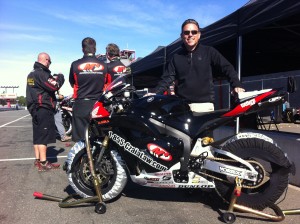 Saturday morning was a cold track and nobody went faster, but I still really wanted to qualify better. With 10 minutes to go, I pulled in took a little break. Then went back out and put my head down. I tried a little too hard and I low sided in turn 3. I learned from that situation and moved on because Race 1 was approaching. Eric went to work cleaning and fixing the bike. He had to hurry to get it ready for Race 1.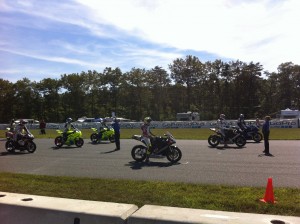 Race 1, I went around for the warm up lap and everything felt good, but when I went for the next warm up lap I realized that something was really wrong with the bike. When I would shift the bike into 4th or 5th gear high in the rpm's the bike would bog. I would down shift and it would be good till I made the shift again. So when I gridded up, I made a motion to my dad that something was wrong. My dad radioed to Eric that there was an issue with the bike.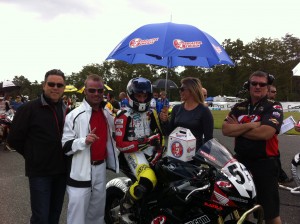 When the race began, I got a good start and was running in the top ten. I came flying around the last corner and I tapped into 5th gear and the bike bogged. The guy behind me ran right into the back of me. Luckily we both stayed up. I put my hand up and moved all the way over to the right. Far away from the other riders as they were flying by. I turned in and crossed hot pit. I pushed the bike up behind the pit wall to not go up the track backwards. When I got to the pit I explained what the bike was doing. Eric thought it was the quick shifter acting up. Eric unplugged it and I took off to go back out. The AMA official at the end of the pit lane stopped me and told me I couldn't go back out. I rode back down the cold side of pit lane and gave the bike to Eric. The AMA official's came down and talked with us. I told them I had went behind the pit wall so I did not go up the racing surface backwards. Seeing we did not have a back up bike that we could have switched to. They decided to let me go back out.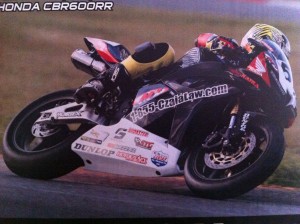 I went back out and the bike was doing the same thing. I came back in and Eric asked me to calmly explain to the other Team Hammer guys what it was doing. They took my bike apart and searched for anything they could find to try and get the problem fixed. There was a red flag and that gave us more time. My dad asked if he should put the tire warmers on so it would be ready for the restart. The tire warmers were put on and the the Team Hammer crew was tearing the bike apart. They checked every electrical connection, fuel line for pinching anything they could find. They got the bike back together as the horn sounded off for us to go back out. I started in last and passed 16 guys in 6 laps. We finished the day strong with a great performance by the hole team. They got the bike back out and I rode well.
Eric went to work pulling the bike back apart again to find anything that may have been over looked. I sat down and did my track map and tried to think of any information I could give Eric to make the bike better. I was looking forward to Sundays race.
Sunday morning, I got up feeling good and ready for a new day of racing. I had a warm up in the morning and the bike was running good, but the dash was cutting out. Eric asked if the tack was working? I told him yes and he was happy that the important stuff was working why I was on track.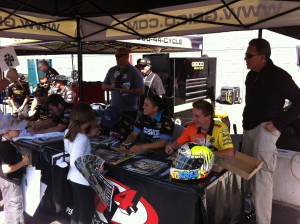 Fan walk was the next event for me on the schedule. It was fun sitting at a table with Chris Ulrich, Dane Westby, Benny Solis and Melissa Paris. My dad handed out 500 Kaleb De Keyrel #51 1-855-CzaiaLaw.com cartoon stickers. I had my Tagger Designed custom painted HJC sitting on the table for fans to see. I really enjoy meeting the fans and trying to make there day. After the fan walk I started to focus for the race. I went to get my gear on and my dad and grandpa were starting to pack everything up for the trip back home.
Race 2 was up and I was ready. The horn sounded. My dad and Eric pulled the tire warmers off and I started the bike. I noticed the check engine light was on. I told Eric and he shut the bike off. Then asked another mechanic to come over and look at it. When he turned it back on the check engine light was not on and I went out to race. I got a good start and was running in the top 10. About the half way point in the race it started to cut out and bog again. I would set up a rider to pass and than loose power. I notice the check engine light had come back on. I did everything I could to run smooth fast laps and keep the bike running. I fell back to 12th place and finished the race in that position. I came into the pits and I showed Eric that the check engine light was on. I ran my fastest lap of the weekend in that race and was happy I improved.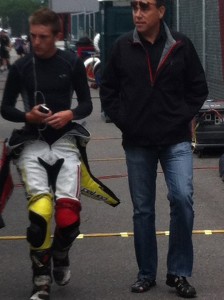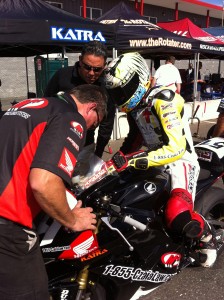 Overall I had a fun weekend of learning and I will use this knowledge in the future. I have to give a huge thank you to Cj Czaia, 1-855-CzaiaLaw.com, John Ulrich, Chris Ulrich, Grandpa and Grandma De Keyrel, Mom and Dad for making this all possible. I also have to thank Eric Grey and the Team Hammer crew for working really hard on my bike this weekend. Sean Prieto, Kat Zimple and Kirk Reuille for there support. It was a huge opportunity that I am thankful for. I know the results weren't great but I learned a lot and it was fun!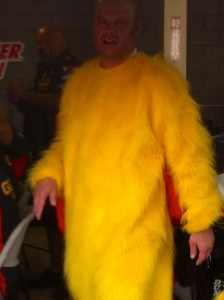 Kaleb De Keyrel #51
Thank you to all our sponsors for making the 2013 season possible:
GOD
1-855-Czaia-Law
CWS.net
WorldWide Machining and welding
Bleakly-Hayes
Motorex
Sportbike Track time
Cortech
Dunlop
HJC
Tagger Designs
Zero Gravity
Trackside Suspension and Engineering
Steve Diamond Elements
Vortex
Ontrack4him.org
Yamaha Champions Riding Schools
Impact Armor
Shark Skins
SSB
Sidi
TR