CRA August 2013
Mason De Keyrel makes the switch from Moriwaki MD250 to Yamaha R6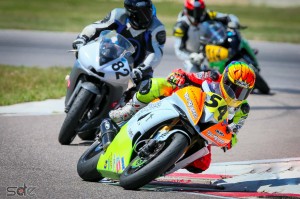 We sold the Moriwaki MD250 in June, knowing that I was ready to make the switch to the Yamaha R6. I had an opportunity in February at Barber to ride our backup R6 for a day and a half. It felt completely natural and in no time I was gaining confidence and speed. I didn't want to go back to the Moriwaki but my Dad said he would not let me race the R6 until I got a 1:50 flat on my Moriwaki at BIR. At the June CRA race weekend I had a plan to get faster and that weekend I made it down into the 1:50's. I would be making my 600 debut at the August CRA weekend.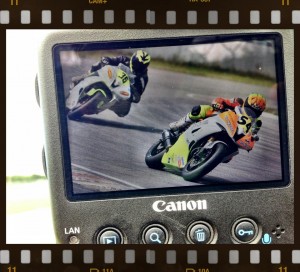 Friday practice I started off in the high 1:40's. As the day progressed, I felt more comfortable allowing me to pick up speed. By the end of Friday practice, I was into the 1:43's. In practice when I was picking up speed every lap almost I had a tank slappers. The bike I was riding was set up for a heavier rider with stiffer suspension. I was just happy that Tom was allowing us to barrow it. It felt good knowing that I was running the pace of the top novice riders. I felt confident going into Saturday's races.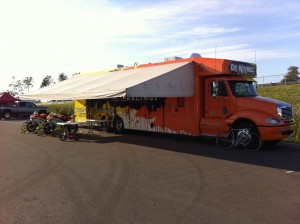 Going into Saturday's practices, I realized that on the Moriwaki you could carry more speed into the corners and it is much lighter than an R6. The R6 carries more speed out of the corners. So I worked hard at entering like I was on the Moriwaki and using the power to exit faster on the R6. In all my races I wasn't used to the clutch and the hight of the bike. This making my starts suffer. I wasn't used to going so fast in turns 1 and 2. The speed difference was approximately 30 miles an hour faster than I was used to. My used USA Dunlop tires from Kalebs Mid Ohio races worked awesome. It was a great day with me winning all 6 of my races. Thank You to David McCoy and Carley for being there to cover it all form WCCO News.
Sunday during my first lap out in turn 6 I lost power in the motor. I maid it back to our pit to check it out. My Dad thought the motor dropped a valve. I ran over and asked John Anderson if I could run his R6. He said yes. My dad, John Griffths, and my Grandpa got busy switched my bodywork and Dunlop tires onto Johns bike. I ran John back his tires as they pulled them off so he had them for his other bike. My first race of the day, I went out on the warm-up lap trying to get used to his bike. John suspension was even stiffer than the bike I raced Saturday. I ended up stalling it on the start. I was able to start it back up and started working my way up through the pack. I ended up finishing 2nd. When I got back to the pit I had my dad adjust the clutch lever to fit my size better. My second race of the day I won. I ended up crashing on the last lap in turn 3 in Race 3. I ran it in a little to deep got on the gas to save it but just could not hold on to it. I was alright, and the bike was able to be fixed for the next race. Race 4, I had a good start and finished 1st. My fifth race of the day I got a good start. I lead the race till half way and ended up getting passed in turn 12. I started to work my way around the outside of him in turn 2. As I went by and broke his draft the front end went light. I tried to push my knee to save the front but ended up tucking the front. It was a very high speed get off. The corner workers came to me right away and got me into the ambulance. The safety crew checked me out and I went back to the pit to change. My dad lined up to have Billy Anderson and my mom take me to the hospital to get check out farther. I fractured my left shoulder and possibly fractured my left hand and wrist. My right elbow had pretty deep road rash that had to numb to clean it out. Thank you to all the corner workers and CRA staff. All the people that helped. All in all it was a great weekend with a lot of success and learning. On the mend and ready to get out and have more FUN!!!
All in all, I'm happy to have made the switch to the R6 !!!
Mason De Keyrel #54
This weekend started out with friday practice. The bike felt great and the track had a lot of traction. I was feeling good coming into saturday's races.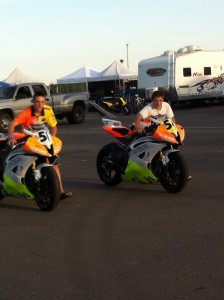 Saturday morning we meet up with David McCoy and Carley from WCCO news. They were up to do a story on the CRA, my brother and I. We had them get race footage first and decided to do the interviews at lunch. CJ Czaia from 1-855-Czaia-Law was also up on Saturday sponsoring the race weekend. CJ is a new sponsor of De Keyrel Racing. He wanted to also help out some of the other CRA racers and meet new people in the CRA community. Road Racing World had also sent up Magazine for De Keyrel Racing to had out. It was a busy day with TV, sponsors and making sure racers new about the RRW rider profiles they could fill out. It is great that RRW is using there site to promote racers and clubs in such a way. We have our profiles filled out do you?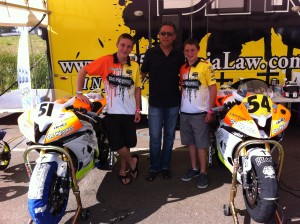 Saturday's racing started off great! I went out and won Middleweight Supersport. In Heavyweight Supersport I was way in the lead and ended up crashing. Just a mental error on my part. My dad, John and Grandpa got everything fixed. I went out for Unlimited Supersport with out tire warmers and the same tires that I crash on. We were using up my Dunlop USA takeoffs from my Mid Ohio AMA race weekend. I am extremly happy that I was not injured and finished 5th in the next race. I had a hour break at lunch. My brother and I did our interviews for WCCO. Than I took the last few minutes to get focused for the afternoon. I went out and won Middleweight,Heavyweight Superbike. I also got 4th in Unlimited Superbike. At the afternoon break I finally got to spend a little time talking with CJ form 1-855-Czaia-Law. GP racing started and I won Middleweight and Heavyweight classes. I ended up 3rd in the unlimited GP class but I also set the 600cc track record with a 1:36.586! Overall Saturday went great! It was very busy and I had a lot of races. CJ got to meet new people. WCCO was happy with everything shot. We had gave out about 50 Road Racing World magazines and De Keyrel Racing had won 11 races.
Sunday started off with a win in Middleweight and Heavyweight Supersport and a 4th in unlimited Supersport. I also finished with a win in Middleweight and Heavyweight Superbike then also got another 4th in unlimited Superbike. The next Middleweight GP race I finished 2nd. I was sitting in second place going to make a pass for the lead on the last lap when the Red Flag came out. As I was rounding turn 2 I could see my brother laying in the sand with 10 people around him. The ambulance and about 3 trucks were on track. This was not what I had wanted to see. At this point I had no idea how bad it was. I finished the lap and got back to the pit and gave my bike to my dad. I told my dad the bike was destroyed. My dad told me to go inside the rig and get ready for the next race and that it always looks worse than it is. John prepped my bike for the next race and my mom and dad went to be with Mason. I took a minute to focus and went out and won Heavyweight GP race. I had one race left for the day. It was the unlimited GP race. I finished 2nd. Overall it was a tough weekend dealing with crashes but De Keyrel racing had 19 1st places this weekend also!! Time to regroup and get ready for AMA Pro Racing at New Jersey.
Kaleb De Keyrel #51
Thank You to WCCO News for taking the time to drive up to Brainerd International Raceway and do the story. Thank You to CJ Czaia of 1-855-Czaia-Law for your support of De Keyrel Racing and than reaching out to support the CRA races also. Thank You to Road Racing World for sending the 90 issues of the August addition and the rider profile cards. It is great to know that there are people that support and love the sport as much as we do. Thank You to all our sponsors for making this weekend possible:
GOD
1-855-Czaia-Law
CWS.net
WorldWide Machining and welding
Bleakly-Hayes
Motorex
Sportbike Track time
Cortech
Dunlop
HJC
Tagger Designs
Zero Gravity
Trackside Suspension and Engineering
Steve Diamond Elements
Vortex
Ontrack4him.org
Yamaha Champions Riding Schools
Impact Armor
Shark Skins
SSB
Sidi
TR