2013 Major River to River ride!
The MN Major River to River ride was a great one-day event with tons of stuff for everyone to do. The KTM race rig and Ryan's personal motorhome were both there. Skullcandy blasting music for everyone that was at the event. Muscle milk giving out samples of their products. Afton apple orchard prepared meals for all involved and opened up their facility for the event. It was truly an amazing event.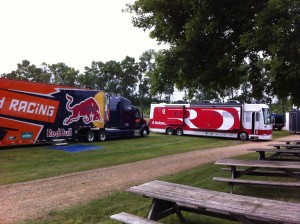 This event was very thought out. From the food, entertainment, music and even the courses. The MN Major ride is 100K (62 miles) and the Minor ride is 20 miles. They had an amazing kids race which is a mile long through the apple Orchard. The youngest participant was 4 and the kids had a blast!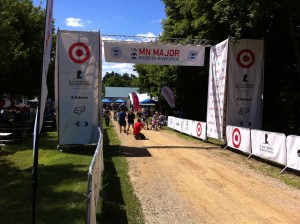 I chose to do the 62 mile ride through the hills of Afton and had a great time! I rode with Ryan Dungey and Wil Hahn at the start. Which was a really awesome experience!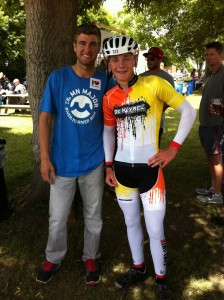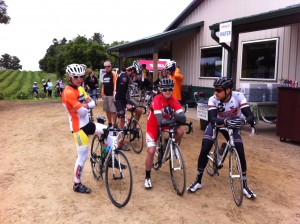 Ryan and Wil cut off at the 20 mile loop after running hard moto's Saturday at the Millville Motocross Nationals. I spent almost the entire bike ride with Roger De Coster and we really had a great time!
The course was challenging, well planned out and well marked. The Major riders followed the blue arrows and the Minor riders followed the red arrows. The scenery was great going by lakes, rivers, and plenty of corn fields. The day really couldn't get any better. The weather was great. It started out a little cool in the morning but by the finish the sun was out and everyone was really having a great time! I also got meet Tim one of my sponsor at Motorex Oil!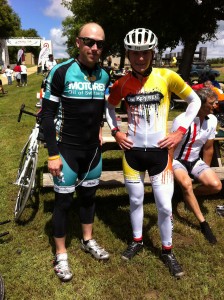 The MN Major River to River ride is way more than a bike ride though. 100% of all donated and entires go to St.Jude's Children Hospital. St Judes is working to find a cure for cancer and all patients receive care free of charge. St. Judes covers air fair, housing, schooling and any other costs to make their patients lives and families lives complete as possible. Having an Uncle who passed away from pancreatic Cancer in 2009. I know many others have had someone in there family or know of someone who have had or have Cancer. Ryan Dungey is the founder of the event. He loves to cycle but this is also a cause that is very close to him too. Ryan lost his grandmother to cancer in 2005. Ryan has since dedicated much of his charity work to finding a cure. He's even dedicated his Motorcross career in honor of his grandmother's memory. Todays event raised more than $104,000. Ryan handed this donation to St.Jude's Children Hospital to find a cure for cancer and continue to give their patients the best care possible.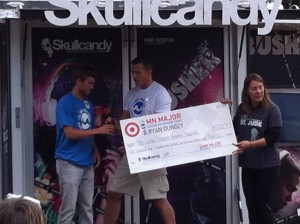 It cost $1.8 million to keep St.Jude's running everyday. The MN Major River to River Ride is truly a great, fun, amazing event that has an impact. I really encourage you to mark this down on your calendars for 2014! It includes something for everyone. So come on down to the MN Major River to River ride in 2014!
Kaleb De Keyrel #51
Thank You to all my sponsors for making the 2013 season so great. GOD Bless