Heartland Park Topeka, Kansas
Heartland Park May 4-5 2013 ( CCS Race )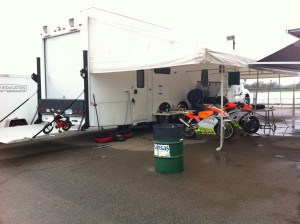 The trip started off with a 7-1/2 hour drive to Topeka, Kansas. On Friday we set up the canopy on the race rig and checked in. Got ready for the first race weekend of De Keyrel Racing's season. It was raining and 37 degrees so we did not practice. Saturday morning I got up and got ready to headed out to practice. The first practice it was freezing out. I went out and started off slow then worked my way up. I felt good with how practice went and was looking forward for the first race of the year! The GTU was the first race of the day. I went out and new if I could gap the field just enough for them to not catch my draft down the front straight I would be gone. So I did exactly that. I went out and set a good pace the first lap and won the race. The next race of the day was middleweight Superbike. I ended up second in middleweight superbike and second in middleweight GP. With getting second in the last two races it was really obvious what I needed to do in the last race, WIN! I focussed for the next race which was middleweight Supersport and did a fast first lap and won the race.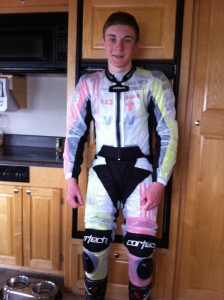 I got up Sunday morning feeling good about how yesterday's races went. We headed to church service with Ray Rizzo of MRO. Sunday was a little different because instead of eating lunch I was lucky enough to get the chance to race in the Team Challenge. I raced for Eric Helmbech team Chesters Auto. Chesters Auto is the number one plate holder in the GTO class (1000cc). The Team challenge is a 44 lap race or a time limit of two hours.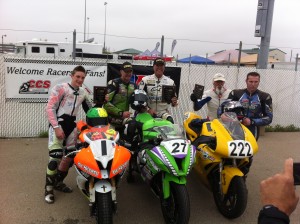 Practice was still wet but warmer than our high temp for yesterday. I was feeling a lot more calm heading into the races on Sunday and I was really excited to get the racing underway! The first race of the day was middleweight Supersport. I went out for middleweight Supersport and did just like the day before. I had a great first lap and won the race! That was my only race before lunch. Next race was the team challenge. I would be racing my Yamaha R6 in the 1000cc class. I was not under any pressure from Eric to do good. He basically just wanted points. Eric was not even concerned if I finished. The track for the start of the Team Challenge was wet but it was no longer raining. So we didn't know if we should use rain tires or DOT tires. With the cold temperatures we choose to go with rains. I was most comfortable with the rains for we had been running the same set all weekend. The race started off great. I pulled the hole shot and was pulling away from the pack. I had a 41 second lead till about half way. The rain tires started to wear out because the track had dried out so quickly. I pitted at lap 31. We lost the lead to Jason Farrell why we were in for the pit stop. We had no quick fill or quick change setups with us so our stop has slow. I never should have looked at the tires. After I did my pit stop my main focus was just to finish. I started putting my head down coming out of corners to push the bike up onto the meat of the tires. The tires were completely gone and at this point I just decided to ride solid consistent laps and finish the race in second. I was really happy with my finish considering I was on a 600 in the 1000cc class. I rode the best that I could under those circumstances and that is all I could do. The closest 600 in the GTU class was two laps down at the finish.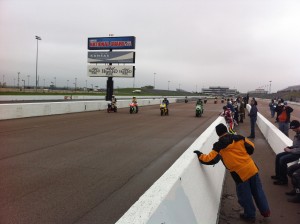 The next race was middleweight GP. We cleaned the bike and put on a set of Dunlop USA DOTs. I finished second in this race. I had some confidence issues with my tires that I should have gotten over faster. It was the first time on the DOTs this weekend. With the last race of the weekend approaching. I spent sometime getting focused and knew if I went out and rode like I knew how to ride. I would win this race. I took off and pulled the hole shot in middleweight Superbike race. I had a great first lap and never looked back. I won my last race of the day and was really happy how the weekend had gone. I feel that this weekend was really a learning experience in many ways and I will use that experience for the next race weekend.
We packed everything up and started in on the 7-1/2 hour drive. We arrived home at 2 am. Headed to bed and back up for school at 6:00am.
Thank You to Eric at Chester Auto and our 2013 Sponsors: GOD, CWS.net, Bleakly-Hayes, World Wide Machining and Welding, Motorex, Sportbike Track Time, Cortech,
Dunlop, HJC, Zero Gravity, Trackside Suspension & Engineering, Vortex, Ontrack4him.org, Yamaha Champions School, Impact Armor, Shark Skinz, Simply Sport Bikes, Sidi, Tucker Rocky
Kaleb De Keyrel #51
Saturday:
GTU 1st
MWSB 2nd
MWGP 2nd
MWSS 1st
Sunday:
MWSS 1st
GTO 2nd
MWGP 2nd
MWSB 1st
Heartland Park May 4-5 2013 ( CCS Race )
Saturday morning practice was awesome. It was cold and raining so no one was going out. The CCS officials ran it as open practice. I just keep working my lap times down trying to catch guys on 600's. This was my first riding at Heartland park and I loved the track.
I only had one race on Saturday and Sunday. Moto3. With the cold and the rain all my competition decided not to show up for the start of the race. I focused on the riders in the other class to see how may of them I could keep up to. I had a blast for my first time at Heartland Park and learned allot. I am ready for the next race this weekend at Brainerd International Raceway.
Thank You to all our Sponsors for 2013: GOD, CWS.net, Bleakly-Hayes, World Wide Machining and Welding, Motorex, Sportbike Track Time, Cortech,
Dunlop, HJC, Zero Gravity, Trackside Suspension & Engineering, Vortex, Ontrack4him.org, Yamaha Champions School, Impact Armor, Shark Skinz, Simply Sport Bikes, Sidi, Tucker Rocky
Mason De Keyrel #54
Saturday:
Moto3 1st
Sunday:
Moto3 1st