Mason De Keyrel finishs second in the USGPRU Moriwaki race
Mason De Keyrel finishs second in the USGPRU Moriwaki race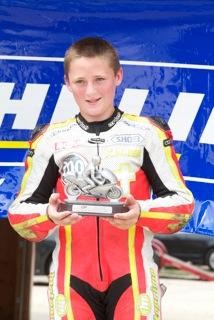 The weekend started with a long drive.
We left Salt Lake city with our grandpa De Keyrel Wednesday night and arrived at Beloit IL. Thursday night after a 23 hour drive. Thank You Grandpa. We set up our pit. My mom and dad meet us there. My dad started in on bike maintenance and my mom on washing cloths and gear.
Mason and I got up early and went for a run to warm up for the day. After the run we set out all our gear and started to prep for the day. Than we went up to check in for the test and tune day. We were informed that MotoVid was the one that was renting the track and were not allowing anyone under the age of 16 to ride in the test and tune day. Prepaid or not. We had to watch our competition learn a track we had only been to one before.
Friday night one of the racer brought down some homemade fajitas, Cheese and salsa. I tried a little. Mason skipped it all. My dad had two and my mom one. You will understand the details later.
Saturday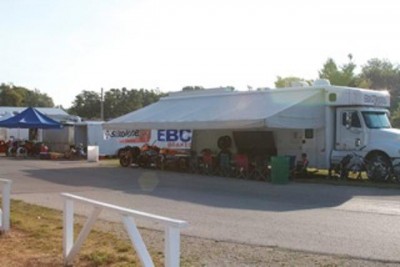 Saturday morning Mason and I again started our day with a run. We ran out to the front gate to stretch and meet up with my aunt Paula and my cousins ( Carlie, Lexie, Tashia, Shayna ) My great uncle/aunt Bob and Diane also came. It was going to be a great weekend of racing and family with my grandma and grandpa there too.
After we ran back we found out that my dad was sick. He worked on our bikes all day and made sure we were on the track.
Kaleb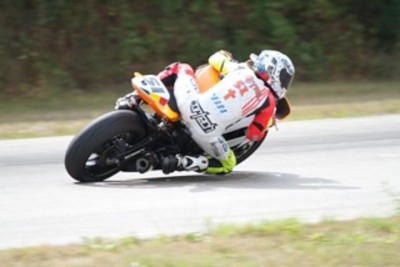 After two short practice sessions. I was up for the MWSB race. I got a good start and was running second. I rode hard but was shuffled back to fourth. That was ok because I had learned a couple of lines from the other riders.
Next up was the MWGP race. I got an ok start and was battling in the top four. We were passing lap after lap and I again ended up in fourth.
Mason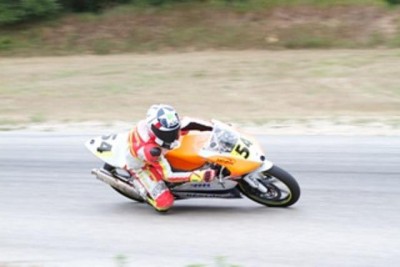 Next up was Mason in the Moto3 race. He rode awesome. Mason had an Ok start and worked his way up to fourth by the end of the race. It was fun to watch.
Last race of Saturday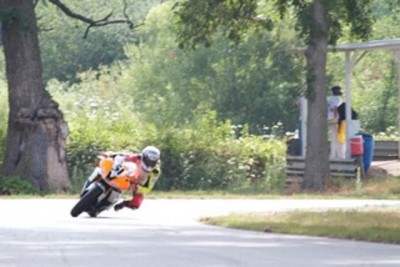 The last race of the day for me was the MWSS race. I got a great start and grabbed the hole shot. I had pulled a two second lead and was running up front. As the race progressed on we started to get into lappers. On the last lap I made a desision to go under a lap rider and he moved directly in my line to get out of the way. I was again shuffled back. this time to third and on the last lap. I continued to charge and pushed my way back up to second with a drafting pass at the line. It was a fun day and I was looking forward to Sunday. Hoping my dad would be feeling better.
Sunday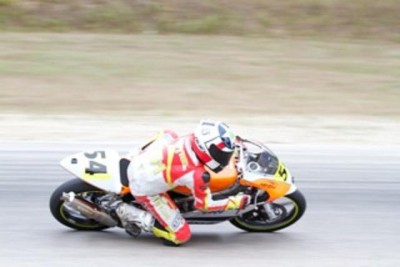 My dad, Me and my mom were now all sick. Food Poisoning. No run this morning. I went out for about six laps of practice and can in to rest. Mason on the other had was out tearing it up. I thought he was going to run out of gas he stayed out so long.
First race up was the GTU 25 minute race and it was raining. I love riding in the rain but I was so sick I was going to do the best I can. The race started and I got a great jump. I was pulling away. I had about a four second lead by corner six. Exiting six I was excellerating hard and hit a paint marking that the instructors of training program had put down on the track to show the best line. I lost traction and high sided. I was so bummed. I got a ride back in the crash truck and tried to get my dad to fix my bike so I could get back in the race. My dad told me to go rest and started in on fixing my bike even though he was still sick.
Mason was up next in the Moto3 race. Palmer pulled the hole shot with Mason right behind him. Mason rode a great race with a second place finish. I did not get to see it but Mason came back and told me all about it. He was pumped.
Start
My second race of the day was the MWSS race. I was sitting on the starting line going to do my best and make the most out of it. The flag flew and we took off. I was running in fouth place and off the pace of the leaders. I desided to settle in for fourth. Going into turn one I heard a rider coming up the inside of me. I moved over to let them by. The rider came in to hot and took out my front end. I was on the ground for the second time of the day. I rode the crash truck back again. When I got back to the pit my dad said just call it a day and regroup for the next weekend. I went in and went to bed. I had crashed twice and my mom had not even know for she was in the camper sick all morning.
At least one rider was on for the De Keyrel Racing crew.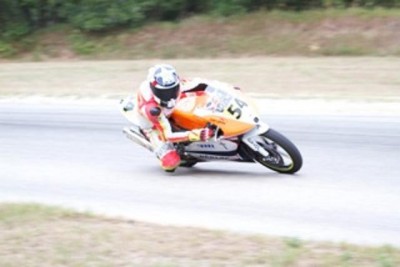 Mason was up again in the USGPRU Moriwaki MD 250 race. Mason got a great start and had the lead. On lap two he was passed and moved back into seconded. Mason fought hard and took the lead back a lap latter. It was pass after pass. Mason ended up finishing the race in second, but should keep his head up for it was awesome to see him ride so well.
Thank you to all our sponsors and my Grandma/Grandpa De Keyrel, Aunt Paula, my causins, Diane, Bob, Jerry and Dona for your support and comming to this race weekend.
Regrouping for the next race weekend. ( My dad is still sick as I write this and has been going to work and working on bikes) Love you dad
Kaleb De Keyrel #51
Results
Kaleb:
MWSB 4th
MWGP 4th
MWSS 2nd
Mason:
Moto3 4th
Moto3 2nd
USGPRU Moriwaki MD 250H 2nd
USGPRU Moto3 6th