Kaleb De Keyrel heads back to roots with Team Worldwide!
I got up friday morning with my usual routine a morning jog around the facility at Brainerd International Raceway, then got stretched out and ready for an awesome day of riding the new Worldwide R6! Friday we started with a base set up we thought would be good, then just did a little fine tuning. The bike was working awesome. I just struggle a little bit on entrance on some of the really fast corners at BIR turns 1 and 2. Turn 2 was the biggest issue and also one of the fastest corners on the race track. As most of you may know, you don't make up time in the slow corners you make of most of your time in the fast ones. So Kody, my new suspension mechanic, immediately addressed this problem and lowered the front end on the yamaha R6 to put just a little bit more weight to help the bike steer in at 150mph! This change and a couple others got me feeling right at home on this New Yamaha R6! I was now anxious to start racing!!
Saturday at Brainerd International Raceway, it started off rainy and would remain that way till about noon. Luckily for me, I didn't have any races until the afternoon and it dried out just in time! I went out for the first race on this new mean machine and didn't really know what to expect or where I would stack, being that I hadn't raced a road race bike in a long time. I ripped the holeshot and went into turn 3 a little cautious, not knowing if it was still wet or not. I immediately got passed by 8 guys and right after they all went flying into there, I thought to myself, huh, I probably should have went in there a little bit faster. I then just slowly started to pass them all back and pulled away with a win! I then went on to win all the 600cc and 750cc races. I was a little under power in both 1000cc races, but still was running up front battling and finished 3rd in both those. Overall, a really good start to the weekend and was a blast racing BIR again.  Saturday night,  John Anderson put on a great church service for our race family, which was very uplifting and one of my highlights of the weekend. The challenges of the 5 hour endurance race  are still t0 come….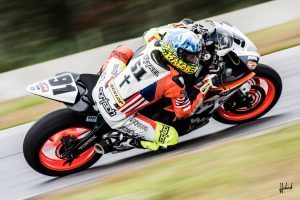 Sunday,  Shane Keavney, Aaron Anderson and I would race 5 hours on the 3.1 mile course of BIR. This race is hard enough to complete when the weather is sunny and beautiful, but when we all woke up on sunday morning there was a gloomy, rainy haze in the air. I knew battling the elements was going to be the biggest challenge of this whole race. I started the race with the track temp being extremely low, which as us racers would say makes the track really greasy. Although there was a little water on the track, traction was still pretty good. I jumped out to an early lead and some little back and fourth stuff with a ZX10, but quickly pulled away and started to gap the field. I continued to put down solid laps until the yellow gas light came on, then came into the pits and handed the bike off to Shane. Kody, Japs, and John our pit crew did an excellent job filling the bike and changing the rear tire. From this point on, this was quickly becoming one of the hardest races I'd ever done being that the conditions changed from dry to wet so quickly, it's extremely hard to judge traction. Shane and Aaron did exactly what they were supposed to do in there stints and we still were in contention for the win. I hopped on after Aaron's session was red flagged, due to rain starting to come down and big pile up in turn 4, I believe. After the restart, I put in another hard stint and gapped us from the field as much as I could. From this point on it was a cat and mouse game just feeling out the track and finding out how hard you could push in the rain, but not go over the edge. My last stint I got on and the sun was starting to come and it was actually getting to be really nice. I set the fastest lap of race during this stint and I actually thought to myself dang I'm gonna have to hand this off to Aaron then the gas light comes on soon. Right when I thought that it started raining while there was still sun in the sky. I could not believe it! So I slipped and slided my way around until the gas light came on and quite happily handed the bike off to my buddy Aaron for the final stint to finish the race! Little did he know with about 20mins to go in this 5 hour race it just started to down pour. The wind was picking up and most competitors were out there on Dots or slick tires which are not meant of these type of rainy conditions. Aaron did an amazing job keeping the bike up right and bringing Team WorldWide home the win!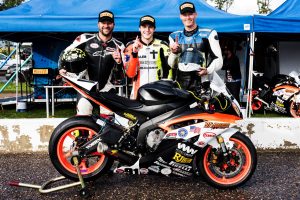 My teammates did a great job, but it's not only the riders with the glory in the race. Our pit crew did an outstanding job every time we came into the pits they held their composure and did what needed to be done to get us back out into the race! Huge thank you to Kody, James, Japs, John and Billy for their hard work in the pits! This race could not have been won without a great pit crew!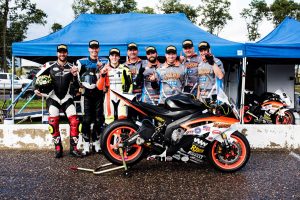 I had an amazing time being back up with the CRA family and I have to give a huge thanks to John Anderson of WorldWide Machining and Welding for giving me this opportunity to be a part in such a great team!
Until next time…
Kaleb De Keyrel #51
Thank You to my sponsor who have stuck behind me: GOD, Cortech, Tagger Designs, Mind-FX, Evans Coolant, Czaia Law, Core Moto, Tucker Rocky, SportBike Track Time, Elite Transporters, Southeast Sales