De Keyrel Racing hit NJ Motorsports Park with Mason De Keyrel
Thursday Yamaha put on an amazing dinner for all the teams that ran Yamaha's. Yamaha gave joe roberts and JD beach big champion posters and big AMA Number 1 plates.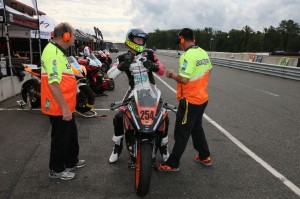 Friday
I had never ridden at NJ Motor sports park. My first few laps were super fun. Practice went great. I was dropping my times every lap. Once I started getting used to the track, getting my shift points down, and hitting my apexes, the track felt awesome. Going into the weekend, I was told this track was one of the hardest tracks to get to know and get comfortable on. I am better at learning harder tracks, so I got comfortable with this track really quickly with all the fast turns.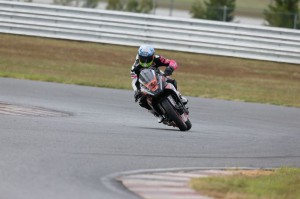 Qualifying 1
During qualifying 1 I was running by myself for the most part, trying to time my laps where I would catch the slower riders draft right at the finish. Most of the laps it worked and I would drop some time off my lap time in Q1. I ended up 11th. After the day was done on Friday. MotoAmerica put on a dinner for all the teams. Thanking them for a great first season and giving some info on 2016. It was a great way to end the day.
Saturday Qualifying 2
I started off easy running 7 seconds off the leaders pace. I was battling with Nick Doolan, then it got red flagged. I went back out by myself and started pushing as hard as I could knocking time off every lap. On my last lap of Q2, I was green in all sections and in turn 11 was going around the out side of a slower rider and pushed the front too hard and lost the front. After that I ended up being in 14th starting spot.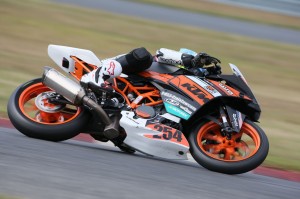 Race 1
I got a good jump off the line was in about 15th and just started passing people. By the end of the first lap, I was in about 13th. I passed a couple people the next lap and was sitting 11th in a group of three. I was leading the pack for about the next 5 laps pulling us towards the next rider in front of us, but the other riders in the group decided they had a faster pace. They started passing each other and slowing us down letting the rider in front of us get away. On the last lap some riders that where in front of us had some trouble and couldn't finish. Our group got bumped up some spots and I ended tenth.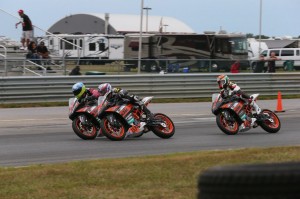 Sunday Race 2
I got a bad start and got bumped in turn one. I was about 17th on the first lap and started to pass. I had moved up to about 15th and just sat there for a bit trying to think of a plan to get by the riders in front of me. That wasted my time and I made a mistake and lost some time on the guy in front of me. I had to work my way up to catch him. Another rider and I were in a good battle. At the end the race was red flagged. I'm disappointed my season ended with a finish that I think I could have done better. I'm just grateful to have had the opportunity to be in the KTM 390 Cup. Thank you to every one that made this year happen.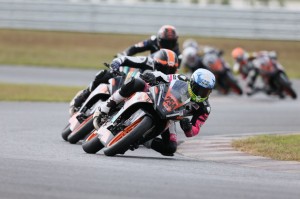 Mason De Keyrel #254
Thank You to all my sponsors: GOD, 1-855-CzaiaLaw.com, CWS.net, Cortech, Sportbike Track Time, Yamaha, HJC Helmets, Tagger Designs, Dunlop, Motorex, Trip 7, Evans, Vortex, CoreMoto,Pro Flow Tech, Sharkskinz, Impact Armor, TR, AIM Sports, Southeast Sales