De Keyrel Racing attacks NJMP!
The trip started out on a rough note with the trailer we barrowed blowing a bunch of tires. After a 26 hour drive we made it to New Jersey and were ready to get the weekend started!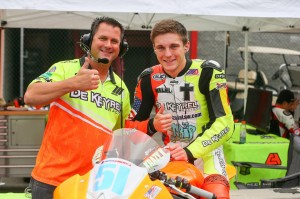 I went out for first practice and the big question was answered! My arm was 100% and I was feeling really good on the bike!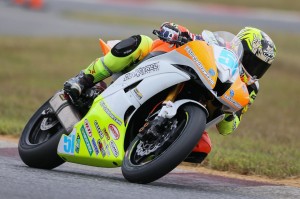 Qualifying started off with me needed a little more time on the track and just a little more time to get the bike sorted out. I was running better and better each time I hit the track and qualified 11th for the races.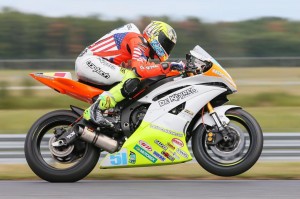 First race was another one of those dry/wet situations. I went out on the warm up lap on slicks.  As soon as I started to go around the sprinkles started. At the two minute make the race was deemed wet so we made the decision to start the race rain tires. My crew had everything set to go ahead of time just in case this happened. They did an awesome job and had the tires changed with time to spare. Awesome work.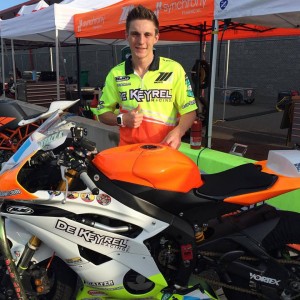 I got a good jump and was right up in the mix. I entered into turn 1 in about 9th position with my eyes on the front. I entered into turn 5 right behind Ben Young, then we both went to hit the gas on the way out and BOOM he hit the ground. I hit the brakes in an attempt to not run him over.  Luckily, I avoided him and his bike, but I had to run off track in the dirt and this put me way back. I just stayed consistent and kept pushing. I made my way up to 10th and that was all I could do.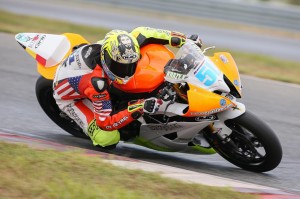 Race 2 I had an amazing start and was right up in there. I was running 10th for about 2 laps until the bike started to run on 3 cylinders again. I milked it around as long as I could, but had to pull off. This year has been a rough one and I have to give a huge thank you to De Keyrel Racing for keeping me racing. They are 100% behind me no matter happens!
Kaleb De Keyrel #51
Thank You to all my sponsors: GOD, 1-855-CzaiaLaw.com, CWS.net, Cortech, Sportbike Track Time, Yamaha, HJC Helmets, Tagger Designs, Dunlop, Motorex, Trip 7, Evans, Vortex, CoreMoto,Pro Flow Tech, Sharkskinz, Impact Armor, TR, AIM Sports, Southeast Sales