De Keyrel Racing goes to the Indy dealer show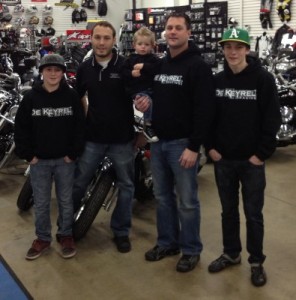 De Keyrel Racing heads off to the Indy dealer show with new local sponsor Simply Sport Bikes. Simply Sports Bikes ( SSB ) Eric DeVaan invited the De Keyrel Racing team with SSB granting entry and picking up the hotel bill. SSB is looking forward to a great year with the De Keyrel's and there team stated Eric DeVaan.


The De Keyrels had a plan when it came to the show.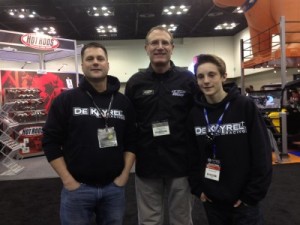 The De Keyrel Racing Team had a plan when it can to the Indy dealer show. Most would think in search of new sponsors. Not for the De Keyrel's. The goal was to thank existing sponsors for there support and put faces to names. With the De Keyrels living in MN. Most of the sponsor contact is done by emails. This was there opportunity to meet and Thank sponsors face to face.
First booth inside the door was Tucker Rocky ( TR ). Local TR rep for the De Keyrel's is Steve Kroyer ( Pictured above ). Steve lined up a meeting for the De Keyrel Racing team with the VP of Marketing at TR Hank Desjardins. It was a great sit down meeting with both parties learning alot about each others programs. Thank you Steve and Hank for your time.
The next booth the De Keyrels headed to was Helmet House ( HH ). HH sponsors the De Keyrel Racing team with Cortech leathers. The De Keyrel had met Dan Thomas And Richard Kimes at the Road America Pro race last year. Dan and Richard were both there and the De Keyrels were able to thank them for there support. Dan lined them up with the new measuring charts for suits in 2012. The De Keyrels were also finally able to meet Mark Grandy with HH. Another face to a name. It was a great day for the De Keyrel racing team already and they had only hit two of the many booth at the show.


HJC Helmets was next.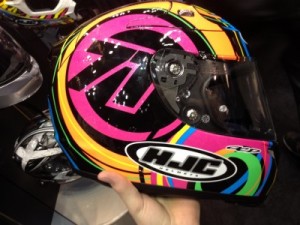 The next booth to hit for the De Keyrel racing Team was HJC Helmets. Knowing ahead of time that Steve Hong ( the De Keyrels contact for HJC ) was not going to be there. Kaleb wanted to see what new paint sceams my have been launched for the 2012 season. Kaleb said this is it. ( see picture above ) the new 71 helmet. For 71 years in business for HJC Helmets.
Like any good race Team you need to statagize your pit stops. Seeing an opportunity they headed in that direction. That is when they ran into another Team sponsor Chris Onwiler from Trackdaymag.com. The De Keyrel Team thank him for his support. The De Keyrels had not seen Chris since Road America last year. It was awesome for them to meet up again.


New sponsor for 2012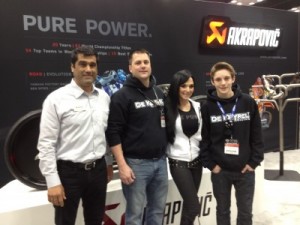 Sean and Aaron Colton wanted to introduce the De Keyrels to Garry Gallagherof EBC Brakes. Garry has been a long time sponsor of Aaron. Garry told the De Keyrels that if the Coltons brought you over to us. Consider your self on the team. Where would you like your product sent to? Garry handed Kaleb a bunch of stickers and said he would send am email out with the new EBC team logo. Thank You Sean, Aaron and Garry.
The De Keyrels had signed with Akrapovic the week before and had set a meeting up to meet with Michael Larkin. The De Keyrel team walked up to introduce themselves to Michael. Michael was excited to meet the De Keyrels. He got them all a new Akrapovic T-shirt. Told them there is exhaust systems in the mail. Michael went over sticker placement and that there is a race only Logo. Doug pulled up the De Keyrel Racing sit on the Ipad and Michael noticed the logo needed to be changed on the Website. Doug made a note of this and Michael staged for a picture. ( see above ) It was great to put another face to a name for the De Keyrelrs.
Zero Gravity was also a new sponsor for De Keyrel Racing this year. They headed over to meet Mike Lira. The De Keyrels thanked Mike for the product they had received and for the support in 2012. Another face to a name.
Silkolene has been a sponsor for a year now and they still have not had the opportunity to meet face to face. It finally happened at the Indy dealer show. Jim Ricci SR and Jr were both in the booth. Doug talked over the product that De Keyrel Racing had been using and what was going to be used this year. The De Keyrels thank Jim SR and JR for the product and support of the team for the past year and this year.
It had been a long day with lots of great meetings. Doug talked to Tommy Haydon about a bike that Tommy had bought from the De Keyrels. They ran into Mike Larson from Larson cycle who mountain bike races with the De Keyrel boys. Chase Sellards, Sean and Aaron Colton hung out for the day. Hit the industry party for dinner and than off to TGI fridays to watch the supercross races.
Thank you to Simply Sport Bikes for making this trip happen for De Keyrel Racing.