DE KEYREL RACING WEATHERS THE STORM AT ROAD AMERICA
We got everything set up right away, then I went on a bike ride with Josh Hayes, Cameron Baubier, and JD Beach to get my legs warmed up for the weekend and get stretched out!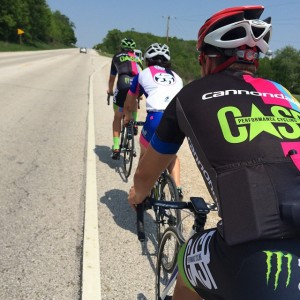 Then it was off to the hospital with Patricia, where we visited with local children and  brightened their & our day!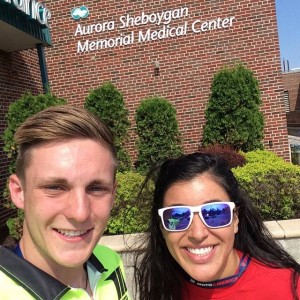 Road America started off great for me, I was running pretty good in practice, because I know this track really well. After Qualifying 11th, it all went down hill for me.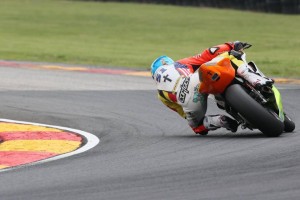 I went out for Q2 in the rain and was feeling good when BOOM the front end hit the ground and I was on my way sliding down the pavement into the sand trap.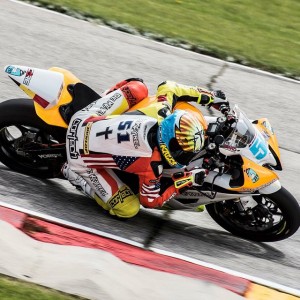 The De Keyrel Racing team worked extremely hard to get the bike back together for race one. In the first race, I got a good start and was ready to get up in the battle.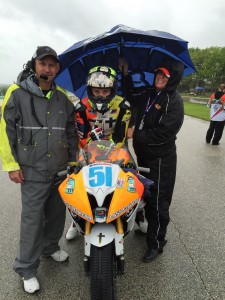 On the second lap, the spark plug exploded and the bike was running on 3 cylinders. The last 8 laps I just lugged it in for a 10th place finish.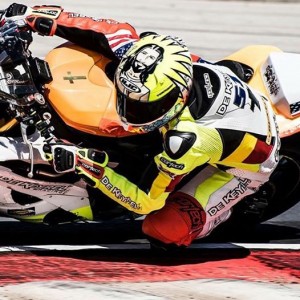 My team worked hard on the bike until 1am. Sunday,  I went out for practice and the bike was getting really hot.  The cap ended up exploding off the over flow and then running down into the belly pan, which eventually made its way to my rear tire.
So my team was back at it again, replacing the motor and radiator before my second and final race of the weekend. They got everything done and I was feeling good and ready to race.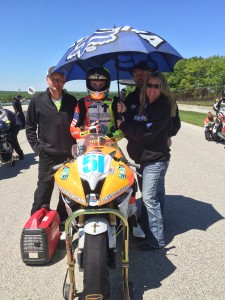 I got a great start and I was tucked in right behind Corey about to make my move and start chasing down the Road Race factory guys. On the second lap, I felt a strange pull on the chain and a pop.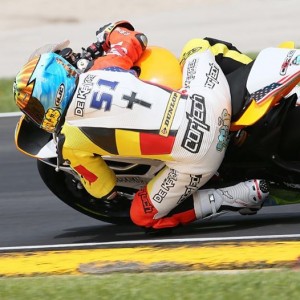 The chain started slipping a little bit on the sprockets. Then progressively throughout the race it got worse. The chain would skip teeth coming out of every single corner and I was still running in 10th.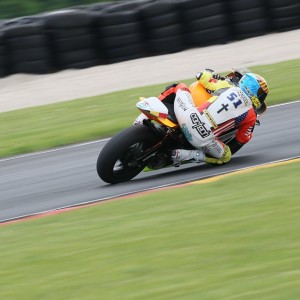 On the last lap three corners from the finish line, the bike starts to sputter out and die. I ran out of gas three corners from the checkered flag. I loaded the bike up in the crash truck and headed back to the pits.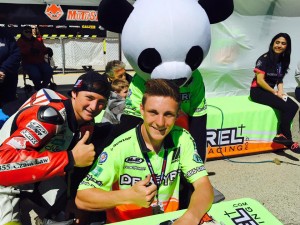 With the chain slipping, I had used way more fuel, just not having enough. A rock or something had got in the rear sprocket and broke a tooth off, this started the chain to slip.
Fan walk was awesome as always and if you didn't get a chance to see the Trip7 Panda, he will be making an appearance at BARBER too…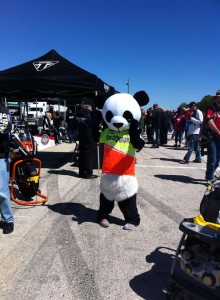 I learned a lot this weekend and I really have to thank my team for all their hard work they put in for little to no results. I am thankful for a safe weekend of racing with my buddies and I hope that everything goes well, so I can see you guys at BARBER!
Kaleb De Keyrel #51
Thank You to all my sponsors: GOD, 
1-855-CzaiaLaw.com, CWS.net, Cortech, Sportbike Track Time, Yamaha, HJC Helmets, Tagger Designs, Dunlop, Motorex, Trip 7, Evans, Vortex, CoreMoto,Pro Flow Tech, Sharkskinz, Impact Armor, TR, AIM Sports, Southeast Sales
I felt good in practice and the bike was running great. Hayden, Anthony and a couple other KTM RC 390 cup kids and I were battling and pulling each other around. Our lap times were dropping every lap in free Practice 1.  At the end of free Practice 1, I was 8th overall.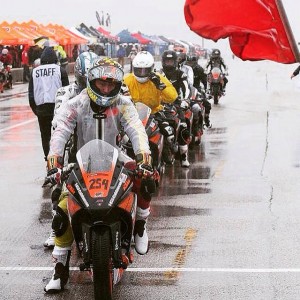 MotoAmerica changed our Q1 session into a free practice, which was reduced to 20 minutes. We used this time to try another gearing option. We started the session on DOT's and came in after 3 laps to see if rains would be better. Just wanted a chance to ride on both before qualifying and the race.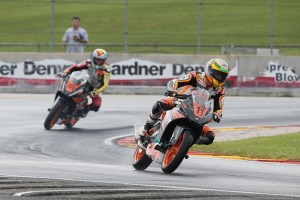 Qualifying: I ran in first for a couple of laps in a group and with the help of the draft. I was sitting in 4th and then there was a red flag. After the red flag, I went back out and was by myself. I was running laps trying to get my pace up and then my bike started cutting out. I couldn't really figure out what it was, so I just kept on doing laps. I ended up qualifying 10th for the race. After qualifying, we brought the bike over to KTM and they were looking over the bike to find out why it was cutting out. They found out that the air box was full of water and the air filter was soaking wet. So they replaced the air filter, and cleaned out the air box, installing two holes in it for water to drain.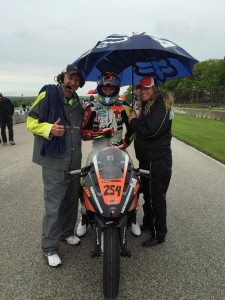 Race 1: I got a decent start and was running about 11th. I was trying to work my way up and was battling with some other riders. I started to pull away from them and was catching the next group of riders. I pulled a decent size gap on the riders behind me and was getting more confident each lap. On the second to last lap in turn three, I got on the gas and got high sided off. I was super bummed that I didn't get to finish. I remembered that a month ago, I did not even know I would be racing in the KTM 390 Cup. I did my track map and focused on getting ready for Race 2. The De Keyrel Racing crew and Dan from Southeast Sales did a great job getting the bike ready to go.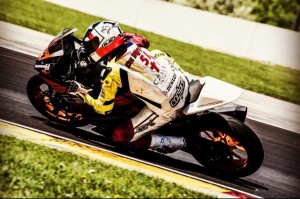 Morning warm up: We tried a suspension change to try to make the bike more comfortable for me. The bike just ended up getting rear end chatter with this setup. I decided to change it back how it was and ride it as hard as I could.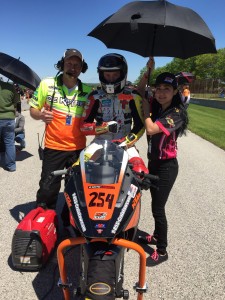 Race 2: The light went out and I had passed a couple of riders that started ahead of me. I was gonna try and go around the outside in turn one.  A lot of the other riders went up the inside and I got pushed wide. This moved me back to about 15th going into turn three. On the next straight, I drafted by some other riders and was about 12th. Into turn six, I went up the inside of another and was starting to pick some people off. I caught up to Alejandro Gutierrez Mejia and we started battling. We were passing back and forth. This went on until the second to last lap. I got by him and was trying to pull away.  On the last lap, after Canada corner, I looked back and he was gone. I don't know what happened, but it was a fun race.  I had great battle and finished 9th in that race. I can't wait for Barber. I know that track very well and I know I can get a good result there. The De Keyrel Racing team will have a great setup for me and I am confident going into round two. See you at Barber!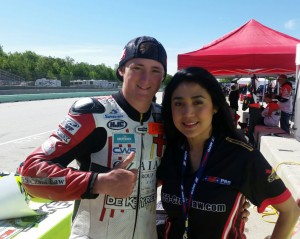 Mason De Keyrel #254
A huge Thank You to CJ Czaia at 1-855-CzaiaLaw.com, John and Dan at Southeast Sales, My Grandpa De Keyrel, The De Keyrel Racing crew and all my friends and family for the support.
Thank You to my Sponsors: GOD, 1-855-CzaiaLaw.com, CWS.net, Cortech, Sportbike Track Time, Yamaha, HJC Helmets, Tagger Designs, Dunlop, Motorex, Trip 7, Evans, Vortex, CoreMoto,Pro Flow Tech, Sharkskinz, Impact Armor, TR, AIM Sports, Southeast Sales