De Keyrel Racing at two different tracks on the same weekend. Splitting the team up for the weekend.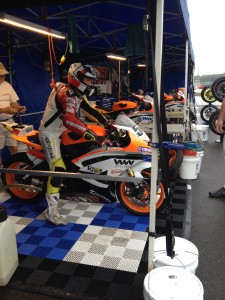 Brainerd International Raceway in Brainerd MN
Friday, Practice started off good, I was running 1:46's throughout the day. After getting used to the bike, I started to lower my times. I had made up a lot of my time with corner entry speed. Lots of the time I was losing was through turn one and two the fastest parts of the track. I wasn't fully pinned, so I started working on being fully pinned through those turns and started dropping time. By the end of the day of practice, I was doing 1:40's.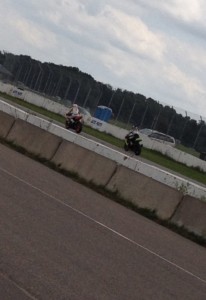 Saturday, First race of the weekend was Middleweight SuperSport Expert, I got a great start and was in a great battle with Kyle Ohnsorg and Brian Hebeisen. We battled almost every lap of the race until Brian pulled a little gap on Kyle and I. I ended up getting 4th place. Next race of the day was Heavyweight SuperSport, I got a decent starting in forth following Aaron Anderson. Aaron pulled a little gap and Kyle pulled a gap in the lead, I finished 3rd. After lunch in the second race, I started the race and pulled in on the first lap with a clutch problem. I missed the next race Heavyweight Superbike, because we had to switch the clutch. After getting the new clutch in, I had Middleweight GP. I got a good start right behind Jordan Imrie. He pulled a gap on me after a couple of laps. Kyle and I battled the rest of the race and I finished 2nd. Heavyweight GP was next. I started the race of in second got passed by Aaron on the second lap and by then Jordan had already pulled a gap on Aaron and I. Aaron and I battled and then Aaron pulled a gap. I finished 3rd.
Sunday, It was wet in the morning, so for Middleweight SuperSport I had to run rains. I started off the race in first, and by the end of the first lap I had a 20 second lead. I kept making the gap bigger every lap and I won my first Expert race. In Heavyweight SuperSport, I started off in second and stayed there the whole race right behind Aaron. Middleweight Superbike, I started off in second behind Jordan. I got passed by Justin Ebnet and Brian. I followed them for the rest of the race and finished 4th. In Heavyweight Superbike, I started off in second right behind Jordan. He pulled a little gap and stayed in the same spot the rest of the race. I finished second. In Middleweight GP, I got a great start and was running in first. I battled with Jordan for the whole race until he ended up passing me on the last lap. I finished second. In Heavyweight GP, Aaron Anderson and I battled the whole race. On the second to the last lap Aaron passed me in turn one. I tried to pass him in turn 3, but it didn't work. My next chance was going into the joker, so I tried it and it worked. I finished second.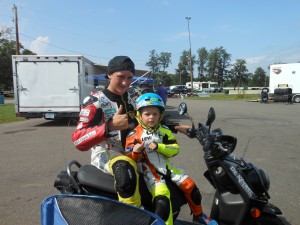 I had a very successful weekend and have to Thank: My Crew Chief- my MOM, my grandpa & grandma De Keyrel , uncle Ryan and Chris, grandma Marsh, John Anderson for giving me a great bike to ride, Jim Wiles at Dunlop Tires and the CRA for allowing me to race.
Mason De Keyrel #54
Thank You to all our sponsors: GOD, 1-855-CzaiaLaw.com, Grandma/Grandpa De Keyrel, CWS.net, Cortech, Sportbike Track Time, Yamaha, HJC Helmets, Tagger Designs, Dunlop, Worldwide, Motorex, Vortex, DARIUS, CoreMoto, Moto-D, Zero Gravity, Impact Armor, Galfer, Sidi, Pit Bull, Sharkskinz, TSE, TR, National Precious Metals, Charlie Grannon of SGA racing
Summit Point West Virginia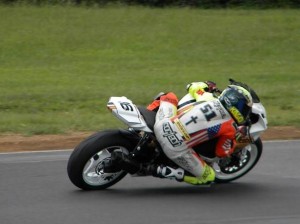 The trip to Summit Point Raceway began with a 17 hour drive from our home in White Bear Lake Minnesota. When we finally arrived at summit point. There was a track day going on. My dad and I went out for a walk to see if we knew anyone. We were standing on the front straight watching and Jon and Scott from TOBC came over. Jon asked if I was riding today and who I was racing with for the weekend. I told him we were just watching today and than I was going to get my bicycle out and pound some laps after the track day was over. This way I could learn the track a little for Saturday/Sundays racing. Jon asked if I wanted to ride one of there 600's. He said get your gear on. You might as well ride. If your bike you are riding in the endurance is not going to be here till Saturday, ride ours to get some riding in. It was a nice offer so we thought we better take advantage of it. It would be a great idea to get some time on the track because I had never been to Summit Point before. I got 3 sessions of practice in on Friday on TOBC's 600. Huge thank you to Jon Couch, Rick Matheny and Scott Harwell for giving me the opportunity to ride Friday! Also had a ton of fun with the TOBC crew on the Go Karts Friday night!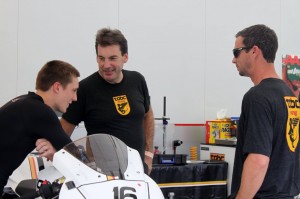 Saturday was off and on showers all the day. I got 5 laps in practice and I was still trying to learn a new track. I had one race Saturday. I ended up finishing 5th in the Unlimited SS race on the ZX10. It was kind of spotty showers and I think I took it a little too tentative for the actual conditions but I kept it on two wheels. That was the main thing because the endurance race was tomorrow!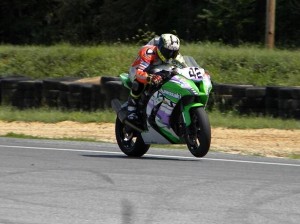 Sunday was looking to be a better day in terms of weather. Once the sun came up the track was pretty much dry and ready to go! We had a little bit of practice and then the 3 hour endurance was on! I got a good start and was running in 2nd but there was a red flag first lap. I went back to the pits and got focused for the restart. I was running in fourth the first lap then quickly made a passes to put me in second. I did not want the leader to get away. I made the pass for the lead on lap 3 and never looked back. At the start of lap 10 the bike started to act up. I was going down the front straight and the bike kept violently shaking from front to back. It started to become really hard to down shift and the power was cutting out. I had to pull the clutch in further and further each time just to get the shift. I had no idea really what was going on. I thought the clutch was going or something with the electronics was acting up. It was a really hard decision to make but I knew I had to pull in and let the crew check the bike so we did not do further damage. Calvin adjusted the clutch and reset the electronics to see if that made a difference. I went back out and ran two more laps. It was still doing the same thing. I came in the second time and Calvin Martinez the bikes owner got on to see if he could figure out what was going on. Calvin would go out. Run 10 to 12 laps come in, we would try to clean out the tank with a magnet for Calvin knew it was fuel related. Calvin ran the next 61 laps riding than pulling in. Riding than pulling in. It was a long day with the issues. We ended up finishing 9th out of 11 team in our class. After the race we put all the fuel into one container. Calvin thinks we got bad fuel and is going to have it tested. He wants to make sure the bike is 100% for the next endurance race. Thank You to Calvin Martinez for letting me race with him on his Kawasaki ZX10.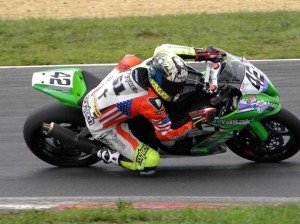 Kaleb De Keyrel #51
Thank You to all our sponsors: GOD, 1-855-CzaiaLaw.com, Grandma/Grandpa De Keyrel, CWS.net, Cortech, Sportbike Track Time, Yamaha, HJC Helmets, Tagger Designs, Dunlop, Worldwide, Motorex, Vortex, DARIUS, CoreMoto, Moto-D, Zero Gravity, Impact Armor, Galfer, Sidi, Pit Bull, Sharkskinz, TSE, TR, National Precious Metals, Charlie Grannon of SGA racing