De Keyrel Racing's first time running at Laguna Seca in the DSB class was a great success!
Our trip started off with a long 34 hour journey to California. Before
we headed to Laguna Seca Raceway, we stopped at Tagger Designs shop to
see where he creates all of his awesome helmet designs. It was great
to finally get a chance to meet Tag in person.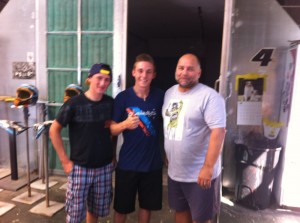 We went to Venice Beach and got a chance to hang out with Pearson Knight.
There was an awesome skatepark that we were able to check out and of
course the ocean !!!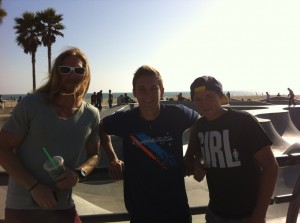 Then, Mason and I did some training at the Redbull Performance training facility with
Aaron Colton. We got a chance to do some pretty unique and fun
workouts that were very challenging. It seemed like you were not
working out, even though "WE WERE".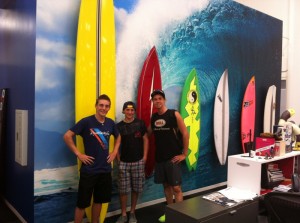 When we finally arrived at Laguna we went straight to the hotel and
got a good nights rest and got ready for the next big day. We got all
set up and went through tech. After that, we were then able to ride to
Zuma around the track to get an idea of the track layout. This would
be my first time at Laguna, so I would have to learn this difficult track quick.
Friday morning, I went out for practice and I ended up 24th. We made some
changes to the bike and went out for Qualifying 1. I went faster and
qualified 21st. I would have Qualifying 2 Saturday to try and improve
my time, but this track is difficult to learn and I felt one step
behind. I contacted Penske suspension and explained to them what the
bike was doing in certain areas and what we needed to make the bike
handle better. Then they looked at my track map and made some changes
for Q2.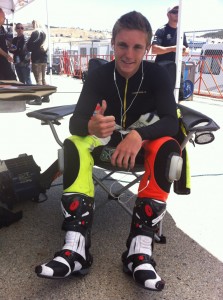 The bike and I were feeling better and better every time I
went on the track, but it just felt like I was still missing something
that was holding my times back. I ended up 26th in Qualifying 2. I got
faster, but everybody else did as well. I went through my track map
with Roger Hayden and Jake Lewis that night, because I knew I still
was missing something. I sorted all of that out. We made some more
changes to the bike for Sunday mornings warm-up. I went out for
morning warm-up and had the things I was doing wrong in the back of my
mind. I just made adjustments Jake and Roger told me to make and ended
up 12th in warm-up and did a 1:29.9 almost a second faster than what I
qualified with. I now knew that I found what I was missing. I was
confident and ready to go for the race. I knew it was going to be a
challenge starting from 26th, but I just went out and got a pretty
good start. I passed as many people as I could in the first lap.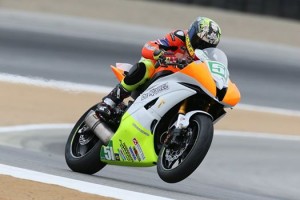 After the chaos of the first lap was over, I found myself in a little battle
with Jason Aguilar. I knew we had to just put our heads down and work
together to catch the huge group in front of us. The group in front
was 9th all the way through 17th. I just kept slowly gaining on them
and making up time. I just charged ahead to catch them. I ended up
running a 1:28.8 pushing hard and to run with them. Little after
halfway, I finally caught the group in front of me. I worked my way
past Bryce Prince and Stefano Mesa. Shortly after, I found myself
right behind Kyle Wyman. After putting in all the hard work to catch
the group, I ended up getting a little too greedy. I pushed it too
hard in the last corner and ended up going in the grass a little bit.
That incident killed my drive for the front straight. I ended up about
six bike lengths behind the group again. I worked my way back up to
the group, but had to finish 17th.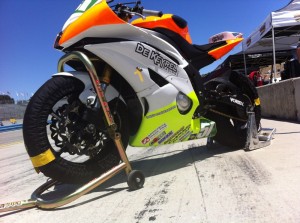 It was a fun weekend with a lot of good learning experience as racing
against all the faster riders in the Daytona Sportbike class. I was
really happy to get down to a 1:28.8 lap time. We now have a great set
up for the next year when we come back to Laguna and I'm actually in
Daytona Sport bike racing for a championship! That was the whole
reason of even going to Laguna this weekend to learn a new track and
gain valuable experience for next year. I have to give a huge thank
you to all my sponsors and the De Keyrel Racing team for working hard
this weekend and getting my bike performing awesome! Can't wait till
Mid Ohio!
Kaleb De Keyrel #51