De Keyrel Racing busts down the doors at Barber Motorsports Park!
Trip started out with a 17 1/2 hour drive to Barber Motor Sports Park, which just happens to be my favorite track on the AMA Pro Road racing circuit. On our way down to Barber, we stopped in Nashville Tennessee and had dinner with Raymond and Lois Rizzo at his favorite restaurant O'Charleys.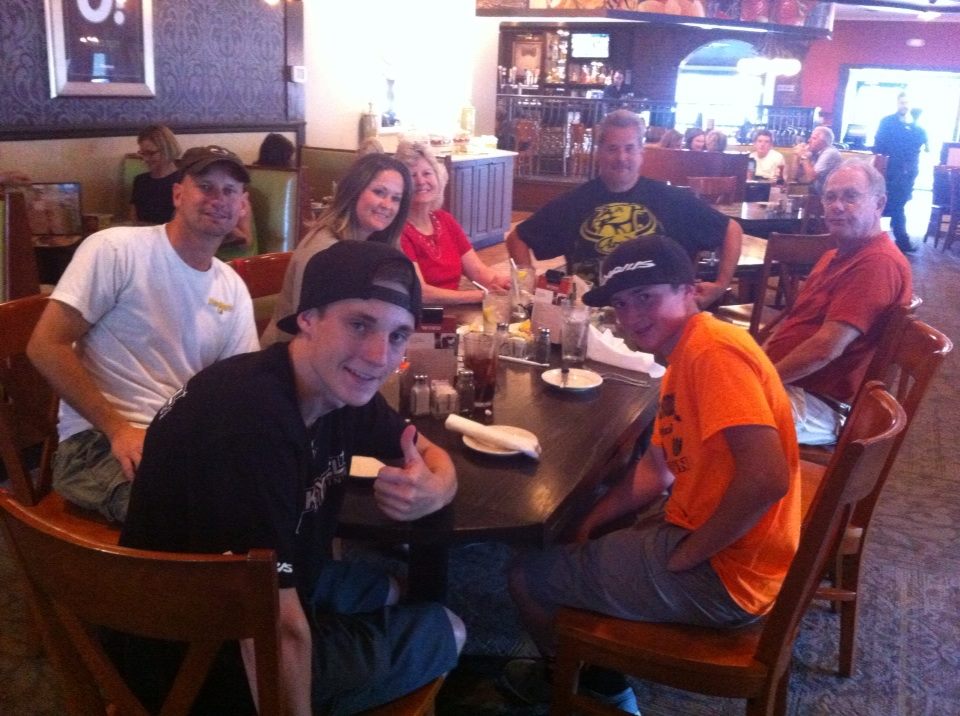 After we stopped and ate with Raymond Rizzo, we then made the rest of the 3 1/2 hour trip to Barber Motor Sports Park. Once we got there, we waited a little bit to get in. AMA Pro Road Racing did an awesome job making sure everyone got in with plenty of time to set up for the two day event. My Dad, Brother Mason, Grandpa D, Uncle Al and mom got everything set up. I went for a road bicycle ride to get some training in before the weekend started, and ended up popping a tube and had to walk 5 miles back to Barber Motorsports Park. That was great way to start the weekend. I got a good nights rest, because we had a big day coming up.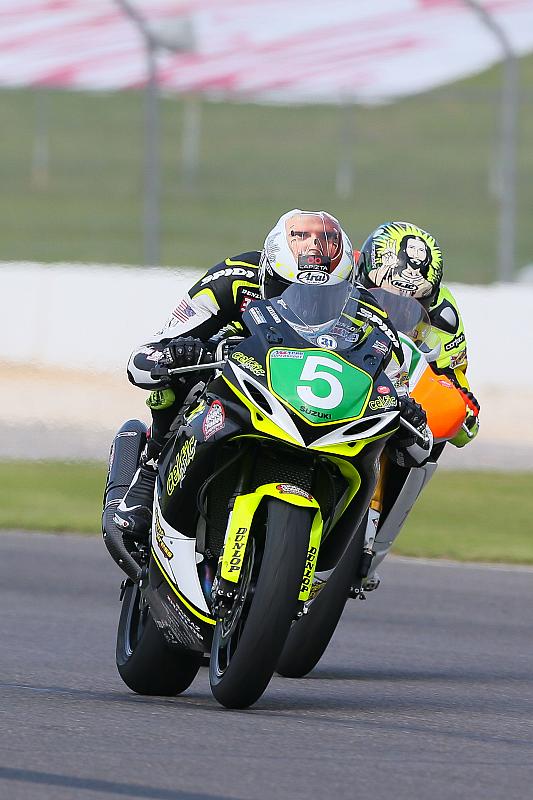 Saturday morning Super Sport was on track at 8 AM for Qualifying 1, I was feeling really good in the first qualifying session. I was running a pretty good pace and Penske had the suspension pretty dialed in right from the start. Mike and Scotty made a couple small adjustments and we continued to get better throughout the day. I ended Qualifying 1 in 4th place. Mike and Scotty made a small change to the bike to get it ready for Qualifying 2.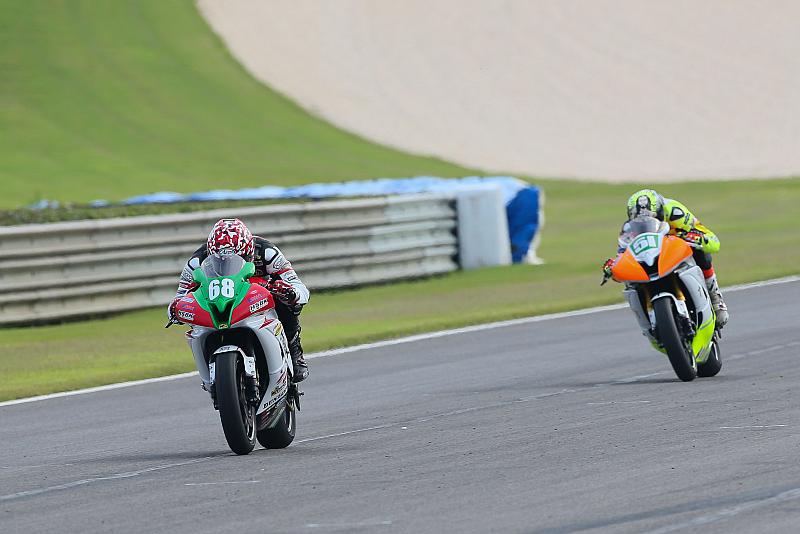 I felt really good right off the bat in Qualifying 2. I came in and made some adjustments throughout the session. Mike with Penske Suspension had given me a really good set up for the race. My fastest lap time in that session was a 1:30.2. That would mean I would start 4th for the race. I knew I had a great set up that could last the whole race. The Dunlop tires were working great and I knew I had no problem getting them to last the entire 15 lap race. It was really hot at Barber Motorsports Park. I knew that would be a big factor in the race, but I was confident in my training program and my bike setup. I was really just ready to get Race 1 underway.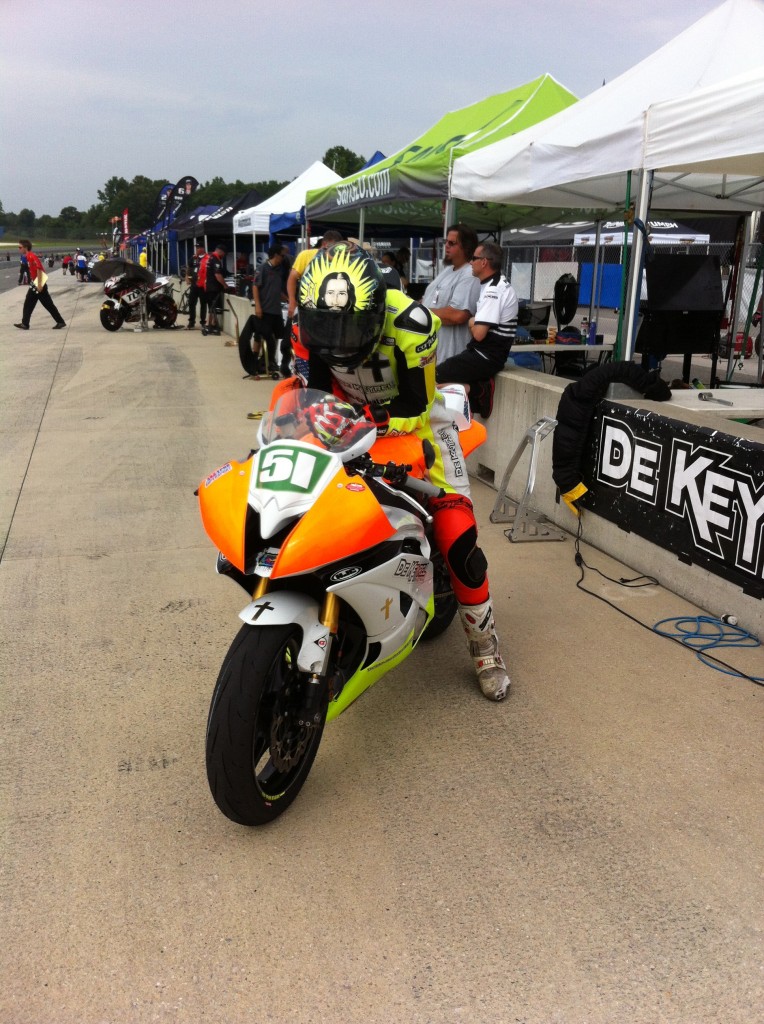 Race 1: I got a good start and was running in fourth position. I eventually worked my way around Cory Alexander and then I started pushing really hard trying to catch Dustin Dominguez. I eventually just kept telling myself you can do this, keep going and I caught right up to him with a couple laps to go. I made the pass right away and just knew I had to stay in front of him until the last lap.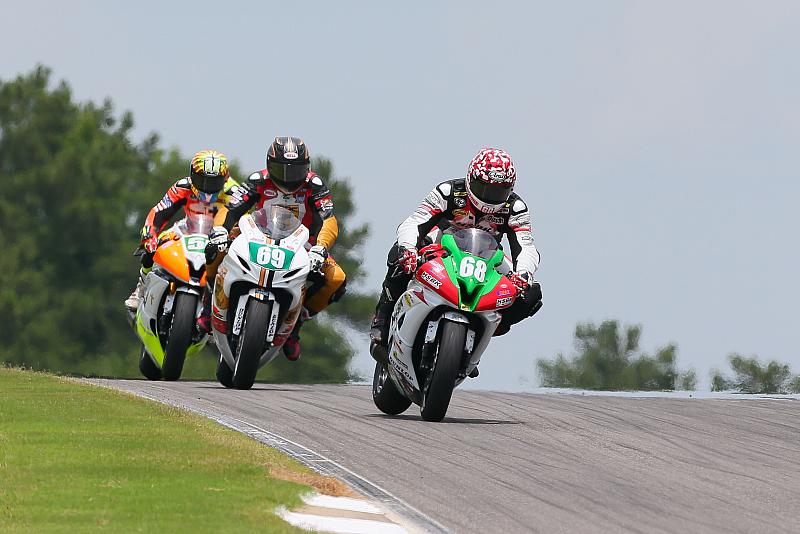 I knew if I could get to the left hander before the hill, I could hold him off the rest of the way, but he made a good pass on me going into that same turn. I planned ahead to make the pass in the last corner, I'd just have to line him up out of the corner and get a great drive out. Dustin new this would be my plan and he did a great job making sure he also got a great drive out. I would have to settle for 3rd. It was a fun race and I knew if I could just get out front with Hayden Gillim in tomorrow's race I could stick right with him. I would take everything I learned from todays race and regroup for race 2.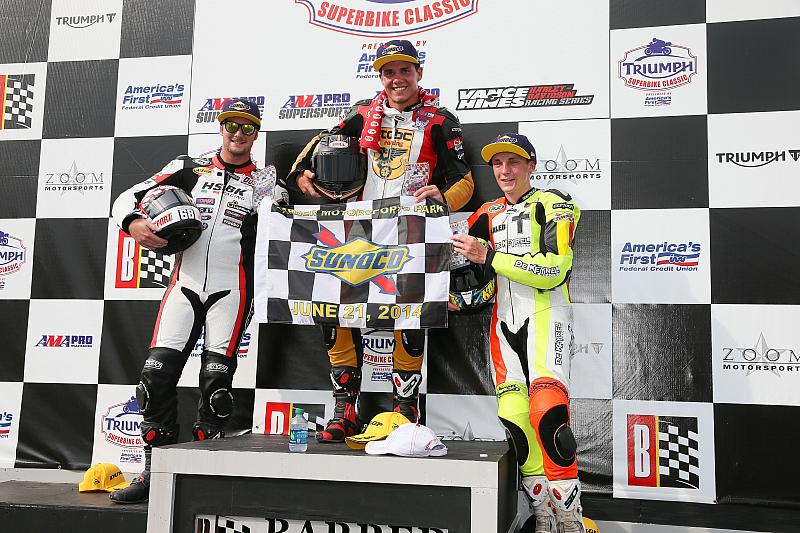 It was awesome to get my first AMA Pro Road Racing podium. The podium activities were a blast. Thank you to the person that prepared all the Champaign bottles to be sprayed. I was nervous about that, for I had never done it before. It was a great feeling to be up front, and I knew I could do it again tomorrow. My Uncle Alan promised a good dinner if I got on the podium, so we did! I got some fresh Tilapia and got prepared to do battle tomorrow!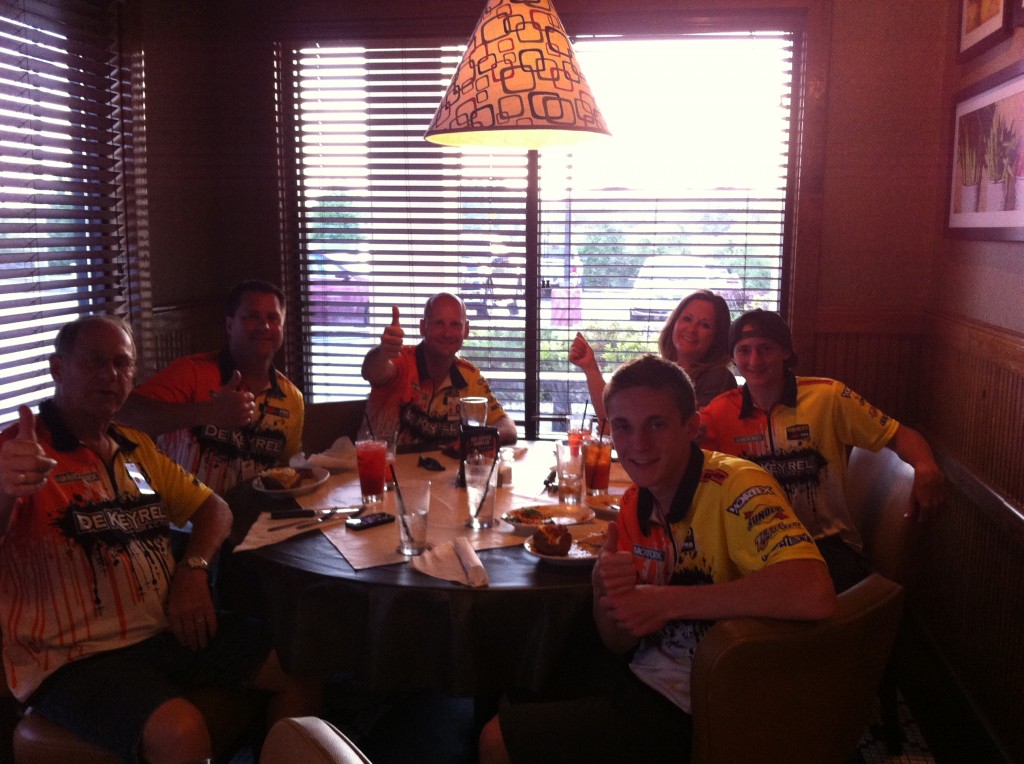 Got up Sunday morning after a good nights rest. I stretched out and prepared myself for morning warm-up. We had a really good warm-up and everything was working great. I new that the
De Keyrel Racing Team ( My Dad, Mom, Brother, Grandpa D and Uncle Alan) had the bike ready to go and that the set up that Penske Suspension ( Mike, Scotty and Eric ) had given me was going to be great.
My Moto D under suit was keeping me as cool as it could all weekend. I was extremely hot after Race 1. My legs felt like Jell-O when I got off the bike. I made sure I drank a lot of water before Race 2. Hydration was very important all weekend for riders and crews. I just made sure everything was ready to go. I did my stretching, got my headphones going, everything was feeling good.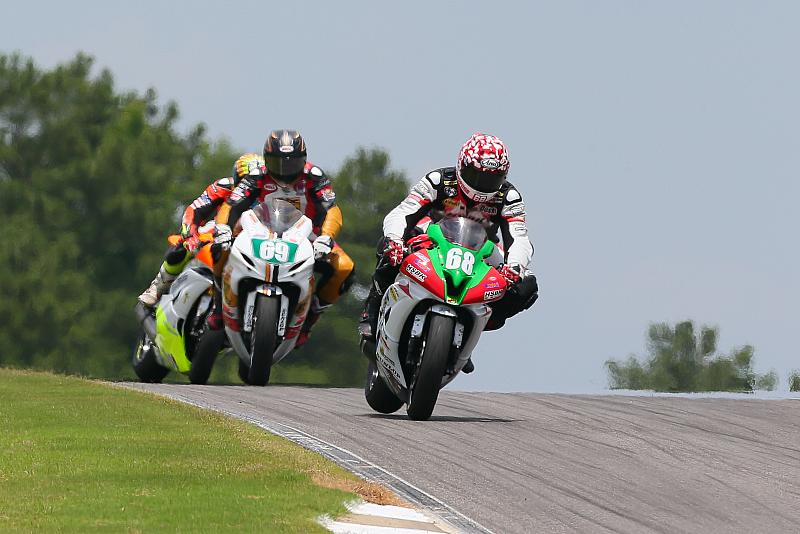 I knew I could run with the front runners, so I just went out for Race 2 got a great start.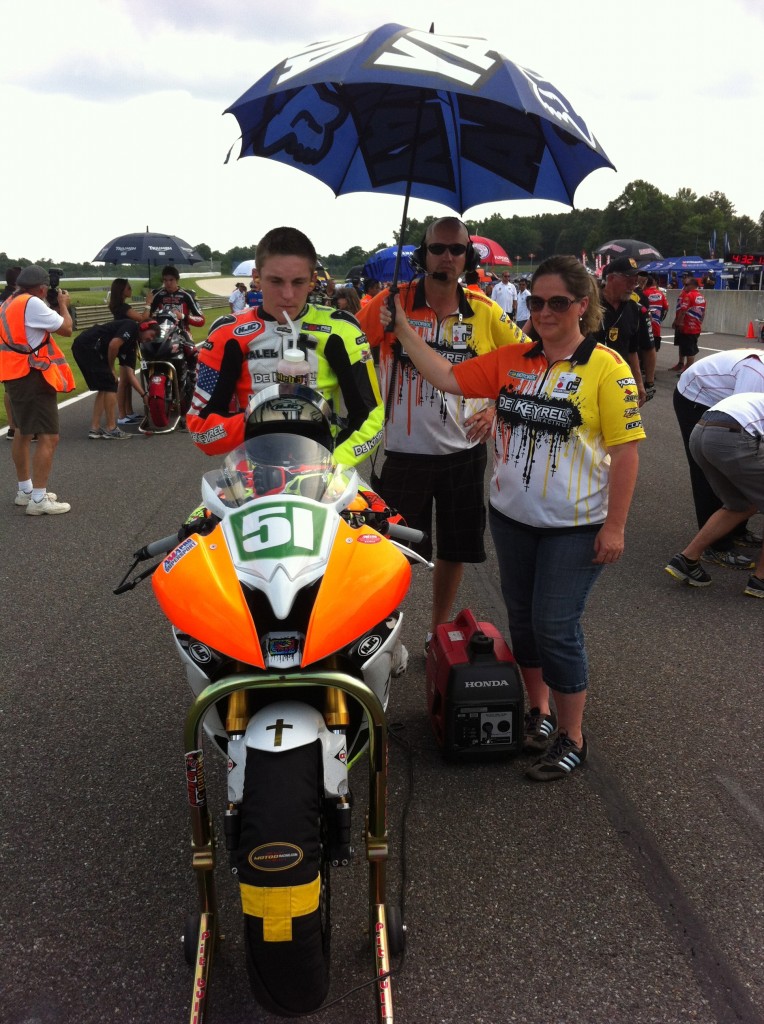 I was right with Hayden Gillam and Dustin Dominguez was right up front with him.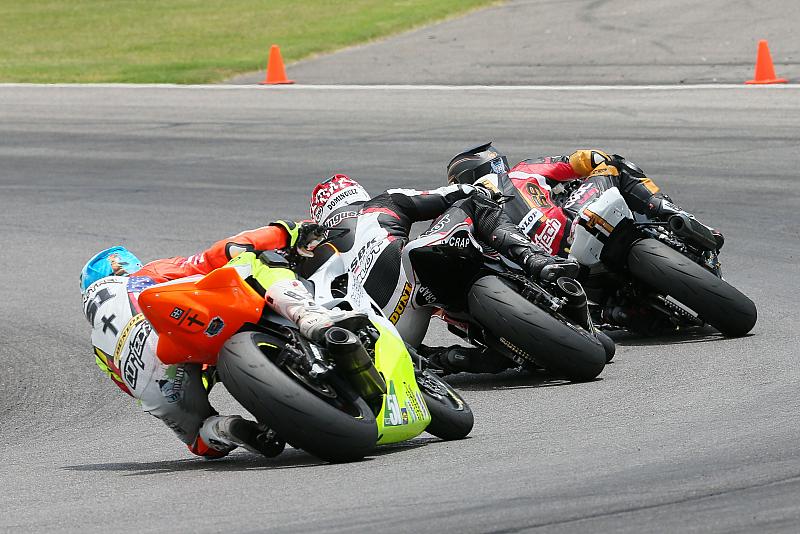 I moved up into second for a little bit and was running right behind Hayden Gillim. I got moved back to third by Dustin. Dustin then passed Hayden for the lead. My plan was, as long as the leader was not getting away, to just hang out in third. Save tires and watch what they were doing, then make a charge for the win in the later laps.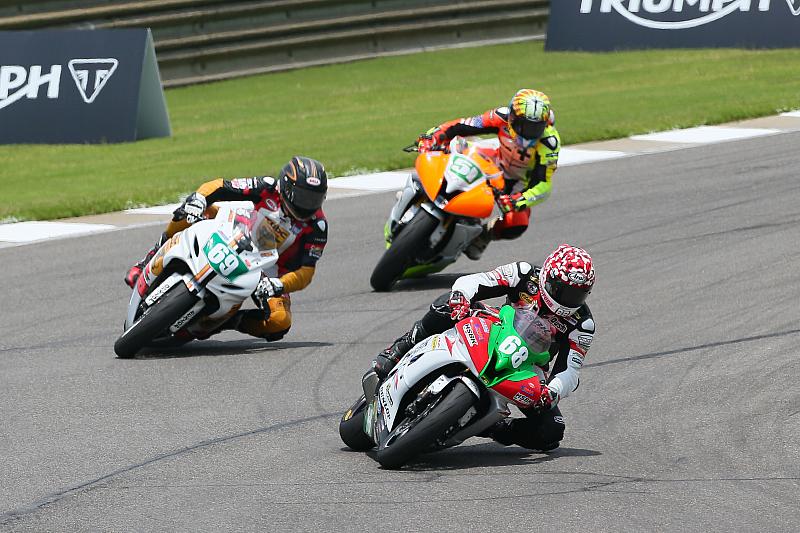 I was just waiting there and waiting to make a move. On the last couple laps, we started getting into way more lappers than race 1. I had not factored that much traffic in on the closing laps, so my plan really didn't work out. We all got shuffled apart. I got caught out a couple times and had to close back in on Hayden and Dustin. I gave it everything I had and was still happy to be on the podium again for 3rd. It was an awesome weekend with a lot of fans on the fence lines and in the trees!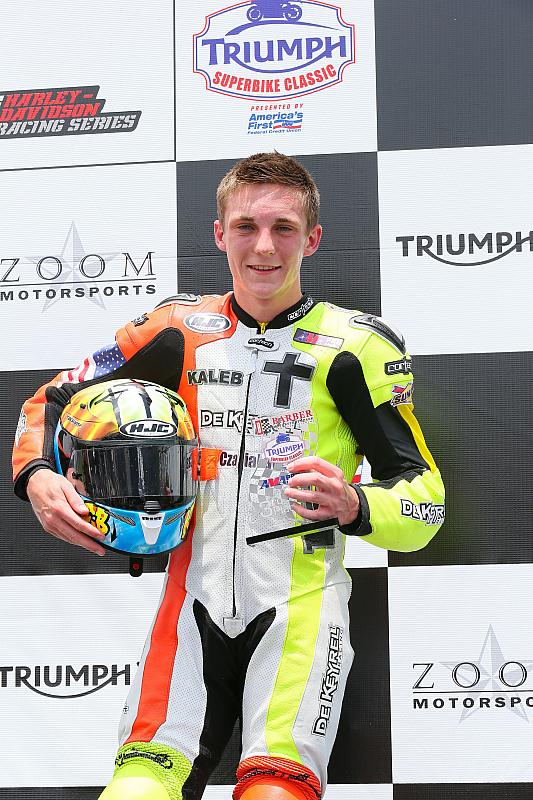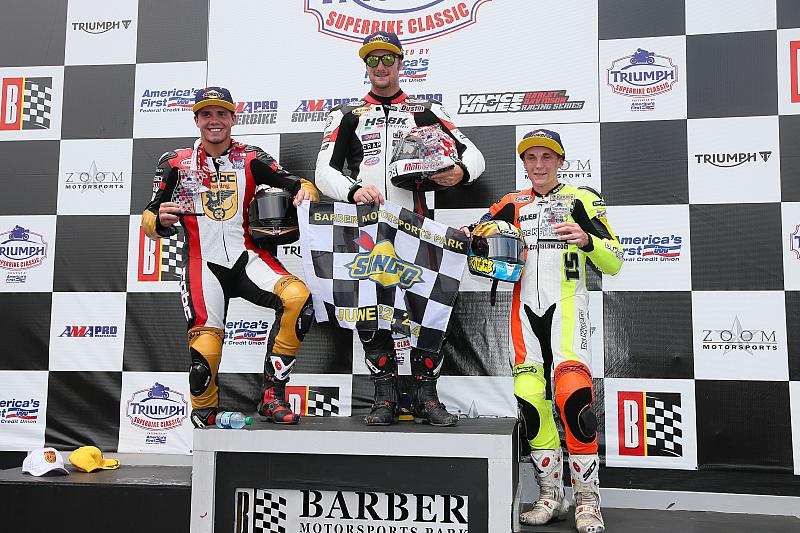 Kaleb De Keyrel AMA #51
Thank You to our sponsors for making this season possible: GOD, 1-855-CzaiaLaw.com, Grandma/Grandpa De Keyrel, CWS.net, Cortech, Sportbike Track Time, Yamaha, HJC Helmets, Tagger Designs, Dunlop, Worldwide, Motorex, Vortex, DARIUS, CoreMoto, Moto-D, Zero Gravity, Impact Armor, Galfer, Sidi, Pit Bull, Sharkskinz, TSE, TR
Here are some more pictures from this weekend. Thank You to Brain J Nelson for the photos: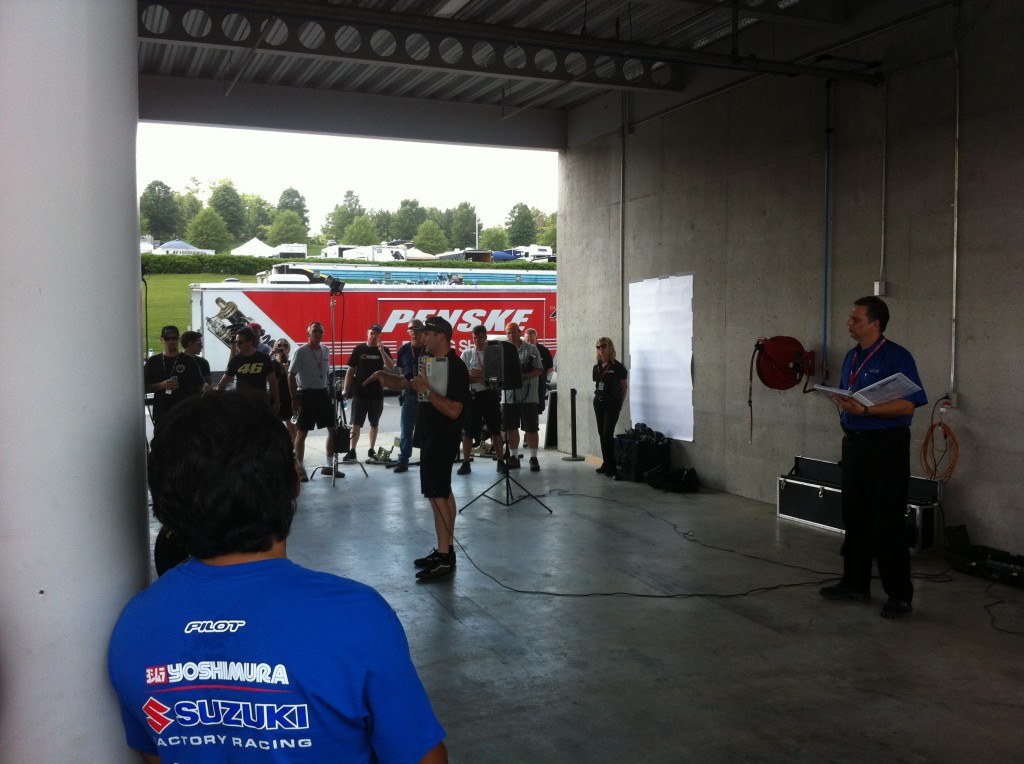 AMA Pro Road Racing riders meeting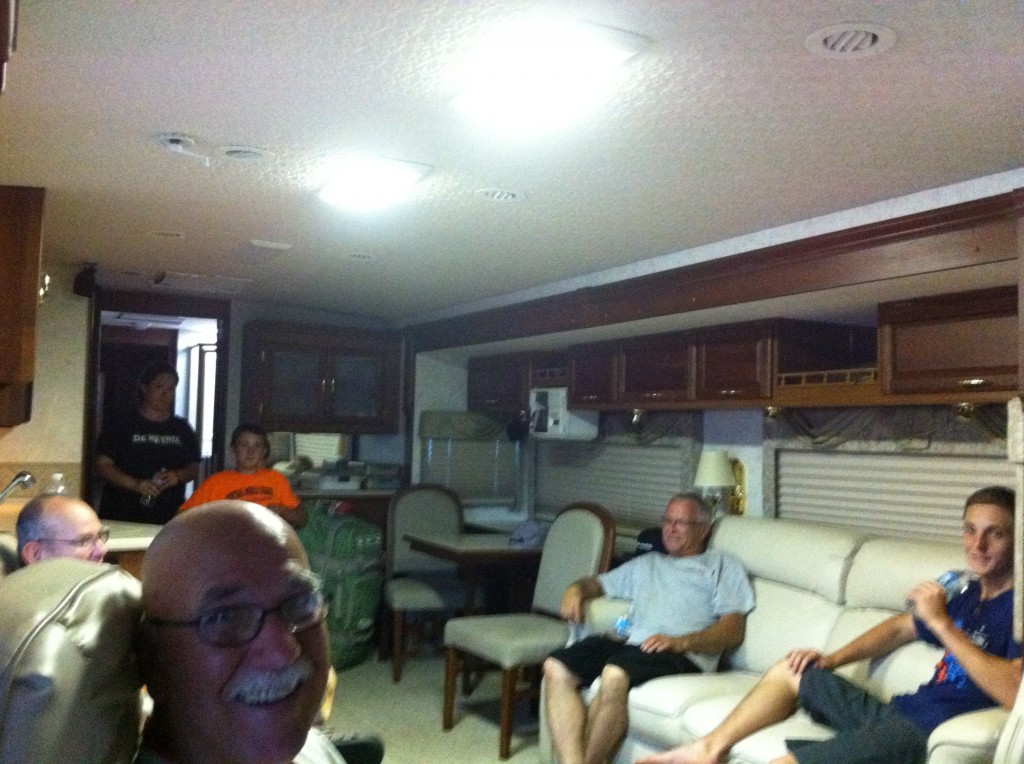 Bible Study Friday Night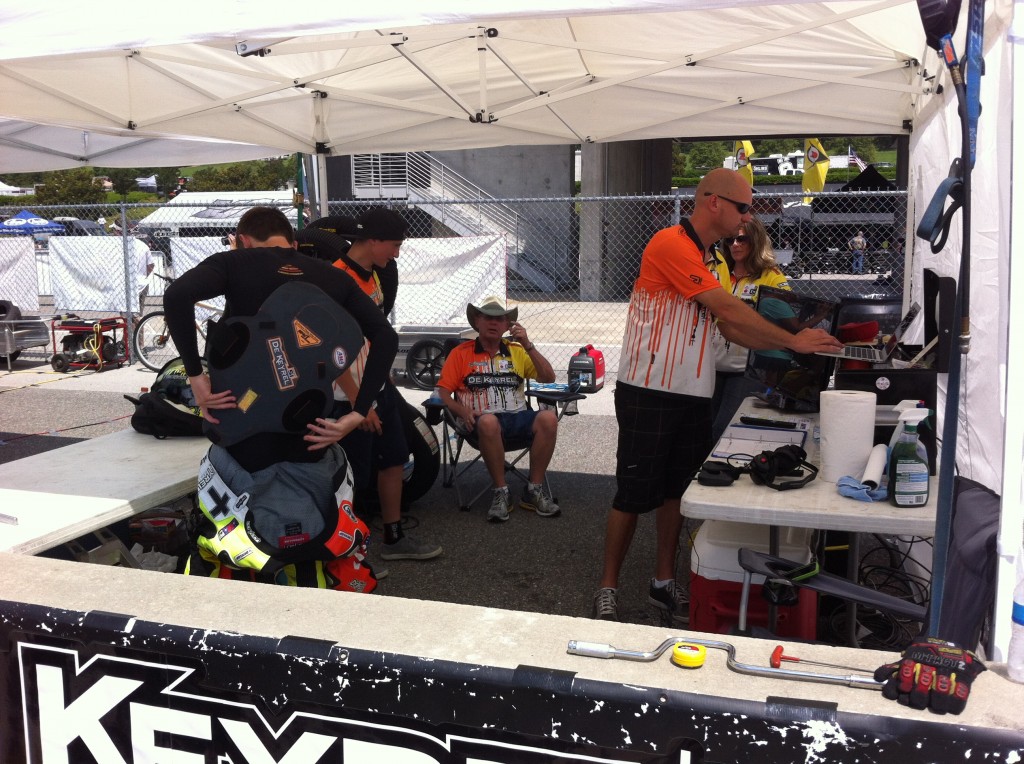 Pit Area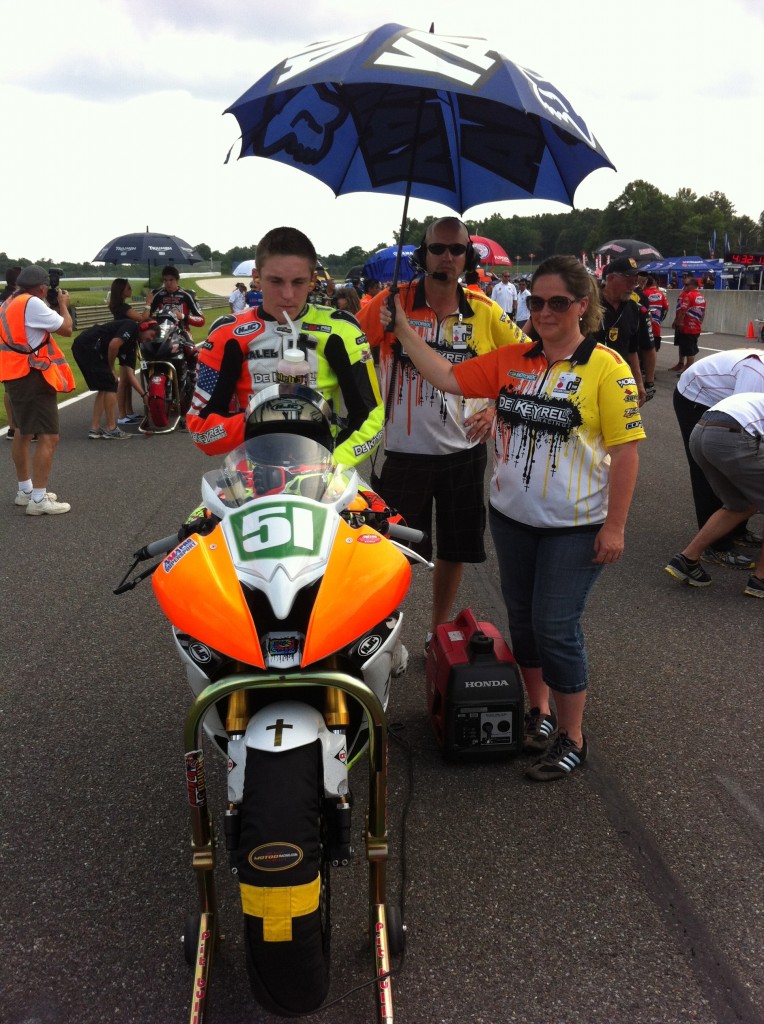 My mom and Uncle Alan on the grid with me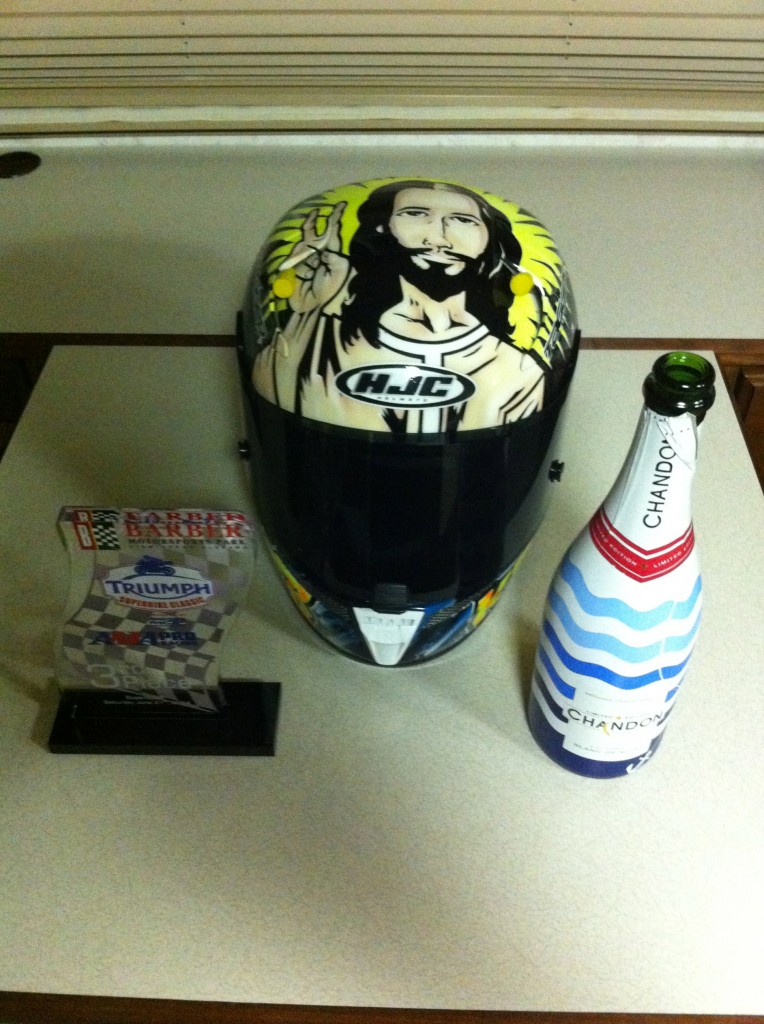 Saturday night Thank You photo to our sponsors on FB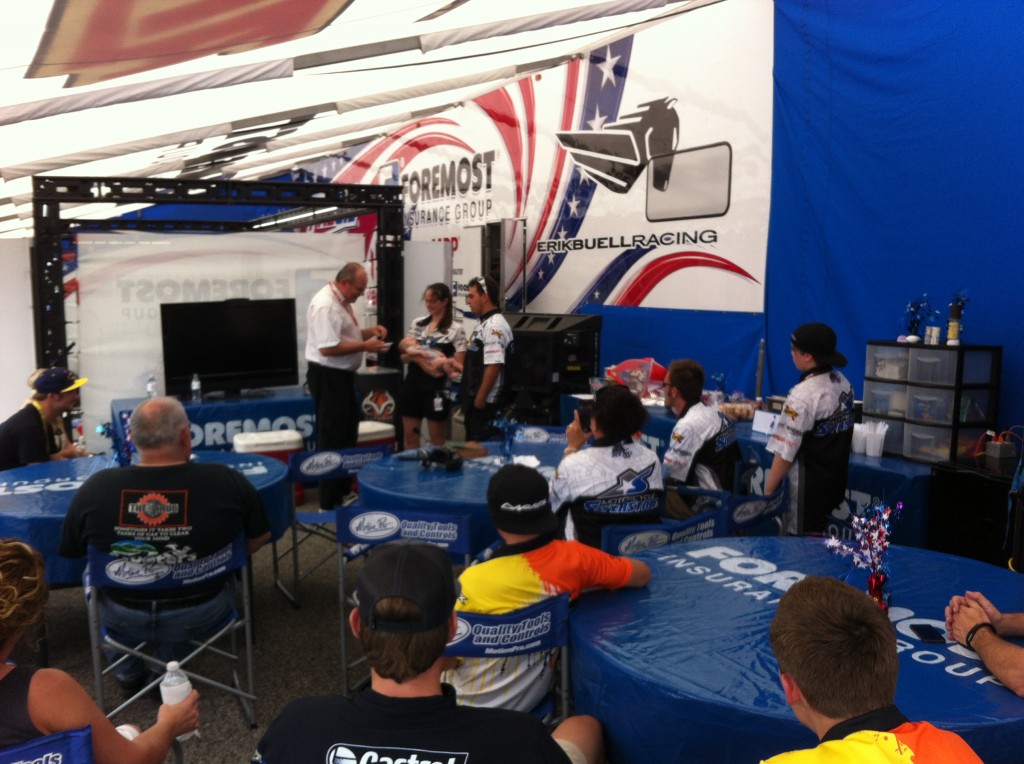 Baptism at Church service Sunday Morning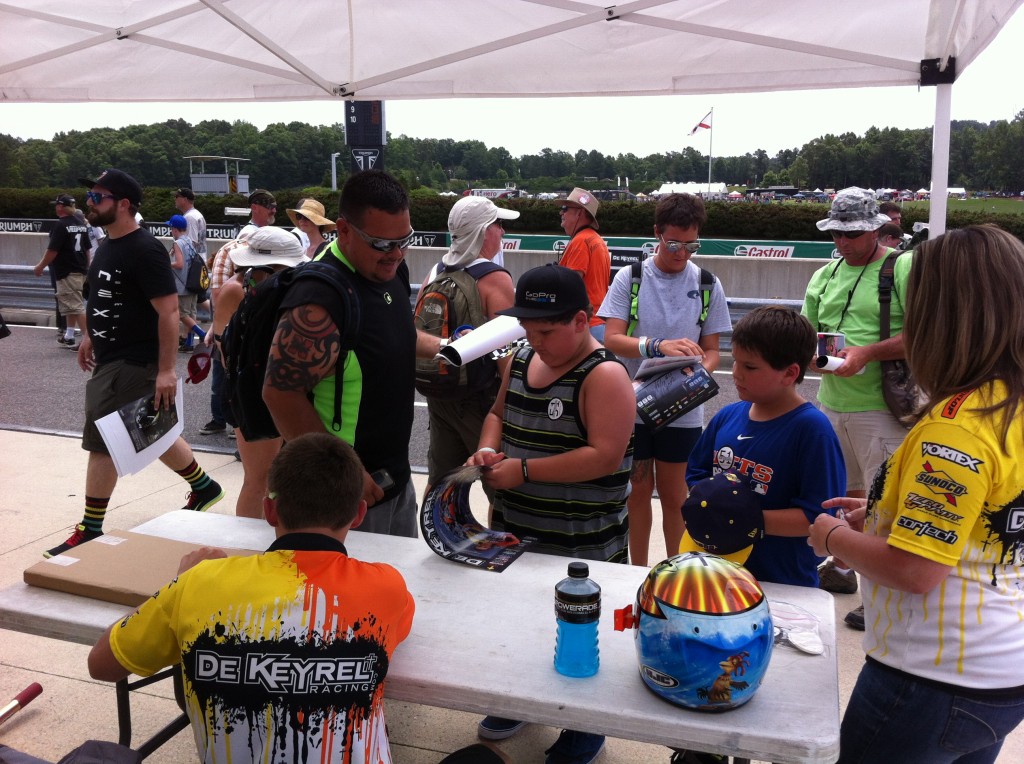 Fan walk Sunday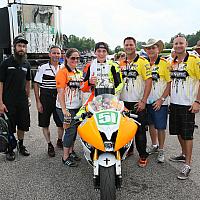 Thank You for all your hard work this weekend De Keyrel Racing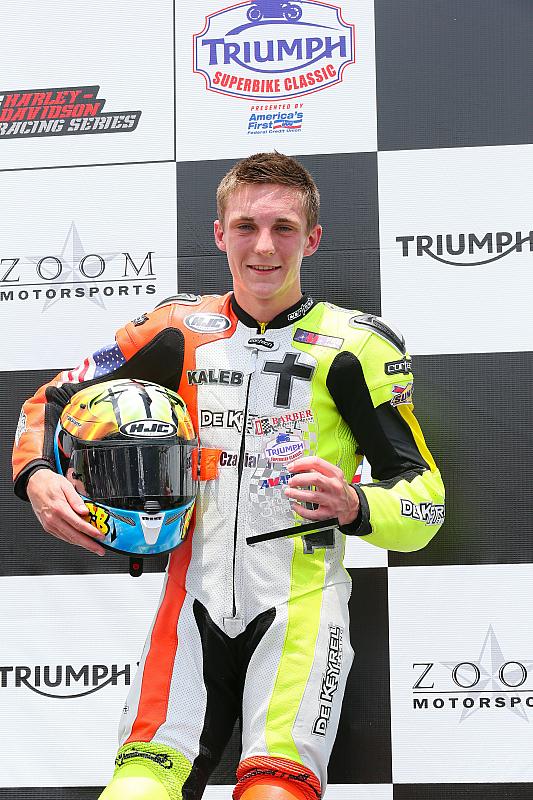 See you at Laguna