De Keyrel Racing would like to wish you a Happy New Year!!!!!!!!!!!
2013 was an unbelievable year for De Keyrel Racing. First year in AMA Pro Road Racing. CRA Overall Champion. Met lots of new people. Our fan base grew even more. Here are some pictures to recap it all.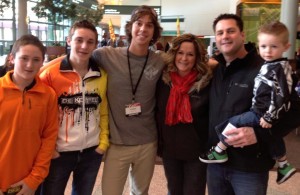 IMS Show Minneapolis MN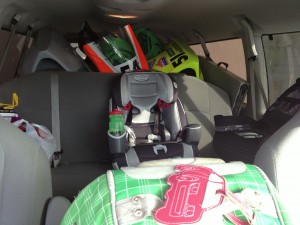 First road trip of the year. Barber Motorsports park for STT. 2 Yamaha R6's and a Moriwaki. Thank You to Richard Harris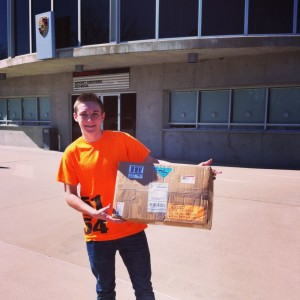 New Impact Armour delivered to Barber. Thank You Michael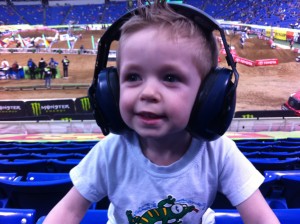 Minneapolis Supercross. Thank You to Jeff ( Geico Honda Motocross/Supercross Team )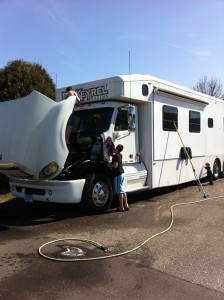 Pre Race Cleaning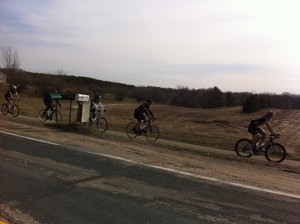 First 100 mile ride of the year.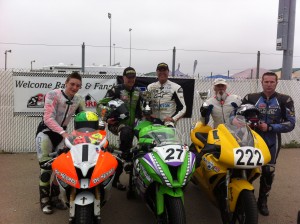 Topeka KS CCS/ASRA TC for Chesters Auto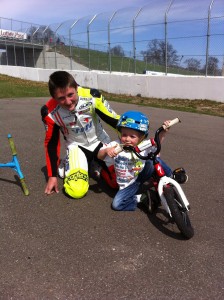 Mason teaching Levi how to drag a knee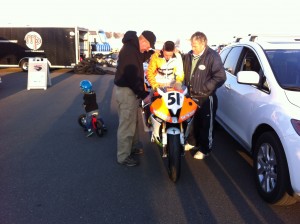 Bike Blessing at the CRA with Jim Wiles and John Anderson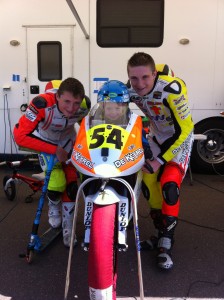 Kaleb and Mason teaching Levi to tuck.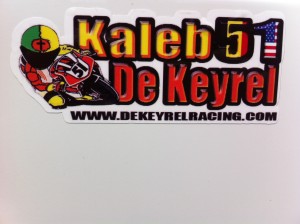 Kaleb's 2013 sticker he designed. Thank You to Rob at Blown Concepts for printing them.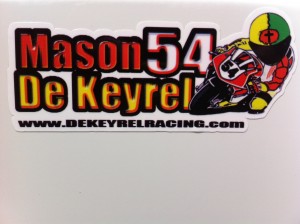 Mason's 2013 sticker ( Kaleb Designed )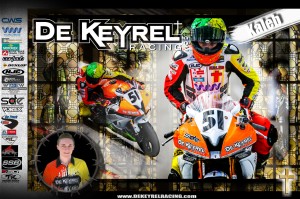 Kaleb's first AMA Pro Road Racing Poster. Thank You to Nick Campbell at Steve Diamond Elements for the design and great pictures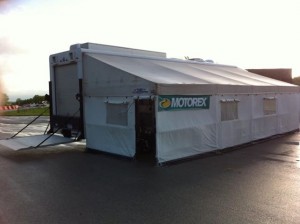 Testing at Road America with Trackside Suspension and Engineering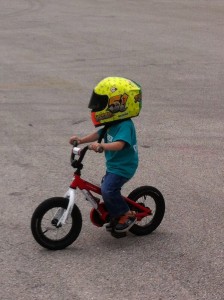 Always wear the proper size helmet.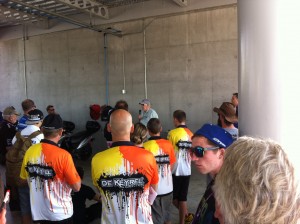 AMA Pro Road Racing riders meeting at Barber.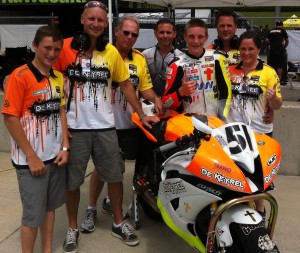 First AMA Race at Barber. Thank You to Mike at Penske for the support in 2013. Thank You to Don, Dolora, Alan, Kim De Keyrel.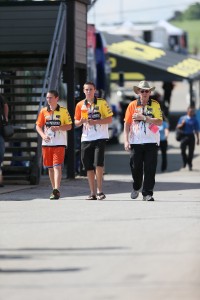 Mason, Kaleb, Granda De Keyrel at Mid Ohio

Mike, Sean Colton, Heather, Grandma De Keyrel, Levi, Kaleb Mason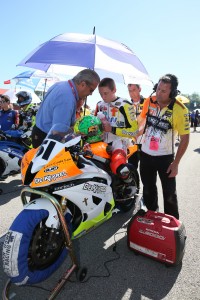 Before Race Prayer with Ray Rizzo. Thank You to Ray and Tim for being there all year for the riders, families, crew members and race staff.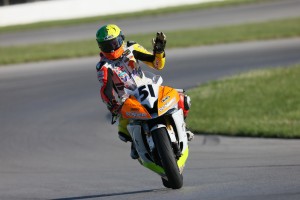 Thank You to all the corner workers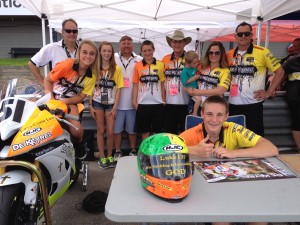 Getting the fans involved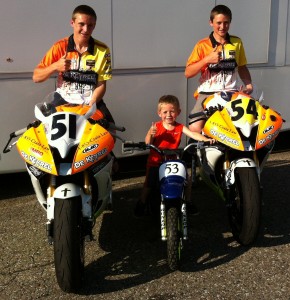 Mason makes the jump to 600 at age 13.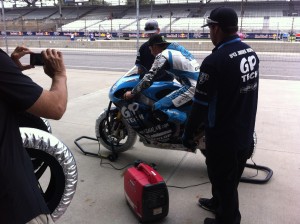 Supporting James and GP Tech at Indianapolis MotoGP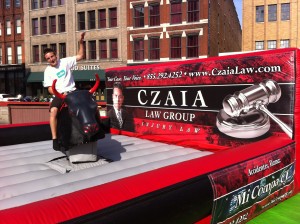 Kaleb riding the bull. Down town Indy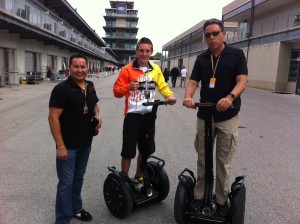 Joey, Kaleb and CJ Czaia riding the segways at Indy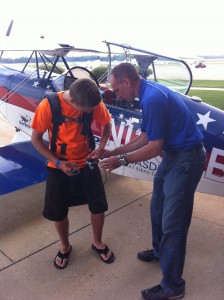 You know it is going to be an exciting ride when you have to strap a parachute on. Pritts Special ride Thank You to Joey and Bill Werth

The Rig getting wrapped. Thank You to 1-855-CzaiaLaw.com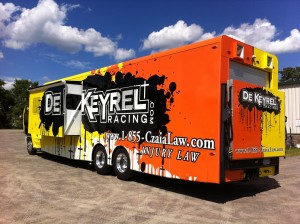 Kaleb's design complete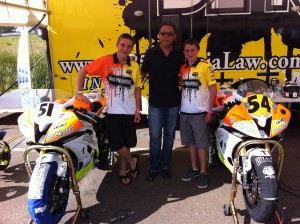 Kaleb, CJ Czaia, Mason. Mason first weekend on the 600 with 5 wins the first day. Also shot the WCCO news footage this weekend. Thank You Dave and WCCO News.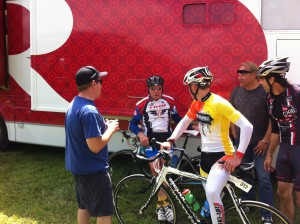 Kaleb and Roger De Coster at the 60 mile MN River to River ride put on by Ryan Dungey to raise money for St. Judes. Will Hann was also there supporting along with many other sponsors and promoters. Great event.

Kaleb posing for a photo shoot at NJ.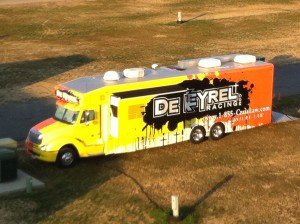 The last trip with the rig before we sold it.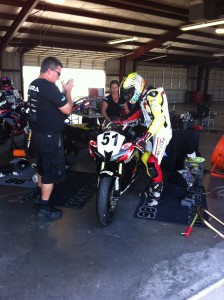 Kaleb heading out to test the 1-855-CzaiaLaw.com Honda CBR600RR with Erik Gray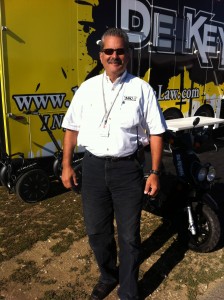 Ray Rizzo from MRO ( please consider supporting Rays efforts in 2014 )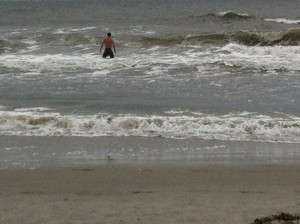 a little RR in between races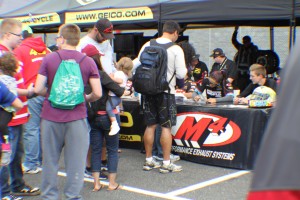 Fan walk at NJ AMA Pro Race

On the grid at NJ. CJ Czaia, Kirk Reuille, Kaleb De Keyrel, Kat Zimple, Erik Gray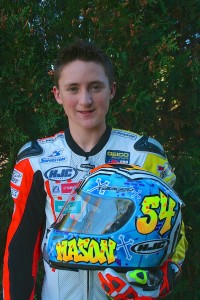 Mason De Keyrel posing for a RRW head shot with this HJC RSP10 Tagger Design custom painted helmet.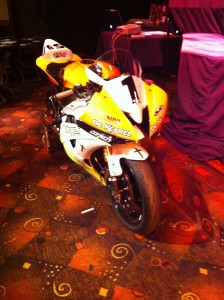 Kaleb De Keyrel 2013 CRA Overall Champion. Turned 16. Top 10 in his first year of AMA Pro Road Racing. Graduated High school. ( two years early )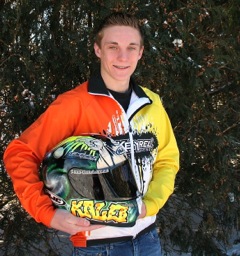 Kaleb posing with his HJC RPS10 Tagger Design custom painted helmet.
2013 would not have been possible without all of the following great sponsors:
GOD
Czaia Law
www.czaialaw.com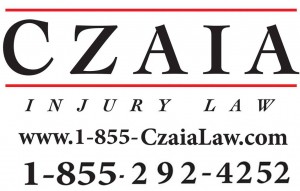 CWS, Inc.
www.cws.net

World Wide Machining and Welding
www.wwmwinc.com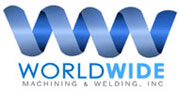 Bleakly-Hayes
www.bleakly-hayes.com

Motorex
www.motorexusa.com

Sport Bike Track Time
www.sportbiketracktime.com/

Cortech Performance
www.cortechperformance.com/

Dunlop Tires
www.dunlopracing.com

HJC Helmets
www.hjchelmets.com

Penske
www.penskeshocks.com

Tagger Designs
www.taggerdesign.com

Zero Gravity
www.zerogravity-racing.com/

Trackside Suspension & Engineering
www.tracksidesuspension.com/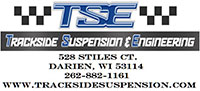 Steve Diamond Elements
www.onecoolphoto.com/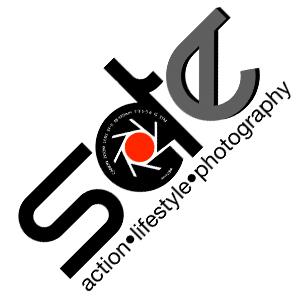 Vortex
www.vortexracing.com/index.php

On Track 4 Him
www.ontrack4him.org

Yamaha Champions School
www.millermotorsportspark.com/riding-school/yamaha-champions-riding-school

Impact Armour
www.impactarmor.com

SkarkSkinz
www.sharkskinz.com

Simple Sport Bikes
www.simplysportbikeparts.com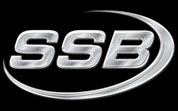 Sidi
www.sidisport.com/eng/index.php

Tucker Rocky Distributing
www.tuckerrocky.com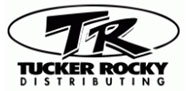 2013 was awesome and 2014 is going to be unbelievable. Thank You Lord for keeping us all safe in 2013. Looking forward to seeing what GOD's plan is for 2014.
Amen