June 2013 CRA Write up
The weekend started off with friday practice. All of friday practice, we worked on suspension. We were working hard to get the new Penske Suspension set up. I was trying to get comfortable with how the bike was working, so I could go faster.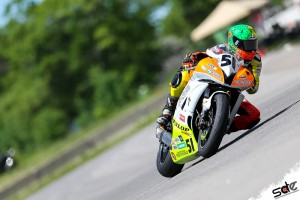 Saturday, the first race of the day was Middleweight Supersport. I was running the same set of USA DOT tires I ran for two days at Road America and all day friday for practice. I took the hole shot and lead the race to the finish. It was great to get my first win of the weekend. The next race was Heavyweight Supersport and I went out and won that too. In the UNLSS race there was a red flag. It was caused by another rider running into to the back of me. I stayed up and ended up 5th with the race over on the red flag. Middleweight SuperBike, I was on a new set of Dunlop USA Slicks. The suspension set up I was on for this race felt great. I lead the race start to finish again. Heavy Weight Supersport, I was on the same tires with a new suspension set up again. We rode a completely different set up every race and logged all the information. I was running out front with a huge lead and the clutch went out right as I was passing the flagger giving me the white flag. If only it would have lasted 1 more lap. I missed the next Unlimited Superbike, because my dad, grandpa, and Jason Bryant were hard at work on getting a new clutch back in my bike. I have to thank them so much for getting me back on track for the Middleweight GP race. They put the clutch in and I went out and won the Middleweight and Heavyweight GP races for them. The last race of the day was Unlimited GP, I finished 2nd. Saturday went great. It was hard racing with a different suspension set up every race. I never new what the bike was going to do when I got out there. We planned to continue to test all day Sunday and keep notes. Huge Thank You to Scotty, Meghan and Mark at Trackside Suspension & Engineering for all the suspension help.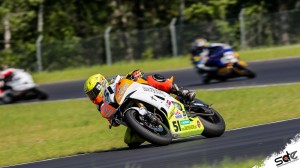 Sunday started off with two wins in Middleweight Supersport and Heavyweight Supersport. Unlimited Supersport was tough against the 1000s and great riders, I pushed hard to come in third. The next Middleweight Superbike and Heavyweight Superbike I ended up in a battle with another rider. We pushed hard finished neck and neck both races, but I would finish 2nd in both. The next race was Unlimited GP and I went out and rode hard for a second place finish. Middleweight and Heaveyweight GP races I found myself in a battle with the same rider. We were so close in all of our races and these two were no different. In the Middleweight races, we battled and he came out victorious. Heavyweight GP race it wasn't going to turn out any different, I got around him on the last lap and took the win.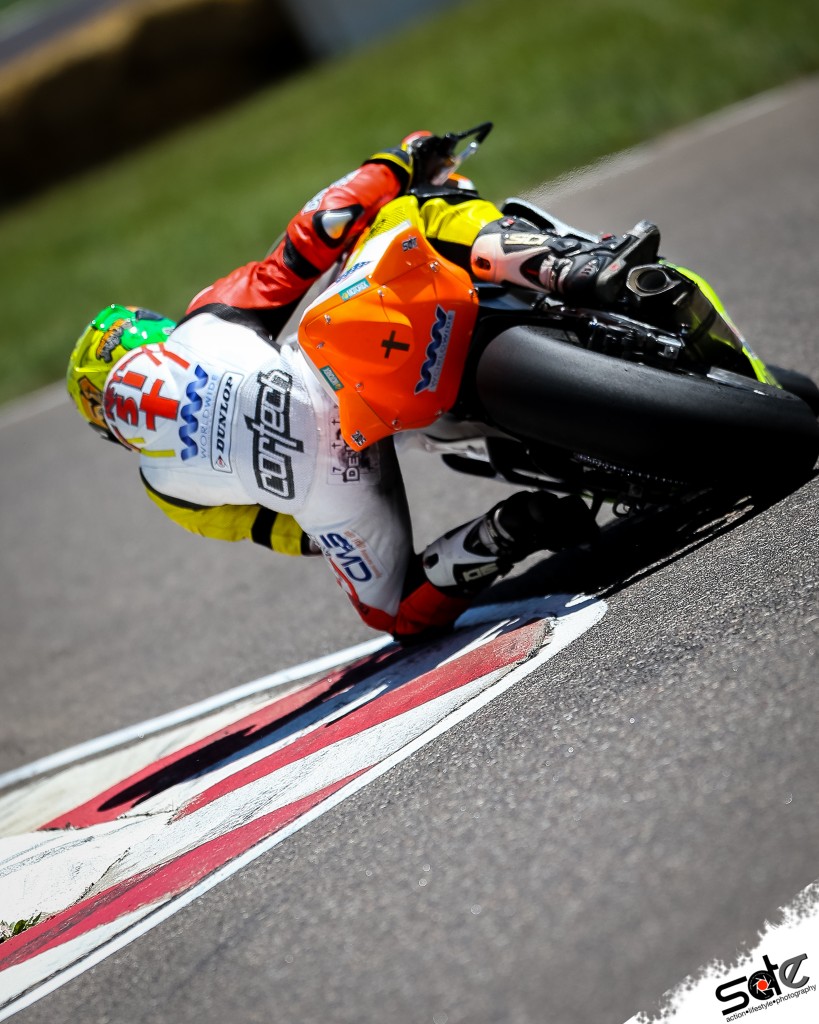 The last race of the weekend was Unlimited GP. I ran hard against the 1000cc bikes and finished second. The weekend went great and I ended up with seven 1st places, seven 2nd places, a third, and a fifth. Nobody could believe I was still on the same Dunlop USA DOT race tires as RA, friday practice and into Saturday races. I ran some of my fastest times on Sunday on my second day of Dunlop USA slicks. I now have a new Penske suspension set up with lots of notes and it is working really good!
Kaleb De Keyrel #51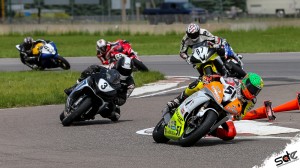 —————————————————————————————————————————————————————————-
Friday practice went really good. The bike felt great and we didn't have to make any changes to the bike. My lap times were around 2 minutes. As I got more used to the track my lap times were getting faster and faster. By the end of the day on Friday, I had my times down to a 1:55. Practice went great and I had a good time to work off of for the rest of the weekend.
Saturday in the ULGP 1 race. I started off third row all the way over to the right. I got a pretty good start and was in 4th place. Running through turn one, I moved into the draft of the guy running 3rd. Going into turn 2 I drafted around both of them. I was running in 2nd with third place all over me. I held him off to finish second over all and first in the novice class. ULGP 2 race, I started in the same grid spot. I got a better start got right into second. We battled the entire race. It was so much fun. I ended up second overall first in class.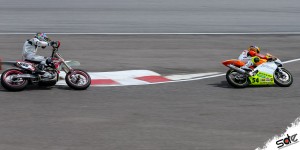 Saturday in the ULGP 3 race, I got a good start. Worked my way to second by turn three. Then passed for the lead going into turn four. We battled hard all race, it was going to come down to the last two corners. We were working our way through lap riders. Splitting them as we raced to the line, I ended up in second place by .1000 of a second. It was a fun race. My dad said he would take the blame for that one. He said,"I should have mounted my transponder farther forward."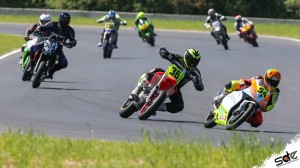 The Framsted cup. This was my race, after all I was the defending Champion. The race is set up so all racers cross the finish line at the same time. You are set in rows by the times you run. Each row is released at a different time. I was starting in row 6, I knew I had to pass everyone ahead of me and not let anyone pass me to win. I started passing a lot of people each lap. Then I got passed by a guy on an SV, I new I had to keep up to him. We were both running through traffic and I tried to chase him down. I ended up second, but gave it my all.
Sunday, ULGP1, I started second row to the right. I got the hole shot and was battling hard with Jak on his 450. On the last lap, Jak passed me in turn 6 and then lost the rear. I won the race with first overall. ULGP2 race Sunday, I got the hole shot and started pulling away. By the end of the race, I had an 8 second lead on second place. It felt good to beat all the experts again. ULGP3 race, I battled for the first lap and the then pulled away a little each lap. By the end of the race, I had a 7 second lead on second place. I got 1 place over all beating the experts again. It felt great. The weekend went awesome. I had a lot of fun racing the Moriwaki. I finished my final weekend on the Moriwaki with 5-1st and 1-2nd place. My dad told me after, he had been waiting for me to say the tires were slipping. They were the same Dunlop Slicks I started the season on last year. Look out 600cc grid, here I come!!!
Mason De Keyrel #54
Race Results for the weekend:
Kaleb:
Saturday Sunday
MWSS 1st 1st
HWSS 2nd 1st
UNLSS 5th 3rd
MWSB 1st 2nd
HWSB DNF 2nd
UNLSB DNS 2nd
MWGP 1st 2nd
HWGP 1st 1st
UNLGP 2nd 2nd
Framsted Cup (I think 5th)
Mason:
ULGP1 1st 1st
ULGP2 1st 1st
ULGP3 2nd 1st
Framsted Cup 2nd
Thank You to all our sponsors for there support and making this season possible: