Mason De Keyrel is the youngest rider to get a license with the CRA
Mason De Keyrel is the youngest rider to get a license with the CRA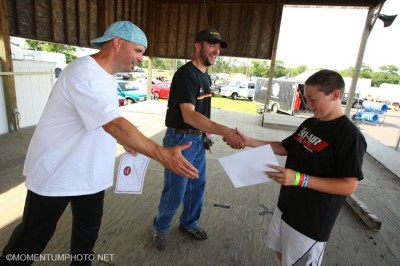 The Central Roadracing Association (CRA) runs events at Brainerd International Raceway(BIR) located in Brainerd Minnesota. BIR has hosted World Superbike and AMA events in the past. The CRA has a long history in road racing. Even with their long history, there have been very few racer under the age of 16. The CRA's policy with minor racers is to petition the cheif stewart with a resume and ask for permission. It has alway been a case by case decision. The most recent racers to petition the CRA for a license were Aaron Colton age 14. Kaleb De Keyrel age 13 and now Mason De Keyrel Age 12.
Hi, My name is Mason De Keyrel #54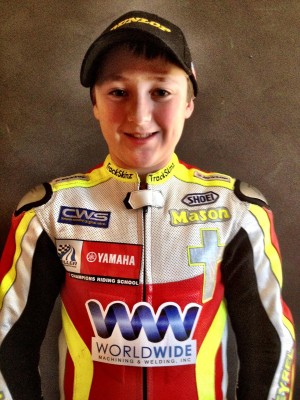 Hi, My name is Mason De Keyrel #54. I am 12 years old. I started racing motocross at the age of 6. Started road racing with the CMRA at age 8. I am licensed with the CMRA, USGPRU, CCS, WERA and now the CRA. This new license is huge for me. We live in Minnesota and up until now. I was not able to race at all locally. This not only meant my family had to travel, but also anyone who wanting to watch me. I can now show my friends and other racers what I love to do at my home track of BIR.
Going through the CRA Licensing process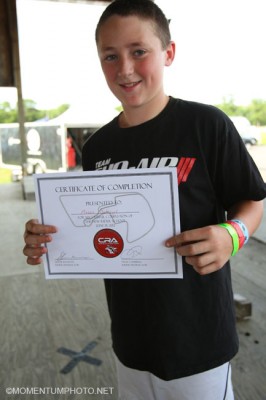 As I said before, The process for each rider is different for minors in the CRA. If you are a youth rider reading this I would like to let you know what my process was like. Before I start remember. At the time I petitioned the CRA I held a license with CCS, USGPRU, WERA and CMRA. These all helped me get my license early.
May weekend 2012: The weekend started off with class room Friday morning at 7:30am. The class room went for 2 hours ending with a test and each group of riders getting assigned to an instructor. Nick Campbell and Shane Keaveny are the lead instructors. ( both great guys ) For Friday practice, I was assigned to Robert Pretts. Robert did a great job working with me all day long. We talked about lines. Where safe places are to pass and just general track rules. The day ended with the new rider race. I looked up my grid spot and headed to the line. The races started and it was 600 through me for bike sizes. I was on my Moriwaki MD 250H. I got an ok start and was working my way up through the field. With two laps to go I was given the meatball flag. I came into pit lane on the next lap and was told to go to my pit. I was mad. The stewart came over and talked to me and said that I did a great job but they just did not feel comfortable giving me my license yet. He asked me if it would be OK to have me race some races this weekend so they could continue to watch me. I raced 2 races Saturday and 2 races Sunday. It was a fun weekend. They gave me a provisional license on Saturday night and just wanted to watch me again in June.
June weekend: The weekend started the same with class room. The CRA had me practice in slow practice instead of with the new riders. I had been assigned to Zac Hughes for Friday practice. Friday ended with the new riders race again. I went to grid and was ready to race. The new riders race was fun. I finished the race with no meatball flag. After the race I was given my license by Nick and Shane. I was now the youngest rider in the CRA to get a license. I would like to Thank Shane, Nick, Robert, Zac, the CRA stewarts and board members and all of the racer/CRA memebers for allowing me to race with you.
If you are ever in MN and want some fast racers to race with. Please look up the CRA.
www.cra-mn.com ( infomation also at www.mnsbr.com )
Thank you to Jonah and Chelsea for the use of the pictures www.momentumphoto.net
See you at the races
Mason De Keyrel #54
Thank you to all my sponsors for making my racing possible