15 year old Kaleb De Keyrel wins big on Dunlop USA DOT tires
15 year old Kaleb De Keyrel wins big on Dunlop USA DOT tires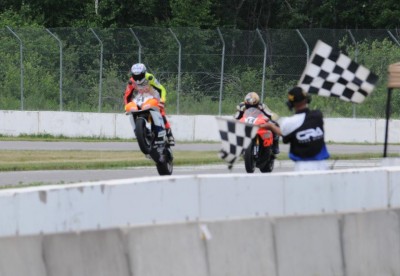 Friday Practice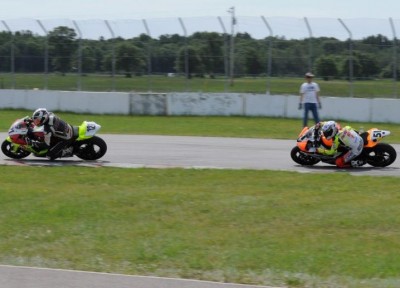 I went out for Friday practice on a used up set of DUNLOP USA DOT tires. First practice went great and I was running about the same times I was running last year at Brainerd on the competion course. The used up USA tires were working great so I started to push. I continued to push through the next couple session and put down a good lap time. The last session of the day I went out with Robert Pretts (one of the fast local racers at the CRA). We had some fun and the day ended on a great note. I knew if I got a good night sleep I would be even faster in the morning.
Mason De Keyrel becomes the youngest rider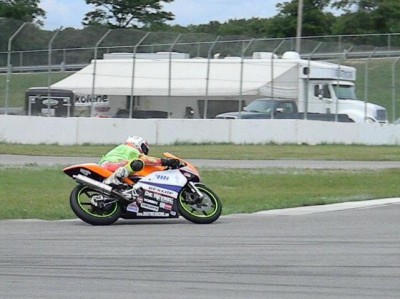 Mason De Keyrel is now the youngest rider to ever get licensed by the CRA ( Central Road Racing Association ) Friday Mason had to sit though the new riders class for a second time this season with the CRA. It all payed off Friday night when he completed the new riders race and was given his CRA race license. No More GREEN SHIRT
Saturday Racing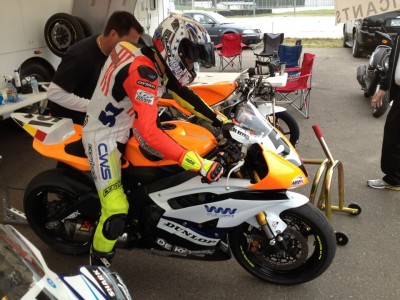 I got up and Mason and I went for run. Then got my leathers on and was ready to ride. I did Saturday practice on the B bike ( Thank You to Sean and Aaron Colton for this bike ) trying to get it a little more dialed in incase we had to race it. We were hoping nothing would happened so that I would need to race it this weekend but it was great know if we did it was there. My A bike was set to race with a new set of DUNLOP USA DOT tires. We had deside we were going to race on pump gas on saturday to cut costs. The first race was MWSS. I had a good race but I was just not on pace with the lead group and finished 4th. The next race was HWSS the Dunlop USA tires were holding in there great. I finished with another 4th. Next up was the UNLSS race. This race would have a lot of the fast guys on the 1000and 750's. I was racing a 600. I was gaining on the lead pack but would end up finishing 6th place. The MWSB race was a great race I got a great jump. I ran in first place the whole first lap but Shane Fletcher out broke me going into turn 3. I made a hard charge to keep up with him but I was not close enough to pass him back. I pushed hard and finished the race in second. I continued to get great starts the rest of the day and finished of with a second in MWGP and thirds in HWSB and HWGP. Overall Saturday was a great day and I ran up front on the same set of Dunlops all day.
Mason first race was the ULSB race. He battled with one of the local Expert racers all the way to the line. Mason finished second for the novice group. A radiator leak caused Mason to miss the ULGP race. Mason was riding great and looking forward to racing again on Sunday.
Saturday night finished up with a church service by John Anderson and Jim Wiles. Sean Colton gave his faith story to the 33 people in attendance. It was awesome. What a great day.
Sunday Racing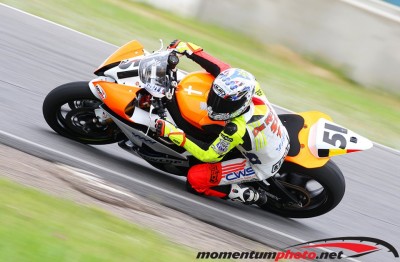 After a good nights sleep Mason and I started our day off again with a run. I like to get my body warmed up and ready for the day.
Sunday practice started off great. We rode the B bike and were getting the setup really close to what I wanted. My lap times matched Saturdays race times and I knew I could go faster on my A Bike. My grandpa De Keyrel talked my dad into going back to R-Tech racing fuel for Sundays races. First race up was MWSS. I got a great jump and was running in the lead. On the second lap Shane Fletcher got by and I hung right with him. I got passed on the last lap going into 3 and was running third. We continued to pass for the rest of the lap and crossed the finish line togeather. I ended up on the podium in third. I was happy with that. I new I was running faster than yesterday.The HWSS race was next and I ened up third again. I knew I could do better. I got a bad start in the UNLSS race and was running in sixth place. It took me to long to get around riders and the leaders were getting away. On the last lap I moved into 5th place with a pass on the brakes going into turn 3. I put my head down and realed in the 4th place rider. Going into the carousel I noticed him drifting a little wide. I made the pass on the inside with us drag racing to the line. I finished a hrad earned 4th. In the MWSB race I took the holeshot again. Ran up front until Shane got by. I ran with him as close as I could and ended up second. The HWSB race was when everything started to change. I jumped out into the lead and lead from start to finish. It was the first win of the weekend and a huge confidence buster. It felt great. MWGP again I lead into the first turn. Shane and I battled hard and I ended up with second. Next up was HWGP with me running in first from another great start. Robert Pretts was on me the whole race but I held him off for the WIN. Last race of the weekend was the UNLGP and I finished up with a fourth. I was a fun weekend and the DUNLOP USA tires help up great. We used the same front all weekend and only two DOT rears. Next race weekend we are going to try the USA Slicks as we did not get a chance to try them this weekend.
Lots of family fun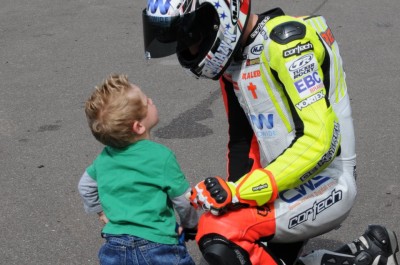 Levi supported us all weekend. Mason got his license and raced both days. My grandma and grandpa were there to watch. A great church service. Friends Family and FUN.
Thank You to my Mom and Dad and all our sponsors for making this weekend possible.
GOD BLESS
Kaleb De Keyrel #51