Kaleb De Keyrel races with Team World Wide for the win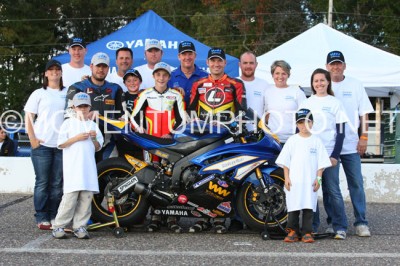 Team World Wide Wins the GP3 class in the CRA 5 Hour Endurance race. Team owner John Anderson said "We went in with the intensions of just finishing and having a great time. GOD really has blessed us with the win in GP3 and 3rd overall". We had a strategy at the beginning of the race and we pretty much stuck to it. The plan was to have Kaleb De Keyrel start and run till the fuel light came on. This had Kaleb first stint at about 52 minutes.
When Kaleb came in we checked tire wear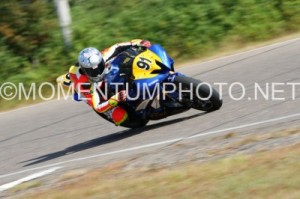 When Kaleb came in we checked tire wear and sent Chris Stellenger out next. The Michelin tires were wearing great. I had Tommy Mason mount up a B rear just in case we would need it at the next stop. Chris ran until the fuel light came on too. Amanda was already doing the math for fuel stops to minimize them. We also wanted to keep Chris and Kaleb out the must in the race but needed each rider to do at least a 1/2 hour per the rules. I was up next. It was decided that Amanda would do the math on fuel and time I spent on the track and Doug De Keyrel (Kaleb's Dad) our pit board person for the day would signal me in. Doug signaled to Chris with the board he was at the 45 minute mark in his stint. The next lap Chris signaled he was coming in. The crew prepared for a rear tire and fuel only. The stop went just as planned and I was on the track. Amanda had figured I needed to run about 37 minutes. I did not know how long I was going to have to run because this was added up after I had left the pit. They took Kaleb's 52 minutes and Chris's 47 minutes and came up with my stint. I was running smooth and having a blast. When I saw the 35 minute board for me I was hoping they were getting ready to pull me in. The next lap around I got the PIT IN sign. I was relived. When I got to the pit the bike was fueled and had a new front tire on it with Kaleb taking off before I got a chance to tell anyone how much fun that was.
Kaleb road till the light again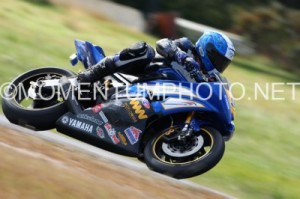 Kaleb road till the light again and was able to get 58 minutes out of the tank this time. The crew had made sure it was completely full before sending him out. Kaleb came in for fuel and a rear tire. I was another great stop. Chris was back on the bike with a completely full tank this time too. Amanda was worried we may have to do a splash and go with Chris before sending Nate out for the final stint. Nate needed to ride a minimum of 30 minutes and no more than 52 minutes. Amanda had figured at his weight that would be about the max time on a tank of gas. Chris was able to stretch the fuel to 52 minutes. This worked out perfectly. Nate would ride the last 45 minutes of the race. Nate's goal was to stay on two wheels and take the checkered flag. Nate accomplished his goal and the Team accomplished more than they had hoped for. The Graves equipped Yamaha R6 was a great bike to ride and contributed to this win. Thank You to a great crew and all our sponsors.
It was a great Team Effort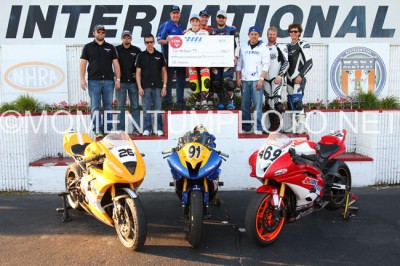 It was a great team effort. Thank You to John Anderson for allowing Kaleb to race with his team.