Kaleb De Keyrel's Custom painted Tagger Designs Helmet for Road America!
I love the ocean and I wanted to incorporate it into a helmet design but I also wanted to have a theme for the next race at Road America. So I thought about it for awhile. I remembered a movie I watched awhile back with my little brother called Surfs Up. The movie had a little awesome surfing chicken from Sheboygan, WI. Sheboygan is right by Road America and is where we will being staying for the AMA race. Make sure to get your tickets now and get your reservations to attend the race. May 30 – June 1 in Elkhart Lake WI at Road America. Stop by the pit or see the helmet during fan walk both Saturday and Sunday at noon to check out the incredible detail. See You there
So I had Tag incorporated all the features and here is the final product: Huge Thank You to Tag at www.TaggerDesigns.net. Tag always has me in the sickest HJC helmets on the track.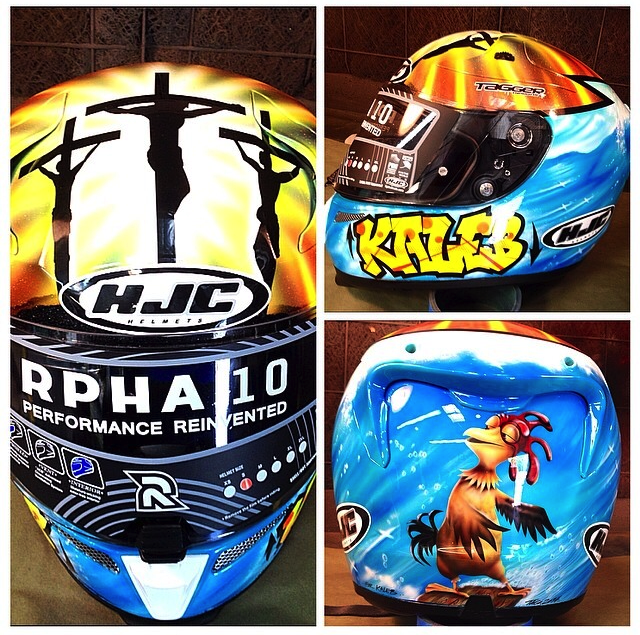 Looking forward to seeing you at Road America for the AMA Pro Road Racing Double Header
Kaleb De Keyrel #51
Thank You to all our sponsor for making the 2014 season possible: GOD, 1-855-CzaiaLaw.com, Grandma/Grandpa De Keyrel, CWS.net, Cortech, Sportbike Track Time, Yamaha, HJC Helmets, Tagger Designs, Dunlop, Worldwide, Motorex, Vortex, DARIUS, CoreMoto, Moto-D, Zero Gravity, Impact Armor, Galfer, Sidi, Pit Bull, Sharkskinz, TSE, TR