De Keyrel Racing heads north to Brainerd International Raceway for the first round of the CRA! 5-9-2013
The weekend started out with Friday practice, which was cold, windy and raining. I went out and just started easy, then began to work my way up to speed. Ultimately, it was just too wet and cold to get up to good lap times, so I had a little fun riding around with my brother. Friday practice was cold and wet, but Saturday would turn out to be a good day weather wise. We didn't know if we were going to go up to BIR, so we got entered in the races late and had to start at the back of the grid for every race. I had a lot of passing to do just to get to the front. I had to fight for every position, but Saturday started off great.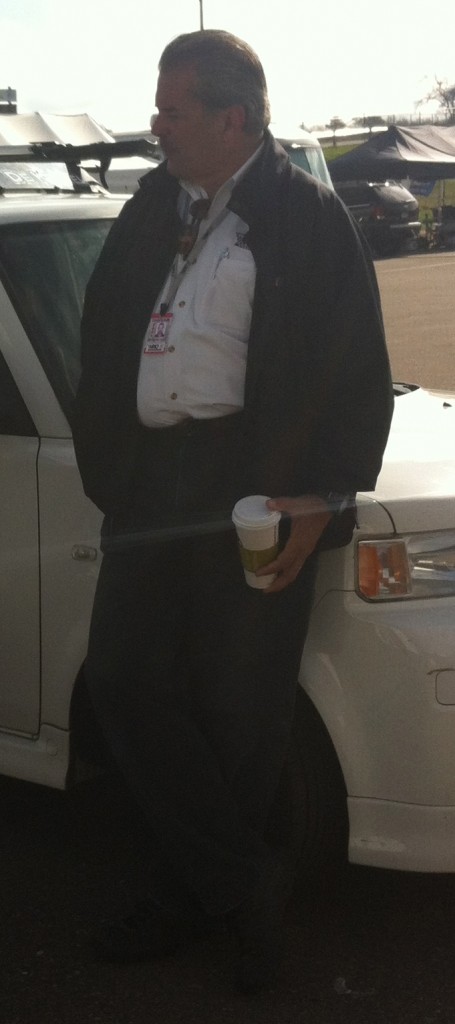 Mr. Raymond Rizzo made the drive to do service with Jim Wiles and John Anderson
I went out for Middleweight SS and was running well. I just let the leader get away and had to make up too much time, so I ended up 2nd. The next race I didn't let the leaders get away and finished in 1st place. I went out for the next unlimited race against the 1000's on my 600 and finished 3rd. I got a great start, but lost the draft from the two leaders, so I ended up 3rd. The last race Saturday would be an 18 lap trophy dash.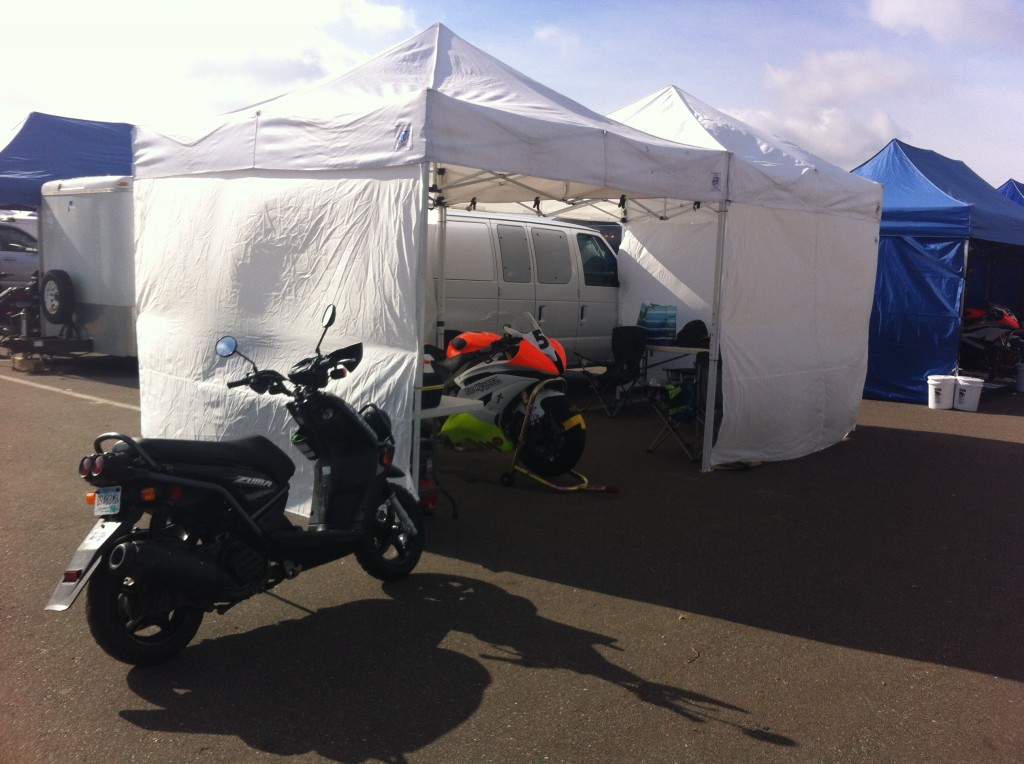 The race started out dry and I was leading by a decent gap over second. It started to sprinkle off and on just enough so that you had no idea where it was wet or not, and as soon as that started to happen I started seeing more and more bikes on the side of the track. By about the 6 lap mark, the track was completely soaked and we were all tip toeing around, because you would get on the gas just a little bit and the back end would slide around. Mason and a lot others pulled off, because it was so bad.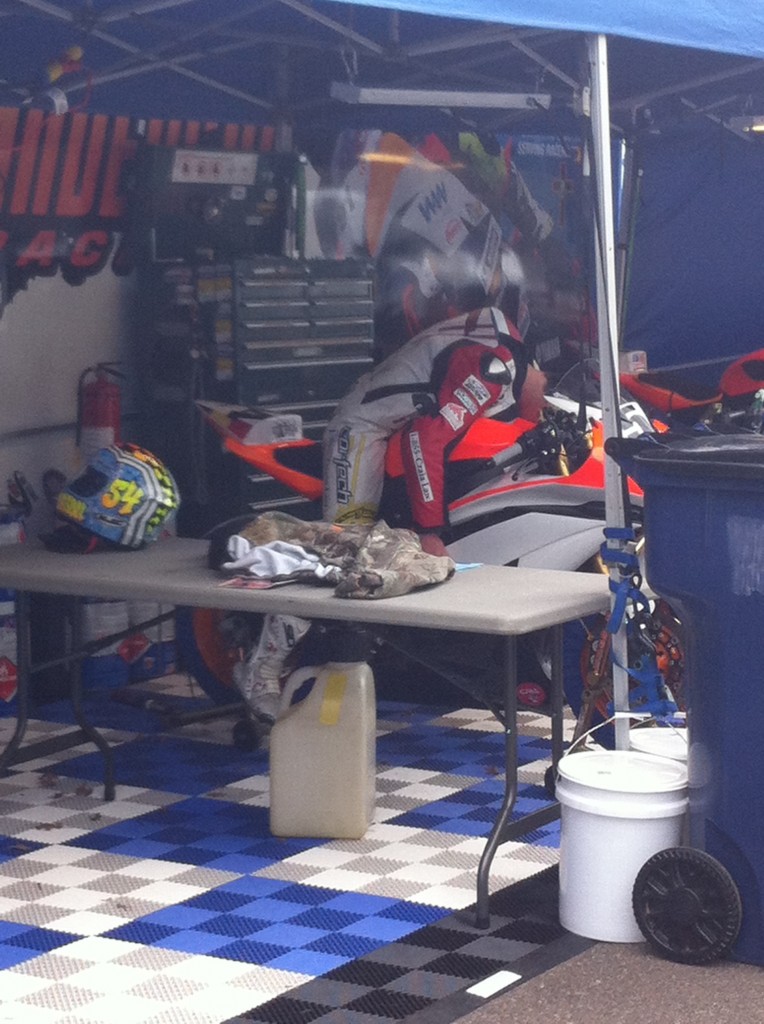 I don't mind sliding in control, but there were times I would go into corners and just barley touch the front brakes and the front end would slide. As we were going around for 6 laps and seeing all those down bikes, I'm thinking are we actually going to do all 18 laps? The answer was yes! I pretty much lead the whole thing until I came into turn 12 on the final lap and the front end slid every time I hit the brakes. I ran off for the second time in this race in the same corner. I got back on track in third place, and that is where I would catch back up to the 2 guys up front, but still finished 3rd.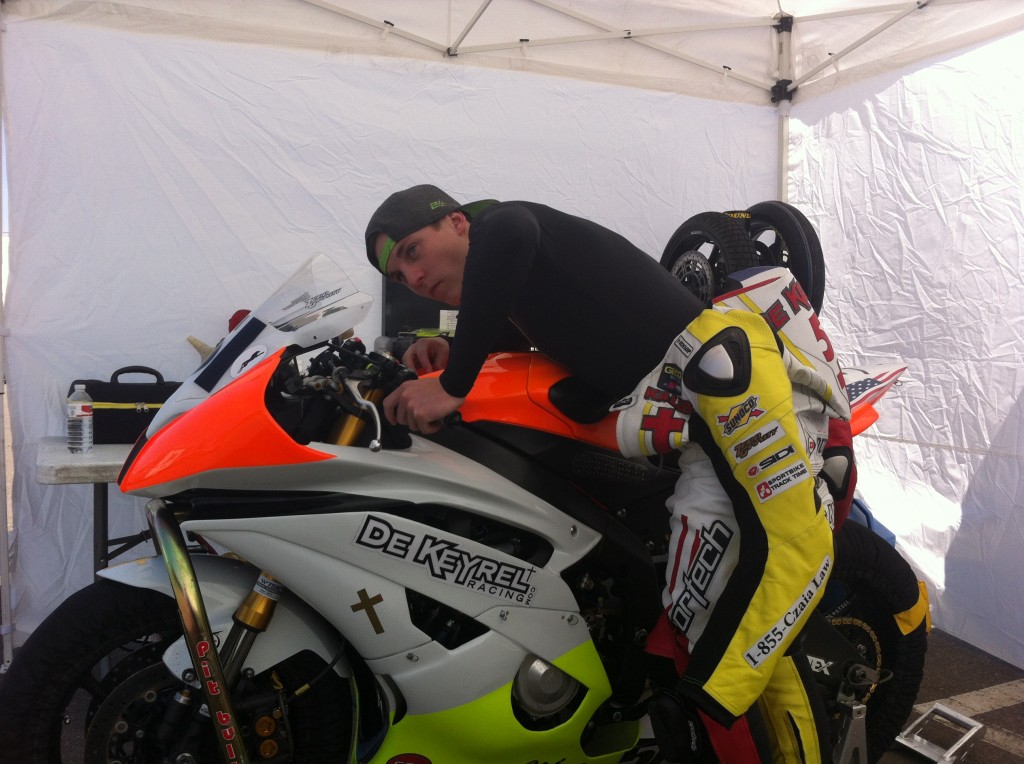 After the rain race on DOT's and BIR super smooth surface, I came into Sunday pretty much thinking anything could be better. Just let it be dry or wet, either one. Sunday actually turned out to be a great dry day. I was lined up in the back row on the outside on Saturday and Sunday I would start on the back row to the inside. This made starts a lot more difficult. I got a bad start right away in race one and was running fifth, when I started to notice the chain slapping the swing arm every so often. I was trying to figure out what it was, but I couldn't figure it out, so I just kept riding and ended up 5th in the first race. I broke a sprocket tooth off and thats what was making the noise. We got that fixed and went out and finished 4th and 3rd in HWSB and UNLSB. I was getting held up on the starts and having to work my butt off to try and catch the leaders, but I got it figured out for the GP races and ended up getting 2nd in MWGP and HWGP. I got a good start in both races and made it to the front quicker than I had all weekend. I was running really good times, my fastest was a 1:38.4, but starting in the back was killing me, because the races were only 6 laps. I ended the weekend finishing 3rd against the 1000cc bikes. Overall, it was a good weekend and I learned a lot and will bring that momentum into Road America!
I also have to say I am super proud of my brother Mason. It was his first time back on a bike since his big get off in turn two last year. He road smart and pushed hard every race and listened to his limits. Awesome Job Mason.
Thank You to all my sponsor for your support in 2014
Kaleb De Keyrel #51
HWSS 1st
MWSS 2nd
MWGP 2nd
HWGP 2nd
UNLSS 3rd
GP3 3rd
UNLSB 3rd
HWSB 4th
MWSB 5th